How to Start GTA 5 Online Contract DLC & New Add-ons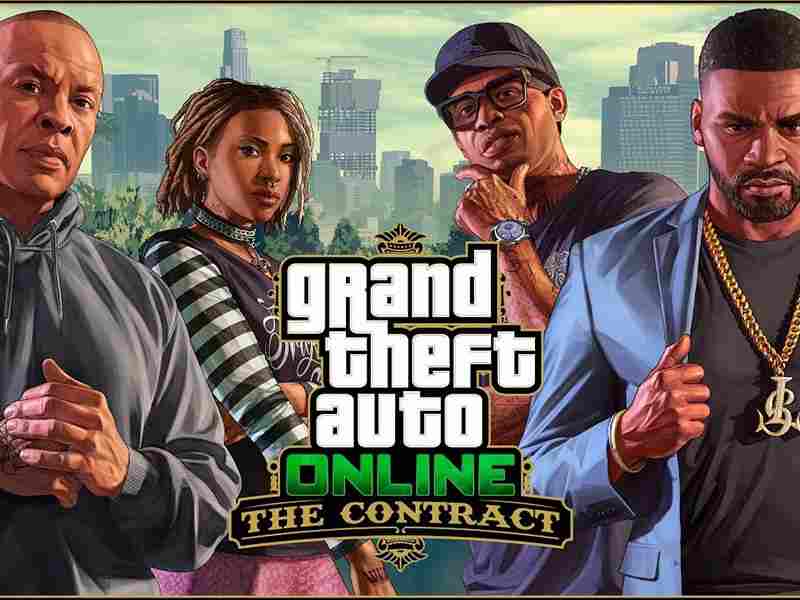 Rockstar Games has officially released the latest major update to Grand Theft Auto Online this year. Bring another series of dynamic missions to a game that has stood the test of time. Contract DLC update is free to download for anyone who owns the game and offers tons of new characters, properties, jobs, vehicles, and more to try online. GTA Online received new DLC content that includes new vehicles, weapons, and other improvements. The decade, the latest update of GTA Online, has not only added more ways for players to earn money but also provided them with many new tools to spend their newly earned money on. Here's a guide on what's new in GTA 5 online and How to start the Contract DLC.
How to Play Contract DLC in GTA 5 Online
Before you can play, be sure to download the required 4GB update, which includes all the new content. Once fully installed, download GTA 5 and enter the online lobby.
Once you've loaded your character, you can start the Contract Mission with a little prep work, although this will require a significant amount of money from you.
Accept the phone call you get from Lamar the next time you sign in. He will guide you through the job offer, and after the call is over, you will need to go to the Dynasty8 Executive website and purchase from one of the four agencies available.
Here, players who are running out of money will have to earn some money before continuing. As the Agencies aren't cheap, with prices over $2-3 Million you can buy for this property, without the extras.
You can go for Little Seoul as it is one of the cheapest options from all of them.
Depending on how much time you spend in GTA 5 Online, this might be a small thing for you. If you are short on money these tasks are not going anywhere so go outside and start making money.
Read More | Disney+ Hotstar New Mobile Plans Starting At Rs. 49: Check
Once You Buy an Agency, You can get started.
To get started, head over to your agency to meet Franklin, who will ask you to start contracts. Before you can start this job, you will need to designate yourself as the CEO of the company. (Fortunately, this is very easy but expensive in GTA 5 Online.)
Before signing up as a CEO you will need an office, and Maze Bank West, and the cheapest option will be for around $1 Million.
Like any agency, you can buy desks on the Dynasty 8 Executive website. Choose the one you like and buy. We're almost done.
Open the interaction menu and go to SecuroServ where you will have the option to register as CEO. Since you have an office, you can do this with one click.
Now head to your agency and sit on your laptop in your office with which you can do contracting work.
Read More | Android 12 (Go Edition) Features, and Much More
What's new in GTA Online Contract DLC
New Cars in GTA 5 Online Contract DLC
This update adds 17 new vehicles to the ever-growing Grand Theft Auto Online racing scene. Only seven are available for purchase now through in-game websites, and the rest are unlocked during the weeks of GTA Online's Contract Event. The legendary motorsport fleet of seven new cars, Pegassi Ignus, Lampadati Cinquemila, and Pfister Astron, is available at Legendary Motorsport. Dewbauchee Champion, Bravado Buffalo STX, Enus Deity, and Enus Jubilee have new Imani Tech mods available from their dealership auto repair shop.
Read More | PUBG New State Winter Carnival Free Rewards
New Weapon in GTA 5 Online Contract DLC
Another thing is the new contract weapons. Players can buy a heavy rifle from local ammunition for around $400,000. The remaining two weapons will only be available after purchasing the Armory Upgrade for the Agency Building. And also some new weapons are also announced like the Stun Gun and Compact EMP Launcher in the new GTA 5 online Contrast DLC.
Read More | Realme 8 Pro Gets Android 12 Based Realme UI 3.0 Early Access!
Other new additions to the Contract DLC
New rewards have been added to the pause menu and daily missions in GTA Online. The daily expenses of real estate and business have also been reduced. Completing auto shop contracts, customer shipments, and exotic merchandise export shipments now brings LS Car Meet to gamers. Meanwhile, the security capabilities of the nightclub and arcades have been increased. New clothes and accessories such as new coats, jackets, jackets, hats, and tattoos are now available. In the barbershop, players can get new hairstyles and face paint.
That's All For Today. Stay Tuned To TechBurner For More Stuff.
Join our Telegram Channel for more updates!