Netflix is one of the most popular videos streaming apps worldwide with around 154 million users. There is a number of good web series and movies are streaming on Netflix but not all the episodes are interesting. Even the most popular web series or movie has some boring part which we want to skip but we don't. To solve this problem Netflix is testing Variable Playback Speed feature on its Android app. Basically you will be able to speed up or slow down the content you are watching. It will save you valuable time and you can consume more content in very less time. Know more about Netflix Playback Speed in this article.
Netflix Playback Speed
Many Video and Podcast streaming services let the user change the playback speed of the content they are consuming. YouTube already has this Playback speed option. You can set it to as low as 0.25x and as high as 2x. This feature in Netflix was first reported by AndroidPolice and then Netflix has confirmed this feature. Company's blog post says,
"We're always experimenting with new ways to help members use Netflix. This is a mobile-only test and gives people the ability to vary the speed at which they watch on phones or tablets – choosing from normal to slower (0.5X or 0.75X) or faster (1.25X and 1.5X). It's a feature that has long been available on DVD players – and has been frequently requested by our members."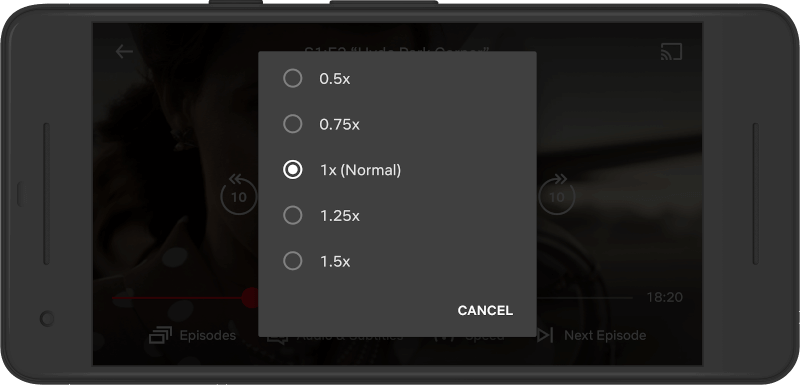 This feature comes really handy when you want to skip some part of your favourite web series. Also, in case you have a difficult time understanding the content then you can slow it down. Netflix VP Keela Robertson said that app adjusts the pitch in the audio at faster and slower speeds. So, the audio output will be good. Netflix offers four different playback speed including 0.5x, 0.75x, 1.25x and 1.5x.
However, Netflix is only testing this feature, it may not become a permanent feature of Netflix. What do you guys think about this feature? Would you like to watch your favourite content at a different speed? Let us know in the comment section below.
Read More: Xiaomi confirmed the launch date of Mi CC9 Pro and Mi Smartwatch in Global Market
Follow Tech Burner Team on our social media handles to get the latest updates:
If you have any queries about tech then simply mention @TECHBURNERTEAM on twitter and we will try to answer you as soon as possible.