After the use of a physical fingerprint sensor on the front and back side, smartphone brands come up with new Under Display or In-Display Fingerprint Sensor. It means just put your finger on your phone's display and it will scan your finger and unlock the device. It is a futuristic way to unlock the smartphone. One cool thing about In-Display fingerprint sensor is that it unlocks the phone with cool animations. All in-display fingerprint readers are not similar. Vivo introduced this technology in Vivo X21 first, but Vivo used Optical Fingerprint Sensor. All the smartphone with an in-display fingerprint sensor is using an Optical fingerprint reader including Oneplus 6T. Now, Samsung Launched Samsung Galaxy S10 series with Ultrasonic Fingerprint Sensor. So what is this? Let's find out the difference between Optical and Ultrasonic Sensor.
Must Read our detailed article about the Ultrasonic Fingerprint Sensor.
Capacitive Scanners
It is the simplest type of fingerprint sensor. We have seen such fingerprint sensor in many flagships, midrange, and budget smartphones. Basically, this type of fingerprint sensor does not capture the image of the fingerprint. Capacitive Scanners are made of many capacitors. The capacitors stored electric charge. When we place our finger on it there is a slight change in the electric charge. An integrated circuit track this and match with the stored fingerprint data and unlock the device.
Optical Fingerprint Sensor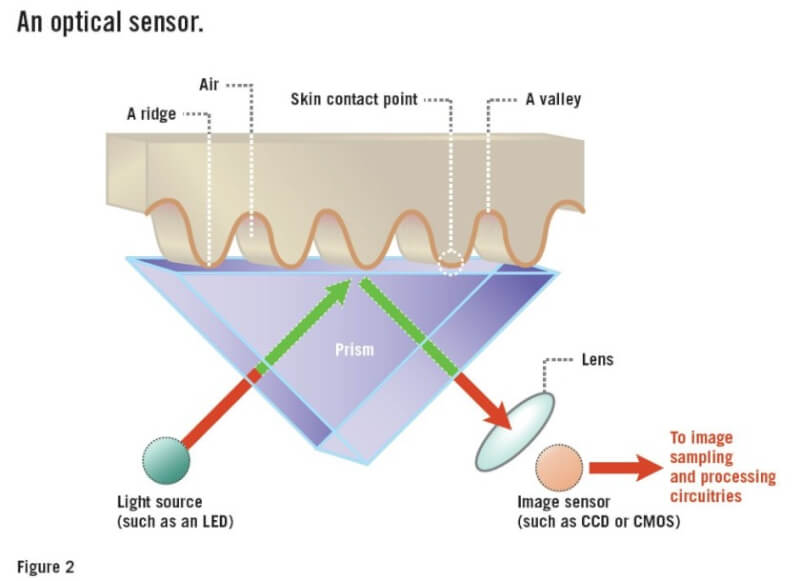 As the name suggests Optical Sensor is based on the light. We have seen Optical fingerprint sensor in offices or for government documents such as Aadhar Card to scan the finger. This scanners capture a 2D image of the finger just like the smartphone camera but captures much higher contrast image. Higher resolution sensor can capture more fine details of the finger and hence it can easily unlock the device with at higher speed. That's why Vivo V15 Pro launched with next Generation In-Display Fingerprint sensor which unlocks the phone faster than previous versions.
The disadvantage of this type of scanner is that it can be easily fooled. So it is less secure than Physical Capacitive Scanners. Also because it is based on optical principles so light is must need. So you have to press the power button first to light up the screen and then you can place your finger to unlock. Overall it is slower than the physical one.
Qualcomm introduced 3D Ultrasonic Fingerprint sensor which works with Flagship Processor Snapdragon 855. Samsung Galaxy S10 and S10 Plus have highly advanced Ultrasonic In-Display Fingerprint sensor. Let's see how it differ from Optical Sensor.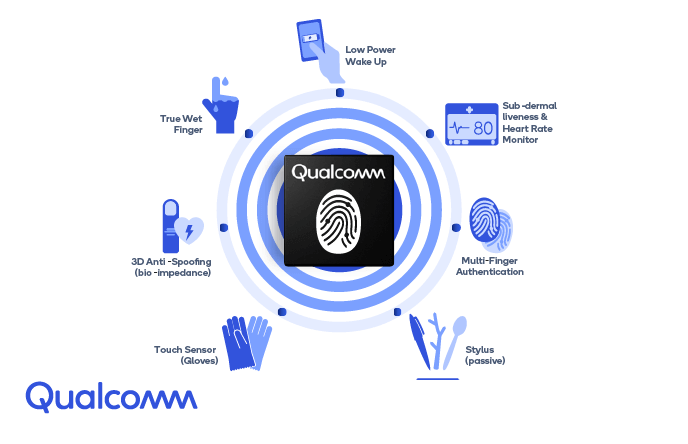 The ultrasonic fingerprint reader is advanced technology. Unlike the optical sensor, it creates a 3D image of the finger with the use of Ultrasonic Sound Waves. Ultrasonic pulses are transmitted towards the finger placed on the screen. These pulses create a three-dimensional map of the finger. So Ultrasonic fingerprint sensor is the most secure method of fingerprint authentication. Also, it does not require light so unlocks at the speed of physical fingerprint reader.
Currently, this technology is only present in Samsung Galaxy S10 Lineup. Let's see which smartphone brands implement this new technology in 2019. Stay tuned with us for such informative articles. Also, let us know which kind of biometric authentication do you prefer in the comment section below.