This Year at CES 2019 Asus Launched their Craziest Gaming Laptop of the time, The Asus ROG Mothership which is a Crazy piece of technology. The Asus ROG Mothership, is effectively a two-in-one laptop PC, giving the freedom to put the screen and keyboard wherever you damn well please and still (sort of) take it on the move with you.
By sticking all of its components behind the screen instead of the keyboard, the ROG Mothership can actually draw a lot more air into the system as a whole, helping to keep it cool under load while playing games.                                                                        Indeed, Asus said their original Mothership prototype was closer to 40mm in thickness when they first started developing it, but the design proved so effective they were able to shave another 10mm off it.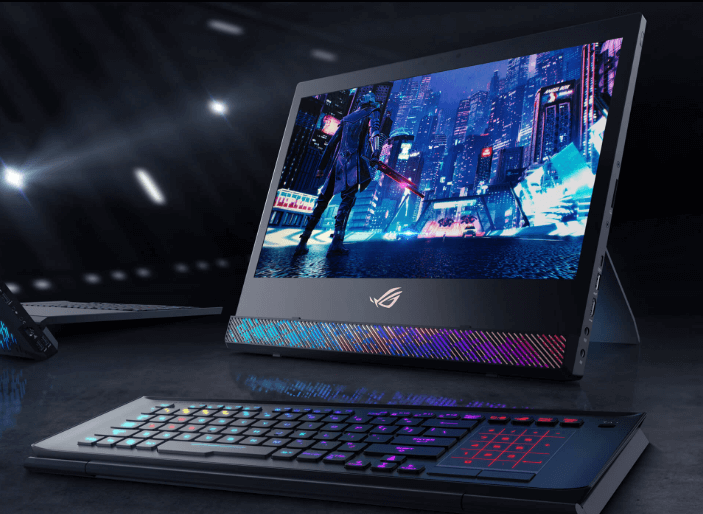 Design :
The ROG Mothership's display is a 17.3-inch 144Hz Full HD (1920 x 1080) G-Sync display driven by an Nvidia RTX 2080. Curiously, there's no mention of a 60Hz 4K panel, and I sincerely hope that's an option at launch. Full coverage of the sRGB color gamut is promised, which suggest that this could be a decent stand-in for creative work too. If you want to work on a display with higher resolution, there's an HDMI 2.0 port, and one of the USB ports supports the Thunderbolt 3 standard.
On the CPU side, it's nothing less than the 6-core Intel Core i9-8950HK, complemented by up to 64GB of not soldered-on DDR4 RAM. It may look a little strange, the idea behind flipping a gaming laptop on its side makes a ton of sense. Heat is the biggest enemy of gaming PCs, so by essentially putting everything vertical, it's far easier for Asus to vent that heat instead of trapping it between a keyboard and a desk.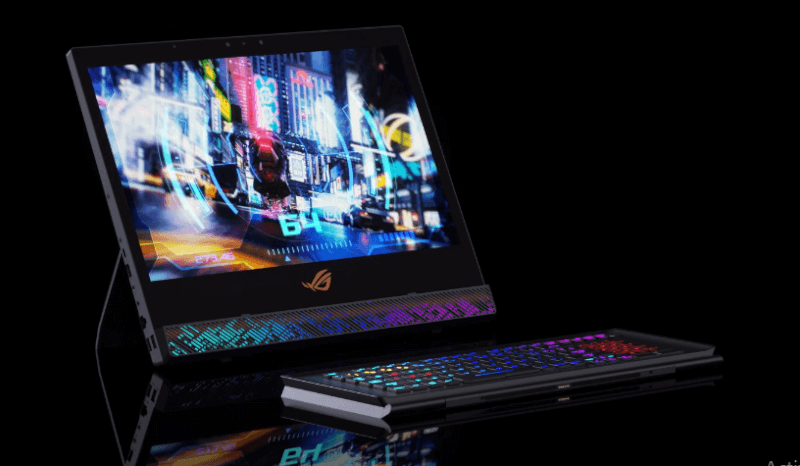 Like a Surface or any convertible-type laptop-tablet hybrid, the Mothership's keyboard is detachable, with the display portion of the device supported by a sturdy kickstand, which juts out firmly and confidently. All of the main components are stored on the monitor portion.
Asus claims that by having all of the bits that like to get hot sat upright, instead of laying flat and projecting heat down into your desk, it's easier for air to flow through the system. That's probably just as well, because the CPU is a six-core 8th gen Intel Core i9, and those things are liable to generate a fair degree of warmth.
You have the option of connecting the keyboard wirelessly (over a 2.4GHz Wi-Fi connection) or via an included Type-C USB cable. The Mothership is designed so that you can physically attach the keyboard to the monitor if you wish. You're afforded a lot of flexibility by this arrangement.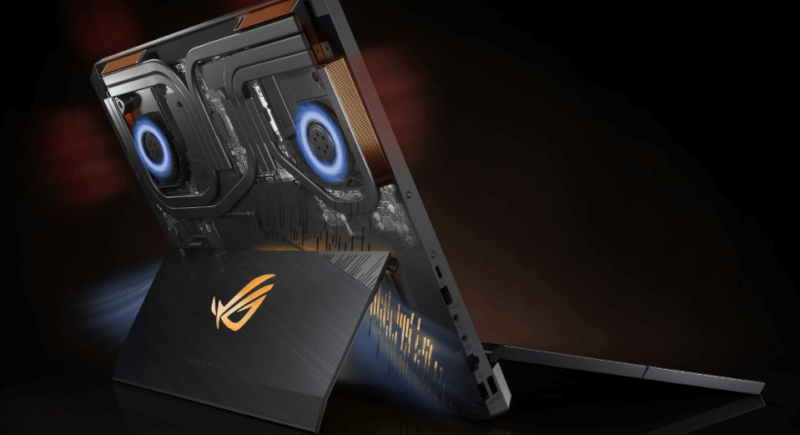 In a lot of ways, the ROG Mothership is perhaps better thought of like a mini all-in-one gaming PC than a laptop. The presence of a battery keeps the Mothership out of AIO territory. There's currently no word on how much battery life you can expect to get from the Mothership once it's unplugged, but frankly, the times that you should expect to use this on the go will be few and far between.