Realme has started rolling out updates to their smartphone which enables system-wide dark mode. The latest software update brings the dark mode to Realme C2, Realme 5, 5 Pro and Realme XT. The company has rolled out an update RMX1901EX_11_A.09 to limited random users of Realme X which brings dark mode. However, due to some bugs, the update is not widely rolled out yet so most probably you haven't received the update yet. But you can manually install the latest update on your Realme X with few simple steps. Read the guideline on how to enable dark mode in Realme X.
Disclaimer
Before you manually update your phone, do keep in mind that RMX1901EX_11_A.09 update is still under beta testing and it contains some bugs. So update only at your own risk. Make sure you backup all your personal data before updating and charge your phone at least 50% to avoid unexpected shutdowns.
How To Manually Update Realme X?
First of all, you have to download the update package from the Realme Website. The size of the package is 2.79GB. Click on the below download button to start downloading.
1. Transfer the firmware to the phone storage.
2. Open file manager and find the firmware you downloaded.
3. Now, click on the firmware and tap on "Upgrade Now".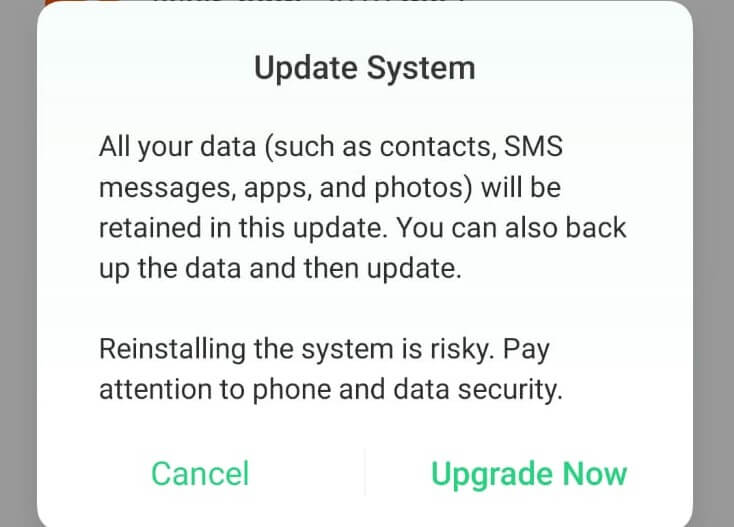 4. Now, wait for a few minutes. Do not turn off your phone while updating.
How To Enable Dark Mode in Realme X?
After instaling RMX1901EX_11_A.09  update, now you can enable Dark Mode in Realme X.
1. Open Settings and scroll down.
2. Find "realme Lab" and open it.
3. Now, turn on the Dark Mode and that's it.
Once you turn on the Dark Mode in Realme X, everything will be dark! The Settings menu, dialer, notification panel, messages app and third-party apps including Instagram, Facebook, Whatsapp and Gmail. However, the implementation of dark mode in apps like Gmail and Whatsapp is a bit finicky. When you toggle on the dark mode it forces apps to implement a dark UI which look weird on apps like Gmail, because it does not have a dark mode yet. The dark mode in Realme X requires some improvements.
Read More: WhatsApp Beta APK Version 2.19.315 Released with New Emojis- Download Now
RMX1901EX_11_A.09 Changelog
Besides the Dark Mode, this update brings some new features including October security patch update, new charging animation and more. Check out the full change-log.
Security
● Android security patch: October 2019
System
● Updated charging animation
● Updated Theme store added Font feature
Settings
● realme Laboratory
● Added Dark Mode
● Added a switch of notification dot for updates
● Quickly enter the hidden application list with fingerprints
Notification Center and Status Bar
● Added a switch of swipe down on the home screen for global search or notification centre
● Added fast switch toggles between SIM in the notification centre
● Removed the reminder after the hotspot enabled
● Removed the prompt while rooted
Touch
● The improved game touch experience
Known issues fixed
● Fixed partial application with probabilistic crashes
Have you got the dark mode in Realme X? Let us know in the comment section below.
Follow Tech Burner Team on our social media handles to get the latest updates:
If you have any queries about tech then simply mention @TECHBURNERTEAM on twitter and we will try to answer you as soon as possible.