TechBurner has recently launched India's First Edutainment App – BurnerBits. This all-new Made In India App provides 50-70 Word called ShortBits, which are being posted by our Large TechBurner Community every minute. While the QuickBits are published by us, which offers Image-based News in One Sentence. Both the ShortBits and QuickBits are best while it comes to providing Tech News to the Community. However, as Posting ShortBits is open for all, you might think How to Post ShortBits on BurnerBits App. Don't worry! We are here to help you. Check out below to know more.
What is ShortBits?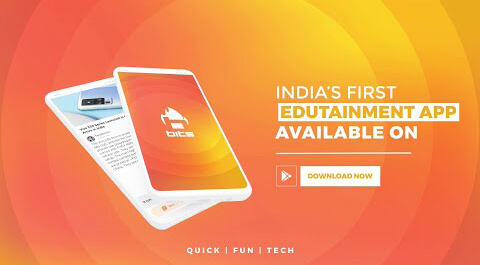 ShortBits are 50-70 word news on the BurnerBits App. At the same time, these ShortBits are provided by both our Team and our valuable TechBurner Community Members like you. Which means, you can post news of your choice and then it will be visible on the App for all the users. These 50-70 word articles contain a lot of story inside them, which means that "the length doesn't matter, the quality does". These ShortBits can provide best in class hand-picked news to the users. So, if you are one of our TechBurner Community Member or want to be one, Post ShortBits today and help the community grow. Here's how you can write a ShortBits:
How To Post ShortBits on BurnerBits App
Before you post ShortBits, there are some prerequisites. First, you will have to Download BurnerBits App from the Play Store. Check the steps after downloading the BurnerBits.S
Download BurnerBits App from Play Store
There's only one way to Download BurnerBits App, from Google Play Store. It was released on 16th July 2020. You can simply click on the link below to Download BurnerBits App from the Play Store:
Post ShortBits on BurnerBits App
The Steps here are vital if you want to Post ShortBits on BurnerBits App and help the Tech Enthusiasts of TechBurner Community. So, follow these steps carefully to successfully post ShortBits:
1. After Downloading the App, Open the App and Select your Preferred Language.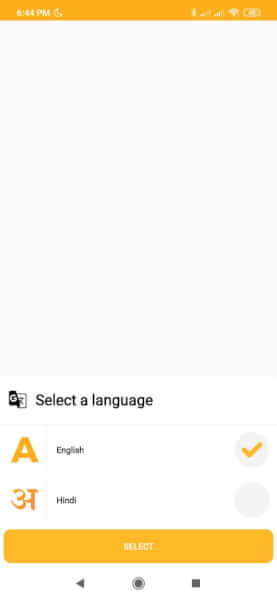 2. After that, click on the Hamburger Icon on Top-left Corner.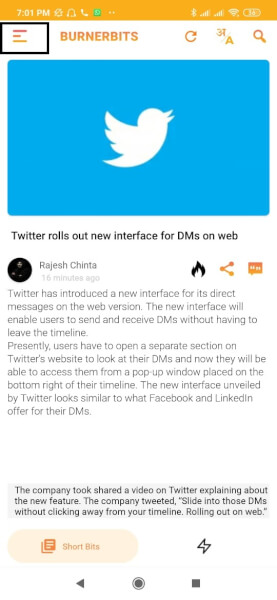 3. Click on Login/Register.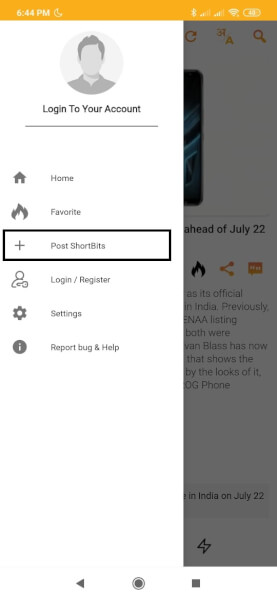 4. Now, Sign in with Facebook/Google or your Email Address.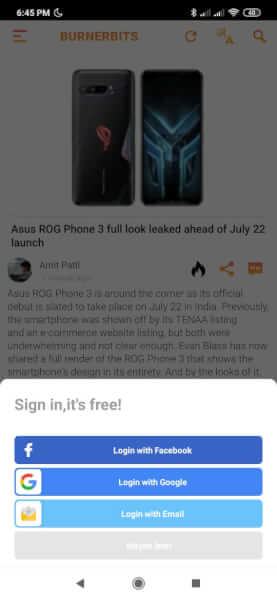 5. After Signing Up, again click on the Hamburger Icon.
6. Click on Post ShortBits.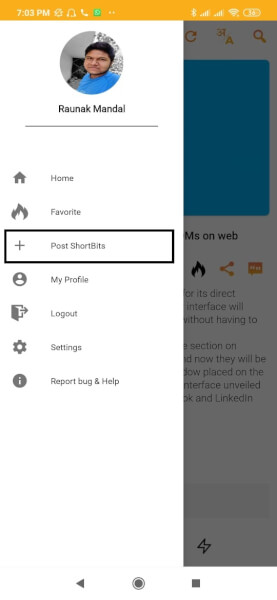 7. Now, follow the steps below to Post Shortbits on BurnerBits App:
Select the Language from the Top-right Corner you want to post in.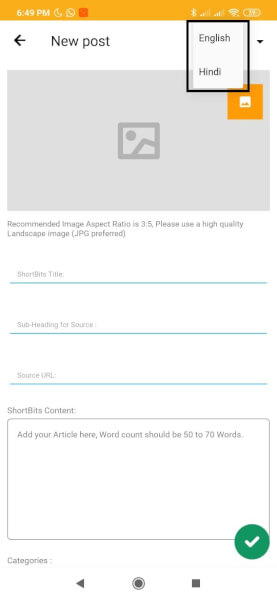 – Select a Cover Image from your Smartphone Gallery. The Image should not contain white background and must be of 5:3 or 500×300 in size. The Images should be in JPEG format. Otherwise, your post will be not reviewed by us.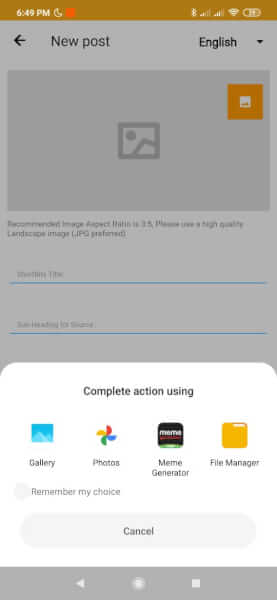 Now Enter the Title of your ShortBits. You should try to write an attractive title.
Enter the Subheading for the URL you are referring. The Sub-heading should not contain Read more or any advertising lines. It should be attractive and can be a feature or an exciting part of the article.
Next, Enter the Source URL. If anyone wants to get brief information about the ShortBit, this Source URL will help the user. So, you have to give the relevant source of the post.
Enter the Contents of your ShortBits which should be between 50-70 words. (75 Max)
Select Categories related to the ShortBits (max. 2). Also, if you are writing in English then Select Categories written in English and if you are writing in Hindi then select the Hindi category. (English- Technology, Hindi- टैकनोलजी).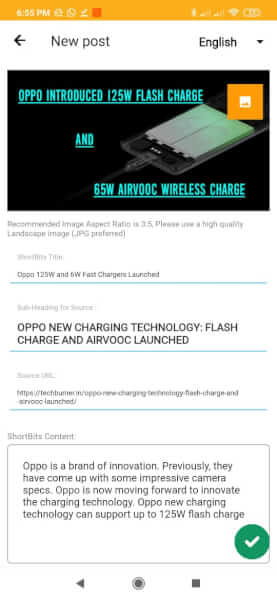 Click on the ✔ Icon after you are done.
Wait for your ShortBits to get Approved by us.

After approval, the ShortBits will be visible to everyone using BurnerBits App.
Benefits of Posting ShortBits
You will be thinking about why you should post ShortBits on BurnerBits. We will be providing you batches and verified badge when we see your hard work and excellent content posting on ShortBits. If we loved your work, we might also consider in our Team. The medals will be shown at your profile, and when we give you Verified Badge, then your posts will be not reviewed by us.
Take Care Of These Things While Writing ShortBits (DOs)
Always use a proper title.
Use an image of size (500×300 or 5:3) of JPEG/JPG Format. (Don't use White Background Image). For proper images, you can use PixelLab.
You should write the content of about 50-70 words. For counting words, you can use the Word Counter.
Sub-heading should be catchy.
Source URL should be of the Content from where you have written the information.
Always select the proper category according to your post.
Before posting, make sure to check all the information.
Avoid These Things While Writing ShortBits (DONTs)
Font Stylings like Bold and Italic
Hyperlinking Text
Changing Font Style, Colour, Text Size
Using an image with White Background
 Promoting your self through visualisation and writing
Providing Fake News
Conclusion
Therefore, we hope that you liked the way of How To Post ShortBits on BurnerBits App. If this tutorial has helped you, we will be happy to approve your ShortBits further. Besides all these, we want people to get themselves into the TechBurner Community and make it larger and larger. We will love it if you contribute to the Community.
So, will you Post ShortBits soon? Let us know in the comments below. Till then, "Stay Home, Stay Safe."
That's All For Today. Stay Tuned To TechBurner For More Stuff.