No matter which processor powers your android smartphone or how many GBs of RAM is boosting your smartphone, the performance of your Android smartphone will start to decrease. Every other device having the same problem with the performance issue, and today in this article we are going to tell you some amazing tips that will help you to Speed Up Android Phone Performance. So here are essential tips on, How to make your android phone run faster or how to speed up android phone performance? Let's find out.
Uninstall Bloatware
Many smartphone brands pre-install few third-party apps on your phone, it is called Bloatware.  It is always better to uninstall such apps, it will save your storage and also improves the performance of your smartphone. How to remove bloatware? Follow the simple steps below.
Navigate to Settings.
Tap on Apps.
Find the apps, which you have not installed and preinstalled by the brand.
Tap on it and press uninstall.
Uninstall Unused Apps that run in the background
We often install different apps from the Google Play store and then forget to uninstall them. Such apps take some storage space and run in the background and decrease the overall performance of the smartphone. You should uninstall Unused apps to improve performance. Follow the above steps to uninstall unnecessary apps and make your smartphone faster.
Disable Apps that can't be uninstalled
Many preinstalled apps cannot be uninstalled for some reason. Even we are not able to uninstall Google apps like Hangouts and Drive. You can disable apps that cannot be uninstalled. After disabling the app, it will no longer run in the background. It will improve performance as well as save battery life.
Open settings and tap On Apps
Tap on the app you want to disable.
Now you will find the 'Disable' option, just click on it.
Install OTA updates if any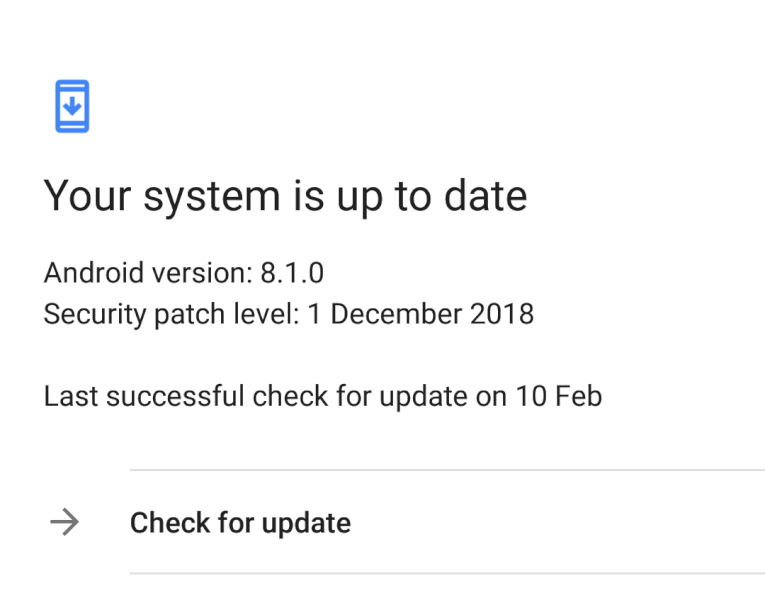 If you do not update your Android phone, you should. Google brings great improvements with each new release of the Android operating system. It includes System stability, higher performance speed, bug-fixes, and latest Security patch update. OTA updates can significantly speed up your device's performance. Go to settings and Tap on the About Phone. Tap on System updates and check for the update. If you got any OTA update then you should do that as soon as possible. Even we recommend you to update all your apps from the Play store.
Don't Install / Remove Ram Booster Apps
There is a number of RAM booster apps present in the Play store. RAM Booster or RAM Management apps usually harm your device performance. Android smartphones manage their RAM quite efficiently without the use of any third party app. If a background application you need is killed by any such app, rebooting the app takes longer and uses more battery. This can further slow down your device. So we highly recommend you not to install any RAM booster app. However, you can use the RAM booster app which is preinstalled by your smartphone brand.
Don't Install / Remove Battery Booster
One of the most common problem in smartphones is battery life and Similar to RAM boosters there are many Battery Boosters present. Energy savings apps which are available on the Play store can't control the Android system without Root permission. Battery saver apps simply close power-hungry apps. Such apps will automatically restart anyway. Thus, the effect is reversed and energy consumption will increase. If you really want to save the battery life then Go to Settings > Battery and check which apps use more battery. Uninstall or disable power hungry apps manually.
Enable Force GPU rendering from Developer Options
The GPU is the Graphics Processing Unit. It is very similar to the CPU, but GPUs which are programmed to handle graphical information. GPU Rendering takes the graphical processing part away from the CPU. So the overall graphics performance will increase and you will experience smoothness by Enabling Force GPU rendering. Follow these steps to enable Force GPU rendering
1. Go to Settings and tap on About phone and look for Build Number.
2. Tap on Build number 7 times and you will get a message saying "You are now a developer".
3. Go back to Settings and tap on Developer options.
4. Scroll down to the Hardware accelerated rendering and enable the toggle of Force GPU rendering.
Set Background Process Limit In Developer Option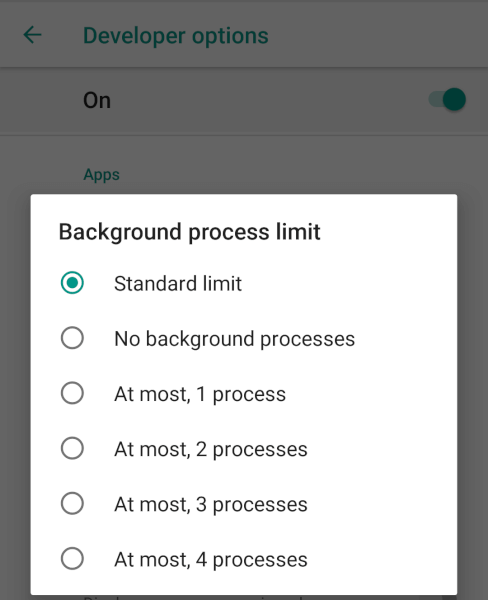 Too many applications run in the background which can lead to reduced battery life and poor performance. To improve the performance you can set the background process limit in Android smartphone. If you play too many games on your smartphone (Pro PUBG player) then you should set the Background Process limit to 1 or 2. If you are a normal user then set the limit to 4.
Enable Developer Options by the above method.
Scroll down and find Background Process Limit.
Now set the limit according to your use. By default, it is set to Standard Limit.
PUBG – GFX Tool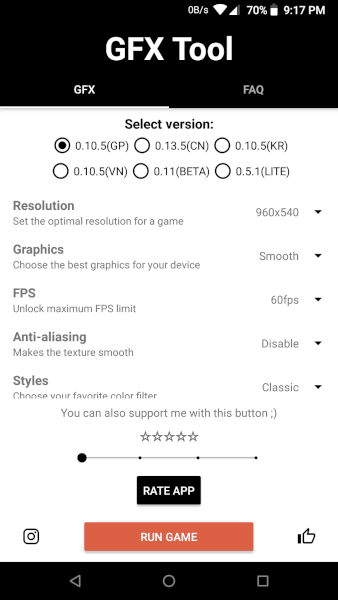 We all love PlayerUnknown's Battlegrounds (PUBG). Flagship smartphones with flagship specification can easily handle higher framerates in games. But in midrange smartphones, the framerates are very low. We are able to double the average framerate with the use of a free app called GFX tool.
Click here to Download the app GFX Tool.
Set the parameters according to your device.
Run PUBG and get ready for the Chicken Dinner.
ROOT ONLY TRICKS
Install A Custom Rom
Installing a Custom rom might seem a little intimidating at first but if you are using a device that doesnt get updates or you want some extra juice out of it you can definitely give it a shot.
Each Android device has a Different Procedure for Installing a Custom Rom and we cant explain for each device but the basic workflow is
Backup All your data
Unlock The bootloader of your device
Install a Custom Recovery
Make a Backup in Custom Recovery just in case.
Wipe Data and Cache in Recovery
Flash the Custom Rom
Flash the Gapps (Google apps)
This is just the workflow, If you need specific procedure for your mobile you can search google for each process
" *device name* unlock bootloader xda "
Example "Moto G5 Plus Unlock Bootloader Xda"
Similarily for the other steps as well
" *device name* custom recovery xda "
" *device name* custom rom xda "
You can try out different roms and once you get into this you will not be dissapointed!
USE GREENIFY TO HIBERNATE APPS
Greenify is one the more interesting apps out there that lets users close apps and keep them closed when not in use. Its very Straight forward and just needs some clicks to get you started on a rooted phone.
Then Just Select the apps that you dont want running at all times and Press the Hibernate button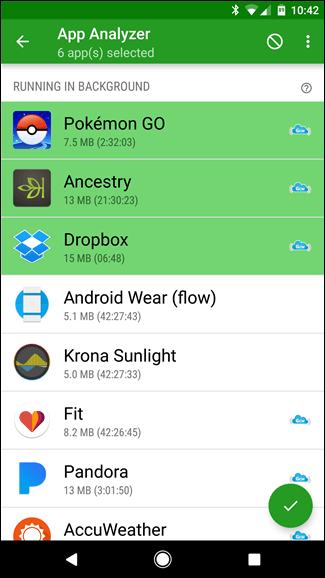 USING A PERFORMANCE ENGINE
A performance engine is something that you can use to juice out every piece of performance out of your smartphone! Its only available to rooted users and the one we recommend is Helix Engine.
Its an app that you can download from the play store but dont be fooled by the looks, it does create and impact.
It can save you battery , improve performance and also keep the phone running smooth and cool!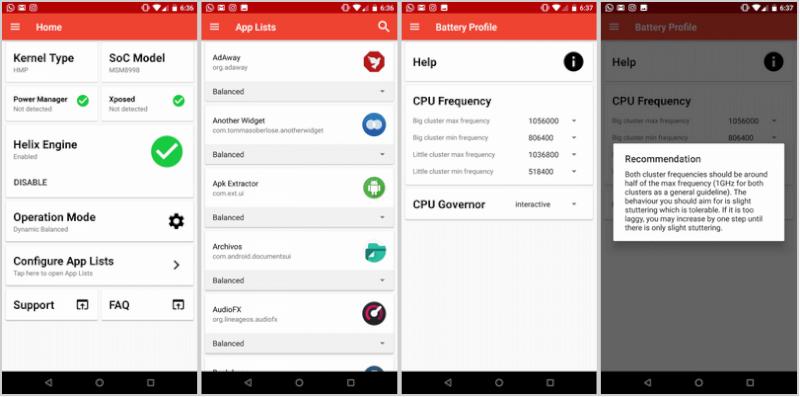 That's It folks Hope we Helped! Comment and Subscribe to Notifications as Always.