Do you know you can split bills with family and friends directly from Google Pay? Google announced a feature to add a bill splitting feature to its UPI payments tool, Google Pay. They announced it last month at the Google for India 2021 event. This useful function has now been rolled out, and you can use it by updating your Google Pay app. This new tool 'Split Bills' on Google Pay makes it easy to keep track of your spending on nights out with friends. Also, guarantee that they don't forget to pay you back. Convenient, right? Google Pay is primarily a payment app. Therefore, the payment procedure is simple as compared to other specialized bill splitting tools. In this post, we will teach you how to split bills on Google Pay. Stay tuned!
Steps to Split Bills on Google Pay
Open the Google Pay app and choose

New Payment

at the bottom of the screen. On the next page, tap

New Group

. That's how you can create a new Google Pay group. 
Now add contacts to your Google Pay group. You can type the contact's name into the search field. Or choose from the

Recent Contacts

or

Google Pay Contacts

options lists. To continue, select the contacts and press

Next

in the top-right corner.

Write the name of the group and click the

Create

option.
Use Bill Splitting Tool of Google Pay
To split bills on Google Pay with your pals, open the Google Pay group you've formed. Now, hit the

Split an Expense

option at the bottom. Put the total amount to be split and then tap

Next

.
Now you will see the list of members with the divided amounts. You can keep all the ticks to divide the money equally or specify a certain amount that someone must pay. 
If anyone in the group doesn't owe you money, you may deselect them. Then split the bill amount among the other members. You may also provide a description to help you remember the spending later. To raise the payment request, hit Send Request after you're finished.
From the group's communication window, you can read the expenditure request. Also, see if your friends have paid the amount.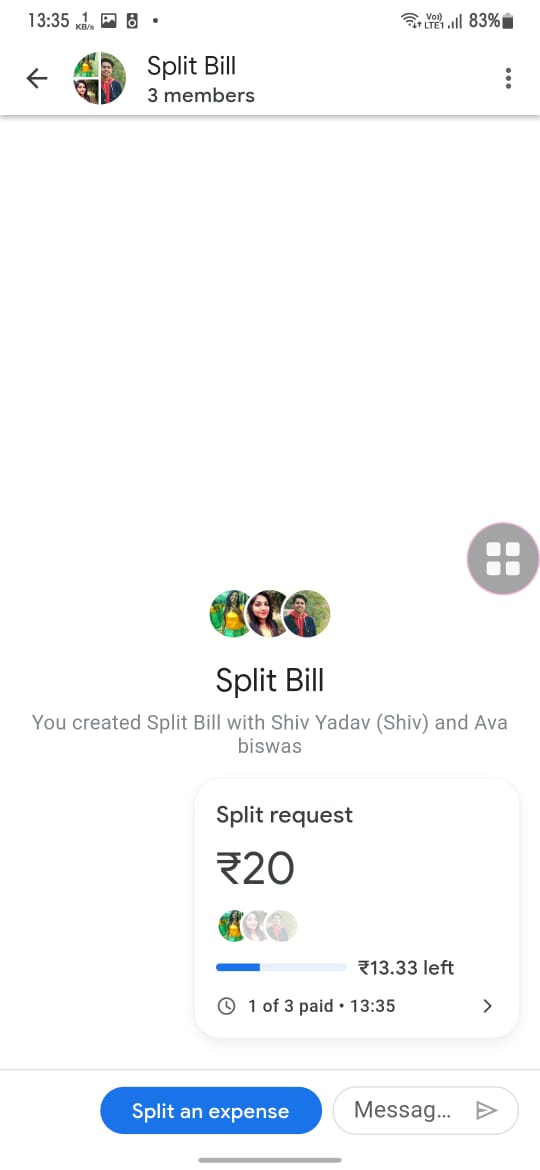 You can also cancel the payment request you just made in the Google Pay app. Just tap the three dots menu symbol in the upper right corner. Select

Close request

and confirm.
How to Delete a Google Pay Group?
Open the Google Pay group and press the three dots. By hitting the

minus

button next to the user's name, you can manually remove the members. Choose

Remove from Group

from the confirmation pop-up.
2. Exit the group after you've deleted all the members. To do so, hit the Leave group and then confirm your choice.
So, that's all! With these simple steps, you can now split bills on Google Pay. 
For more updates follow TechBurner!