We took a number of screenshots of chats, home screen, apps, quotes on Pinterest or Instagram, news and what not! We share screenshots on social media as it is. But there is an app called Snapmod which will add device frames to your screenshot which looks cool and interesting. We use this app to make the featured image of articles. You can use this cool app to make your screenshot more eye-catchy. Download Snapmod from the given link and read the article to know how to add device frames to your screenshots.
Download Snapmod App
First of all download Snapmod app from the Google Play Store. Click on the below link which will redirect you to the Play Store. The app is free but you can get the premium version which includes new features like Auto Palette, Auto blur, Auto generator and more.
How to Add Device Frames To Your Screenshots
1. Install and Open Snapmod app.
2. Tap on the blank screen to choose a device.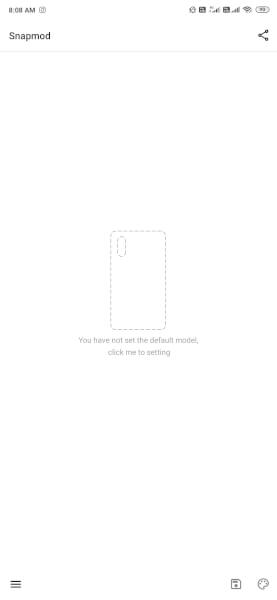 3. Select the device you want to use as a frame and tap on it. 18 smartphone brands are present in the app.
4. Now tap on the screen area of the device to add your screenshot.
5. Select the image you want to choose and that's it. The screenshot will be automatically fit in the frame.
6. You can even customize the background colour and device colour. Or you can save a transparent frame in PNG format.
7. Tap on the Colour Pallete icon to change the background colour and tap on the Cross icon to change device frame.
Read More: Google's Quantum Supremacy: An Easy To Understand Explanation For Enthusiasts
Supported Devices
You can add frames of the following smartphones.
Brands
Models
Xiaomi
Mi 4, 5, 6, 6X, 8, 8 SE, Mi 8 Youth, Mi 9Mix 2s, Mix 3, Play

Redmi K20, Note 5 Pro

Google
Nexus 5, 5X, 6PPixel, 2, 2 XL

Pixel 3, 3 XL

Vivo
Nex, X21, X23
Oppo
Find X, K3R15, R17, Reno
Meizu
15, 16, 16s, 16s ProMX 2, 3, 4, 5

Note 8, 9

Pro 5, 6

V8, X8, mblu E3

Samsung
A8s, Note 5, 8, 9Note 10, S10, S10+, S10e

S5, S7, S8, S9, S9+

Sony
Xperia 1, 5, 10 PlusXZ, XZ Premium, XZ1, XZ1 Compact

XZ2, XZ2 Compact, Premium

XZ3, XZs

OnePlus
3T5, 5T

6, 6T

7, 7 Pro, 7T, 7T Pro

Smartisan
Pro
Apple
iPhone 8, 8 PlusiPhone X
Essential
PH-1
Huawei
Honor Magic 2, Mate 10, 20, 20 Lite, 20 Pro, 20XMate 30, Mate 30 Pro

Mate RS

Nova 4

P20, P30, P30 Pro

HTC
U11, U11+, U12+
Motorola
G6, G7 Plus, Moto Z, Moto Z2 ForceMoto Z3, One Vision

P30, Z4

Lenovo
S5, Z6 Pro
LG
V30
Nokia
7 Plus, X5
Realme
Realme X
Now, download Snapmod app and add device frames to your screenshot.
Follow Tech Burner Team on our social media handles to get the latest updates:
If you have any queries about tech then simply mention @TECHBURNERTEAM on twitter and we will try to answer you as soon as possible.