Samsung is one of the best smartphones, or we can say "technology" producing brand in 2018. As they grow monitory, it is pretty expected that they deliver something new or advance to their consumers and hence they spent a lot of money in the research and development on their products. They recently announced some of their products in their developer conference that focussed on being in mass production. The showstopper was the Samsung Foldable Smartphone, and this complete story is dedicated to the same piece of tech.
Samsung Developer Conference
The announced and unveiled a foldable smartphone which had been rumoured for a long while and also Samsung had been working on. As making a display flexible is not easy, the manufacturing costs become higher, so it is pretty expected that the price would be higher. They teased a phone, which had a foldable display that folds away and presentations in both half and full view display. Samsung calls it "Infinity Flex Display" technology which is targeted towards long-term use and degradation of panels. The screen sizes were 7.3inches, and 4.6 inches in their respective physical condition and the phone was able to run three apps simultaneously which could be a game changer for Multi-Task users.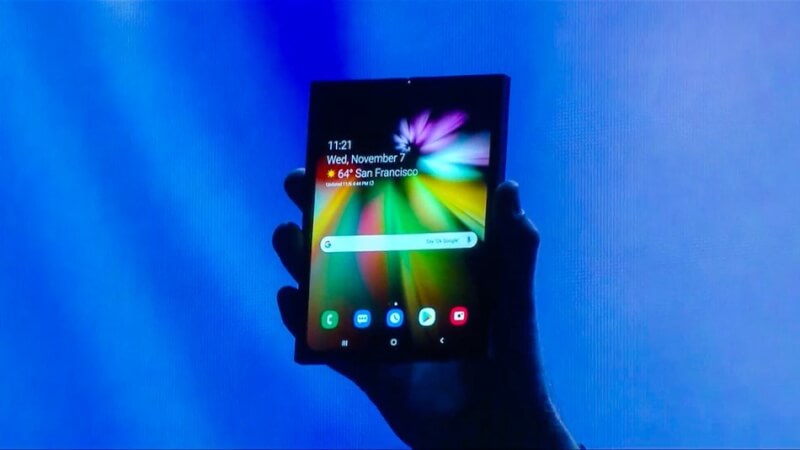 Along with this foldable smartphone, Samsung also showed their new 'One UI' which is an entirely new user interface for upcoming Samsung smartphones. It takes some design cues from their previous Samsung Experience and has a more minimal touch to the show. It has also had more rounded icons and focuses on more optimised User experience for the show, and it works on the latest Google Android Pie as of now.
Samsung is also launching their "Bixby Developer Studio" which is supposed to take Bixby voice assistant, a step further. According to Samsung, Bixby will be able to understand more languages like Spanish, Italian etc. in the upcoming years with their new sets of services "Bixby Capsules". However, it still lags behind the popular mainstream voice assistants like Google Assistant or Amazon Alexa in the game.
The Foldable phone 'ONE UI' is supposed to strike the phones in future software updates whose date is not confirmed yet. Also, the pricing and more specifications of the foldable smartphone is still unknown, but it is supposed to be in markets next year, i.e., 2019. The Developer event has shown the enthusiasm of Samsung for their consumers for stepping towards future like their Infinity Display and S-Pen.
Stay tuned to Tech Burner for more Tech News.