The CES 2020 is over, and we had seen multiple brands show off new and exciting gadgets, we saw new laptops, new concept phones, new wireless earbuds and a lot more, but there we various meets where the media weren't allowed to shoot the pictures and the information was confidential. Still, today something interesting has surfaced the internet. Keep reading this article to know more details.
According to a South Korean Giant ET NEWS, on 13th January 2020, Samsung had a secret booth in the halls of the CES 2020 where they showed off exciting new technologies to some certain specific people, and the exciting part was they showed off a new flexible OLED display to the people which was hidden from the general public.
The report also points out that, the new display was utterly different from the previous ones and looked similar to a hybrid between smartphone screens and tablet screens, the original prototype had a unique design element, as we had seen on the Galaxy Fold it could shift between the inner and outer screens on unfolding and folding, this new device can change from a smaller 6-inch Screen to a bigger 8-inch screen on pressing some specific buttons.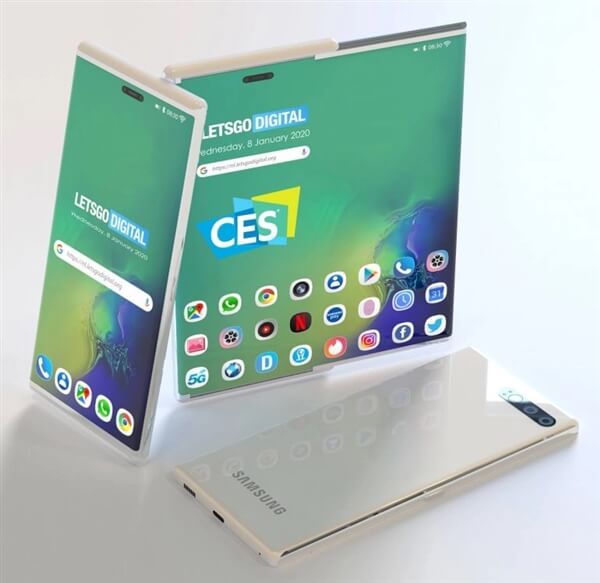 A Dutch website, LetsGoDigital also provided us with a render of the unknown new Samsung prototype as you can see in the images attached above, the device doesn't unfolds and folds similar to the Galaxy Fold but instead uses a flexible display to shrink and expand the display size on requirements. The sliding panel on the prototype developed by Samsung is almost characterized by the fact that the screen naturally grows or shrinks when the user presses the button just similar to the previously launched LG TV's.
Also Read: Honor 9X Launched in India along with Honor Magic Watch 2
A point to be noted here is,  Samsung specifically showed off their new prospective technology to the media, and is mostly related to a technology that isn't fully complete or has some changes to be made also leading us to a conclusion that the new device may not launch in the upcoming time soon.
Samsung may show some more practical demos of the new device at the Unpacked event, which is scheduled for next month, the device is currently unidentified. It is not named yet, hoping to see what this technology can offer us in the future.