Tencent Games, the world's largest game company, announced the launch of India's biggest eSports Championship, 'PUBG MOBILE Campus Championship 2018'today. Tencent Games will partner together with OPPO India and run the mega eSports tournament for a month from 26th September 2018 to 21st October 2018, culminating in the grand finals to be held in Bangalore.
The PUBG MOBILE Campus Championship 2018 in India will feature more than 1000 colleges from 30+ cities across the country in the mega tournament. With a prize pool of INR 50 Lakhs sponsored by OPPO India, the championship will be streamed across social media platforms to enable eSports enthusiasts across the country to view and follow the championship. Squads of 4 from any campus in India can participate and compete. Four knockout rounds including the semi-finals will shortlist the final 20 teams to compete for the ultimate trophy at the grand finals. Registrations will be open via the official website from 7th September 2018 till 23rd September 2018.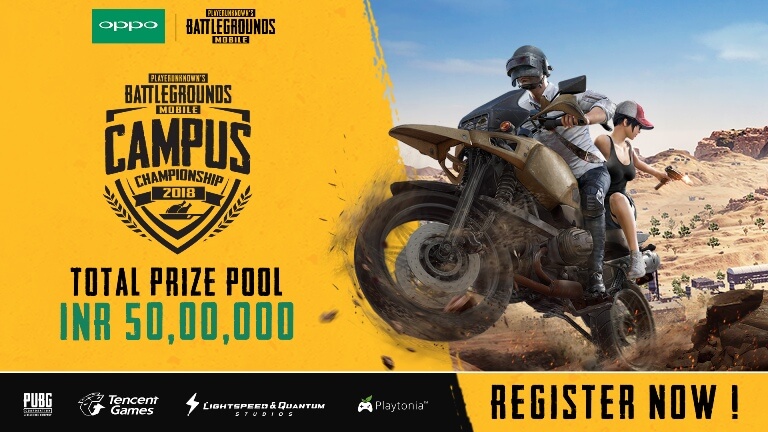 PUBG MOBILE Campus Championship 2018 Prize
The Tournament will have following special awards for the matches at the Grand Finals
MVP – Overall Best Player with a maximum number of MVP awards
The Executioner – Awarded for maximum kills overall
The Medic – Awarded for the highest number of revives
The Redeemer – Awarded to the player with the highest amount of health restored
The Rampage Freak – Awarded for maximum kills in one lobby
The Lone ranger – Awarded for Maximum Time Survived in game
PUBG MOBILE has become one of the most played games in India. After only a few months in the market, PUBG MOBILE had a tie-up with the iconic movie franchise, Mission Impossible 6: Fallout to deliver all-new in-game content inspired by the film. PUBG MOBILE has already crossed 100 Million downloads globally and launched Season 3 of the Royale Pass earlier this month, which skyrocketed the game to No. 1 position in Top Grossing category among all Apps of Google Play.
About PUBG MOBILE
PUBG MOBILE is developed by Tencent Games and PUBG Corp. and based on PlayerUnknown's Battlegrounds, the original PC and Xbox One gaming phenomenon that took the world of interactive entertainment by storm in 2017. Up to 100 players parachute onto a remote island to do battle in a winner-takes-all showdown. Players must locate and scavenge their own weapons, vehicles, and supplies, and defeat every player in a visually and tactically rich battleground that forces players into a shrinking play zone.
About Tencent Games
Tencent Holdings Limited (SEHK 700) is a leading provider of Internet value-added services, also the key shareholder of Riot, Supercell and Miniclip. Tencent Games, part of Tencent Holdings Limited, is a leading world-class online game developer and operator. Tencent Games is dedicated to creating a reliable, fun, and professional interactive entertainment experience for users through the creation of quality multi-segment online game products.