Last year we have witnessed a tremendous surge in electronic gadgets and accessories, especially wireless technology. Owing to the Covid-19 pandemic, everyone had to adapt to remote working and online learning. Did you know that the TWS market in India grew by a whopping 723% YoY in Q3 2020? However, the year 2021 also saw the launch of many more tws and the trend continued. In this article, we will recommend the best tws earphones of 2021 for all price ranges such as best tws under 5000, best tws under 2000 and so on. Also, do check out the ongoing Flipkart Big Billion Day Sale 2021 and the Amazon Great Indian Festival 2021 for top offers and lowest-ever prices on tws.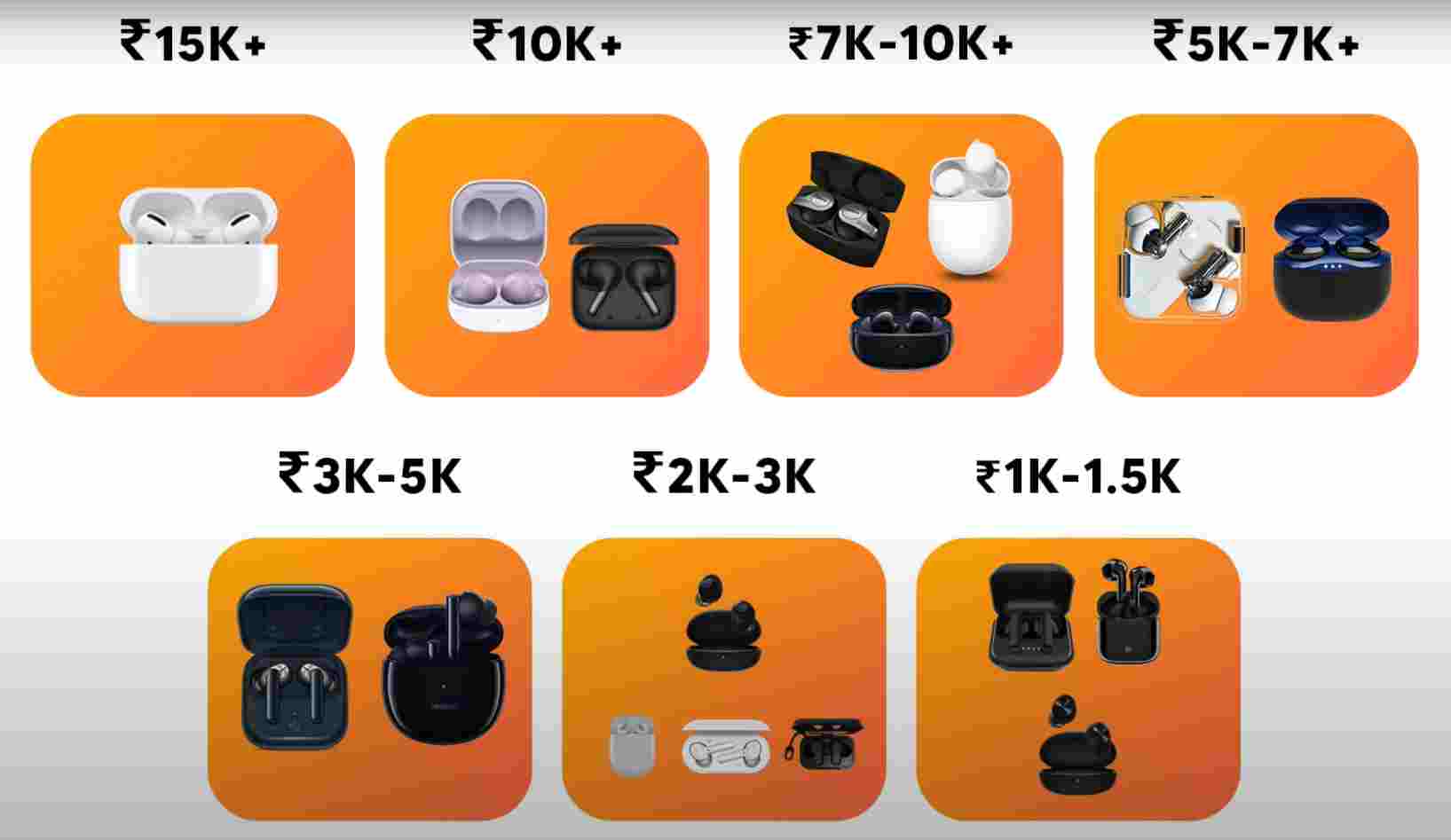 We have categorised the best tws 2021 under different price brackets and rated them in terms of sound- highs, mids and lows, connectivity and comfort. Without any further ado, let's get straight to the comparison. 
Best TWS Earphones Over Rs 15000
There's really no competition here because the only tws priced this high is Apple's AirPods Pro. They are definitely the best in class premium tws when it comes to features such as noise cancellation, transparency mode and spatial audio. Not to mention the seamless integration and device switch if you are in the Apple ecosystem.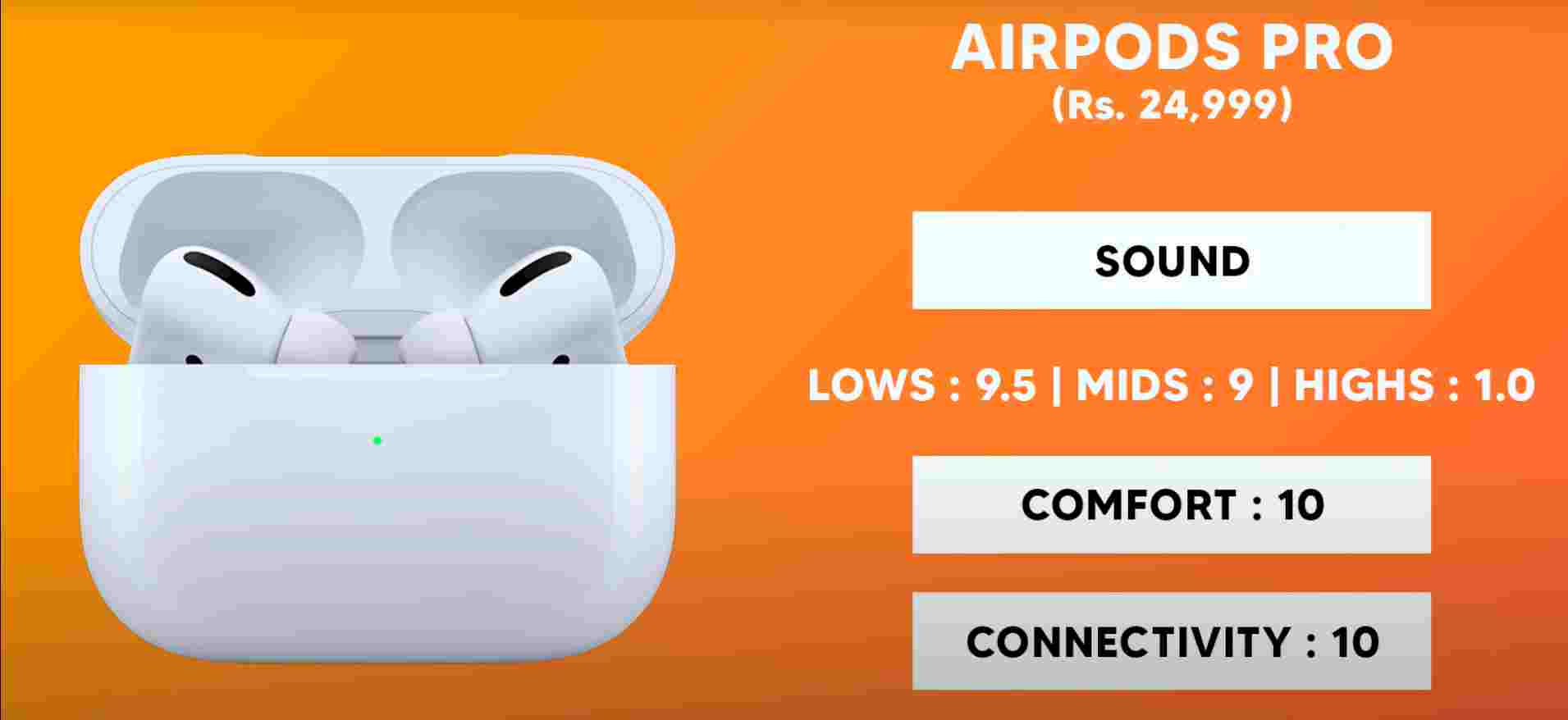 Best TWS Earphones Over Rs 10000
We do have some more competition in this budget as the price gets lower. However, keeping the price aside, these tws devices also provide quite a good sound quality just like the Apple Airpods Pro.
OnePlus Buds Pro 
OnePlus recently launched their premium tws OnePlus Buds Pro or as it is better known in the tech world, AirPods Pro for Android. It has the same stem touch functionality as Apple's AirPods Pro and has a very premium sound quality. The look and feel of these OnePlus Buds Pro are very stylish and it's a good overall package at this price point.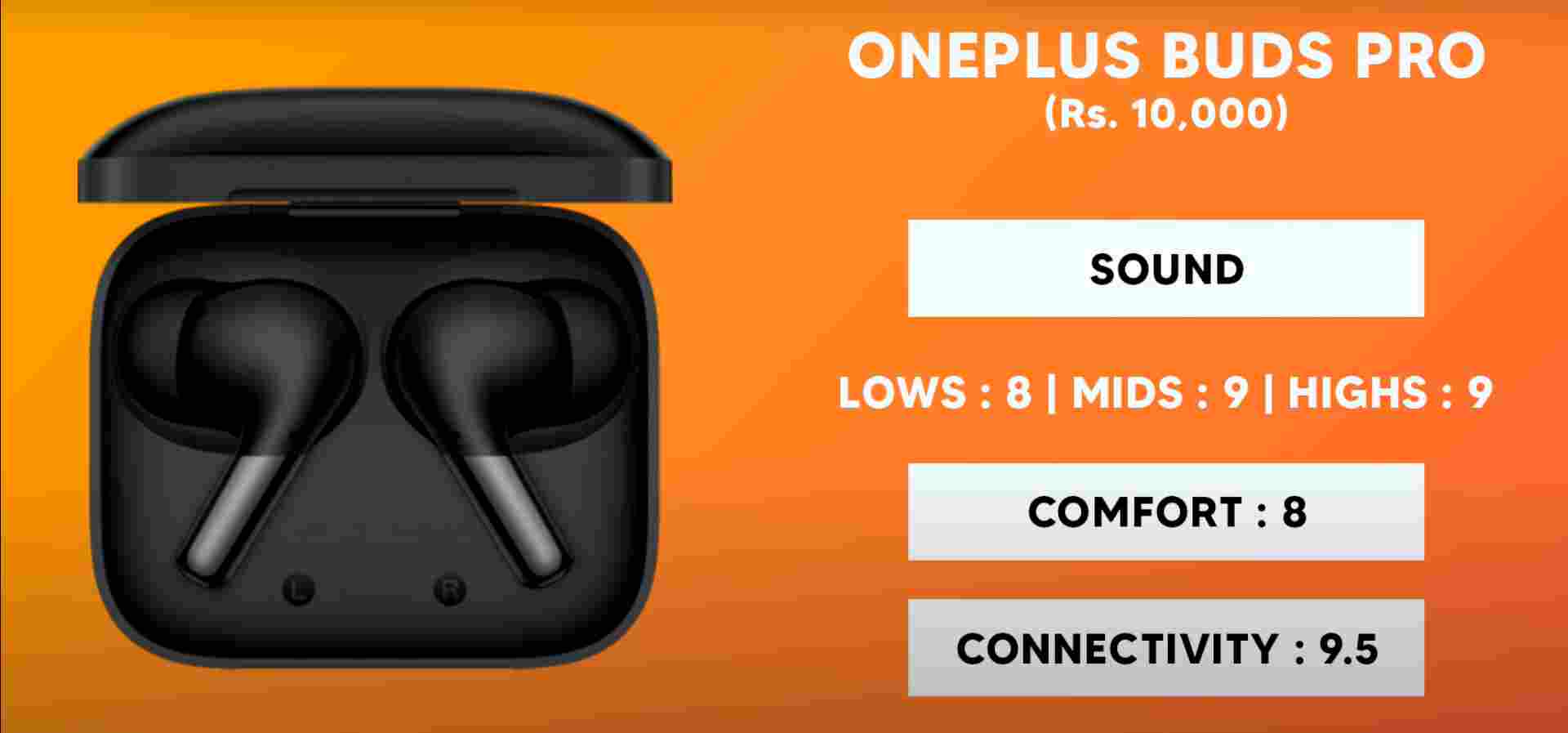 Samsung Buds 2 
For those of you who do not want a stem design, the Samsung Buds 2 can be a great option. It has all the bells and whistles such as ambient sound, surround sound and noise cancellation. The touch response is great, it's very comfortable in the ear and tuned by AKG for amazing sound quality. Brownie points to Samsung for four different colour options.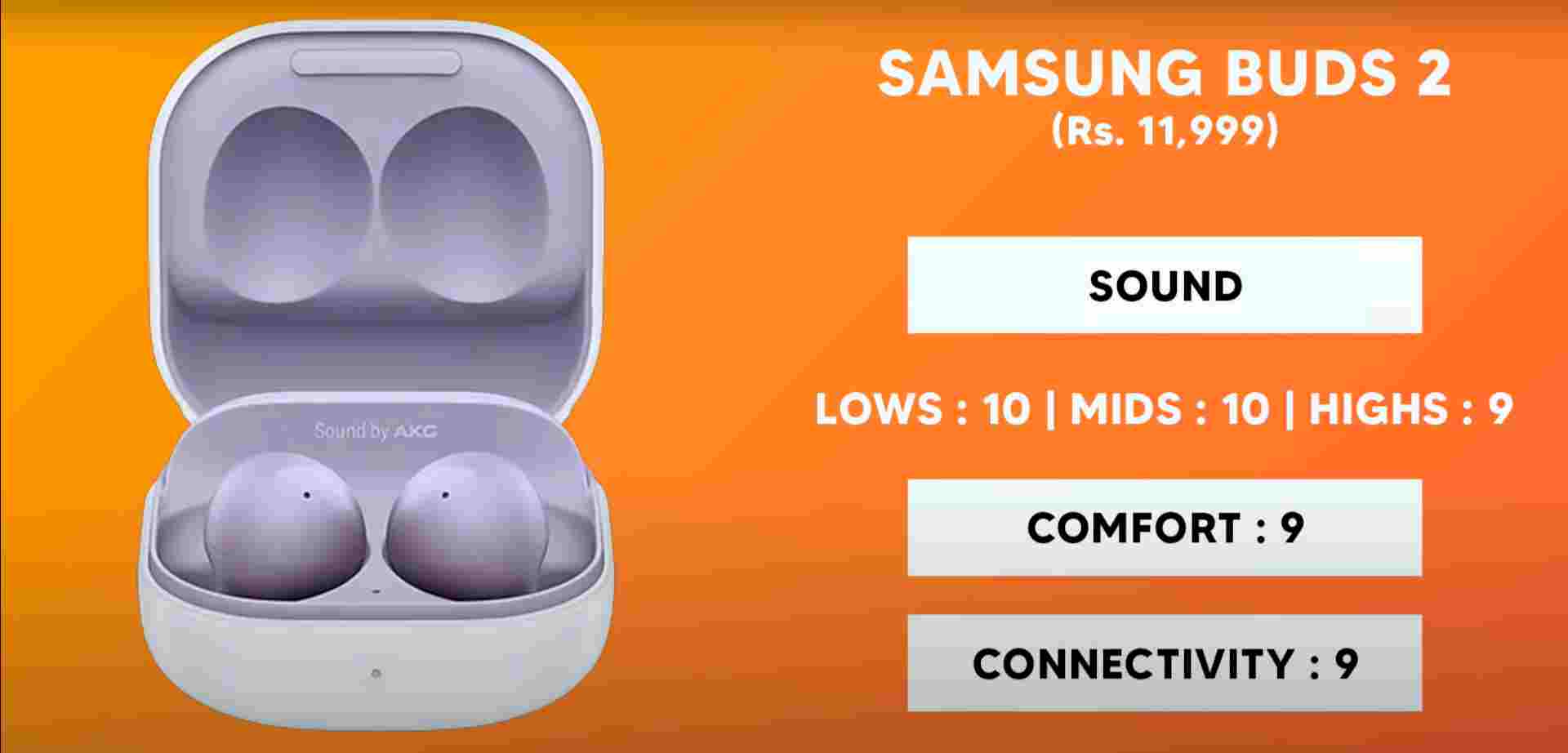 Google Pixel Buds A 
The Google Pixel Buds A are shaped slightly different from all other earbuds but if it fits in your ear, you'll find it to be very much comfortable. The sound signature on these are really well balanced overall, albeit you might find the highs a bit muted sometimes. Special shoutout to these for having the best mic quality among all others in the list, beating even the coveted Apple AirPods Pro. So, if you are looking at tws for zoom meetings, these become the go-to option.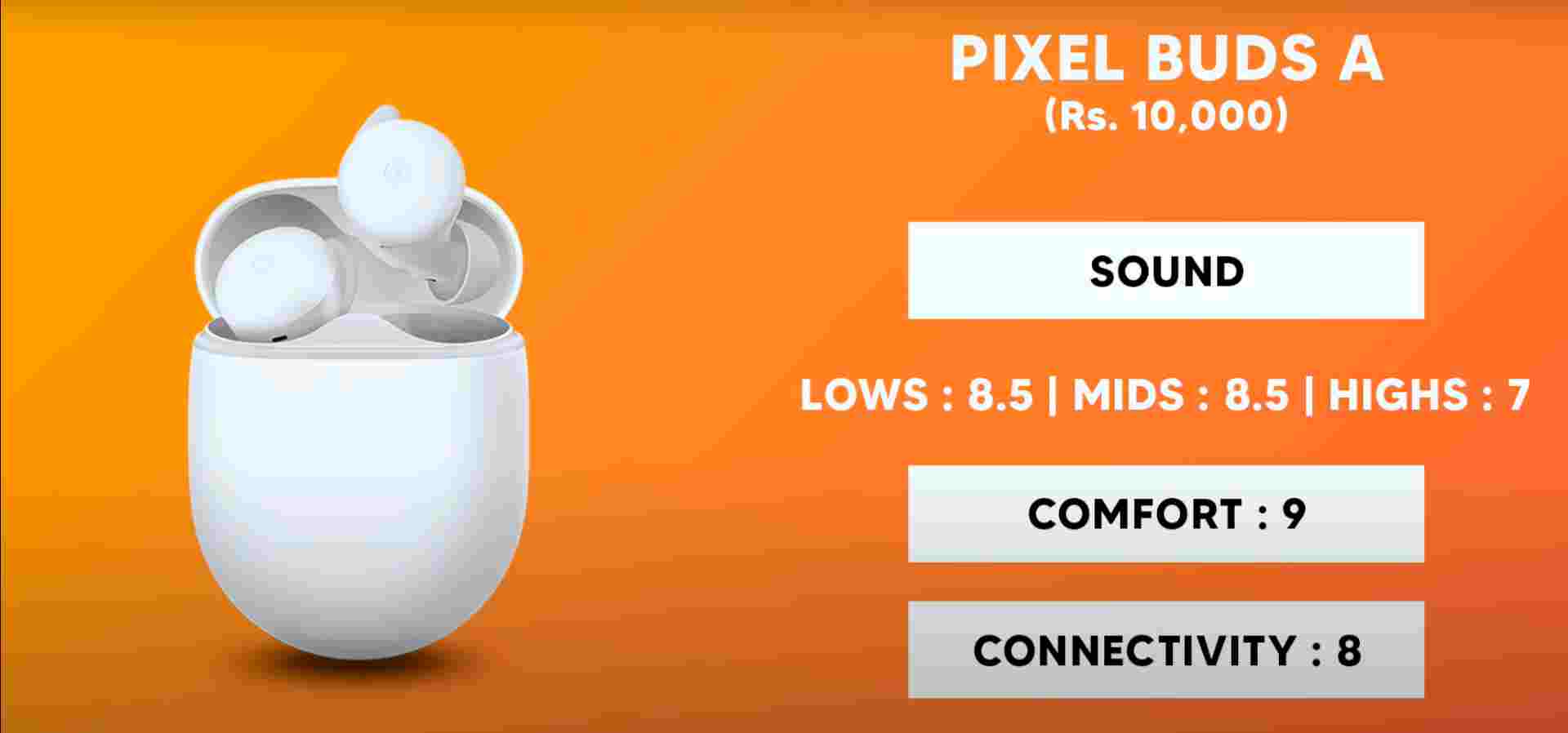 Oppo Enco X 
Some of you might not know this but Oppo actually started out as an audio company manufacturing headphones and earphones. Their advantage definitely lies here since the Oppo Enco X produces some top tier sound quality, although not the loudest when compared to the competition. Also, they might not be very feature-rich but have definitely nailed the basics such as connectivity and sound.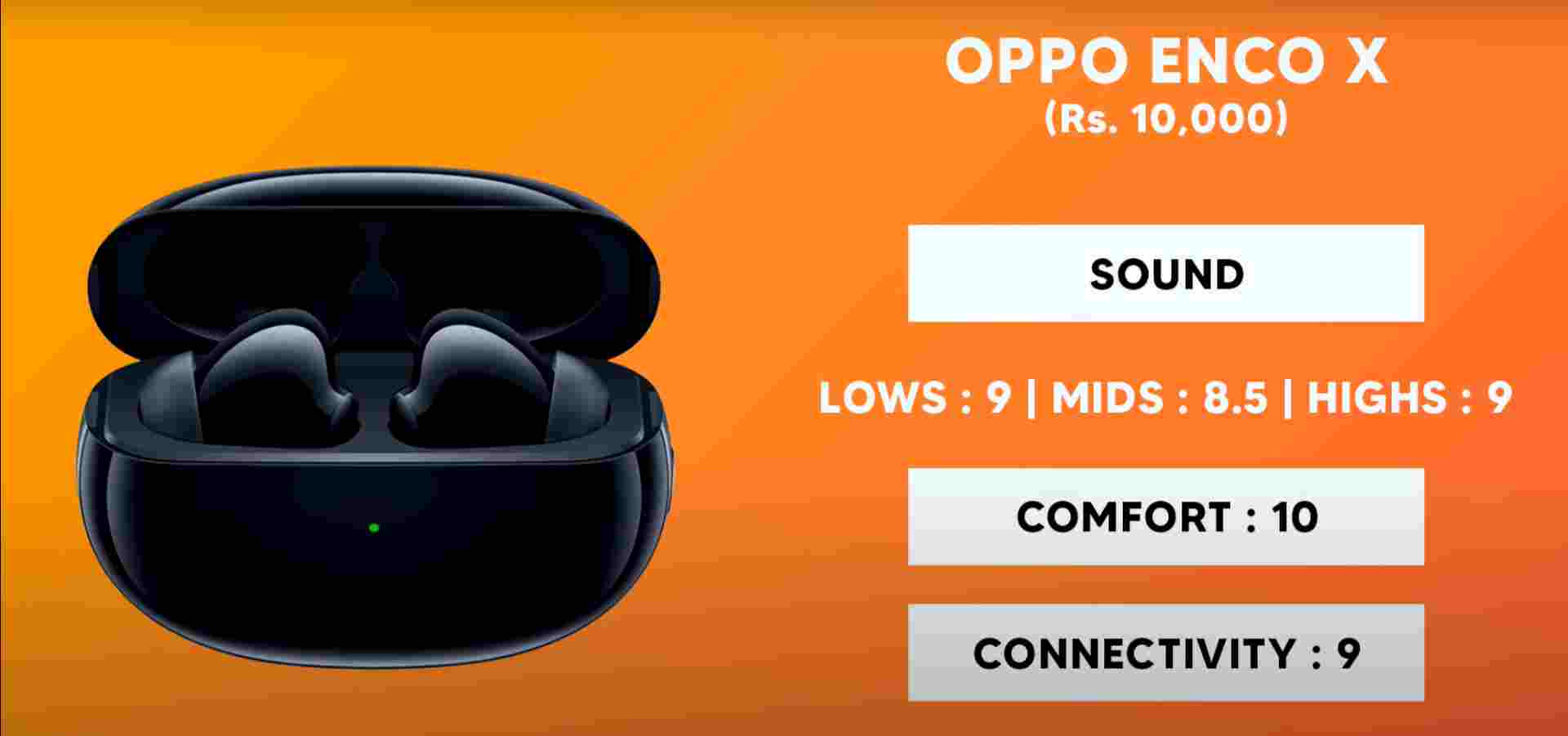 Best TWS Earphones between Rs 5000 to 7000 
Nothing Ear (1) 
For those of you living under the rock and never heard of Nothing, it is a hardware company started by Carl Pei after he left OnePlus; and the Nothing Ear (1) is its first tws. They are so much lightweight that in terms of comfort, they beat all others on the list. They sound very balanced and rich. The design is quite unique and up to personal preference although the case seems a bit bulky with a lot of unutilised space.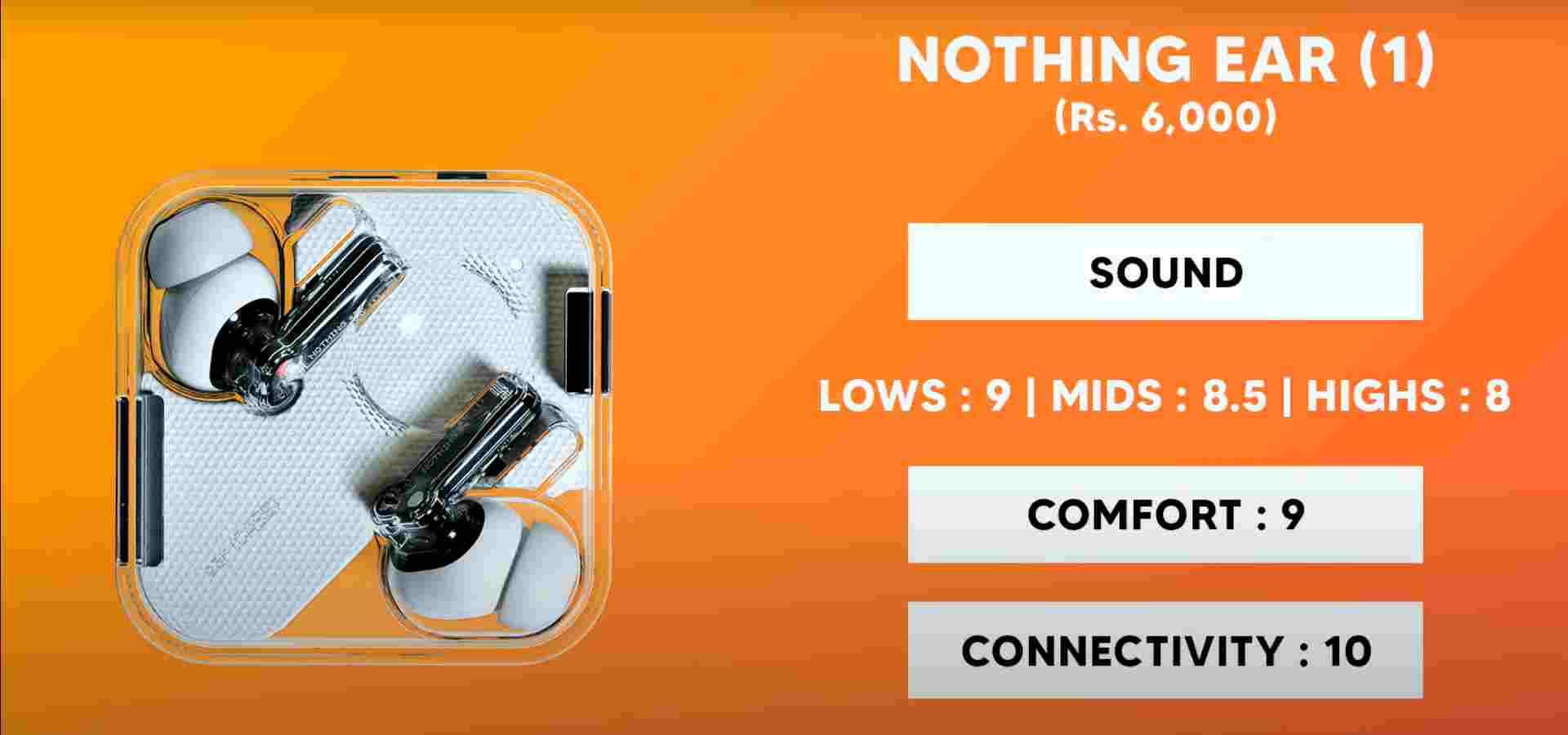 JBL Tune 120 
Next up in the list are these JBL Tune 120. Only buy this if you are obsessed with bass-heavy, punchy music because there are a lot of cons with this one. They are bulky, not very comfortable in the ear and have clicky physical buttons which irritate your ear every time you press them. Basically, we only recommend this product in terms of sound and nothing else.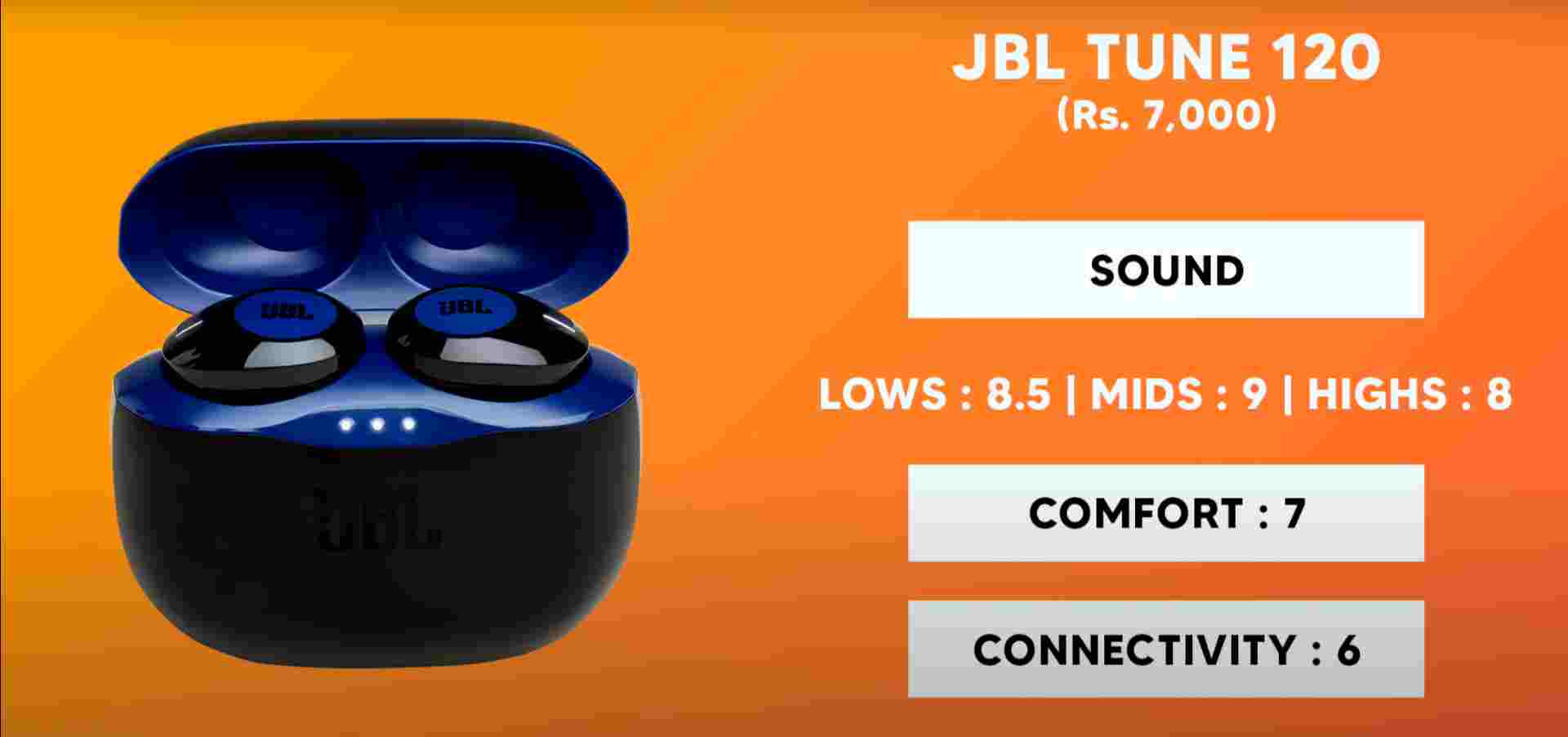 Best TWS Earphones between Rs 3000 to 5000 
Realme Buds Air 2 
An easy to recommend product at this price is the Realme Buds Air 2 that has ANC, transparency mode and even gaming mode for low latency; all thanks to the Realme Link app available for both Android and iOS. You can even customise touch controls in the app as per your preference and shift between different modes of sound such as normal, bass boost + and dynamic.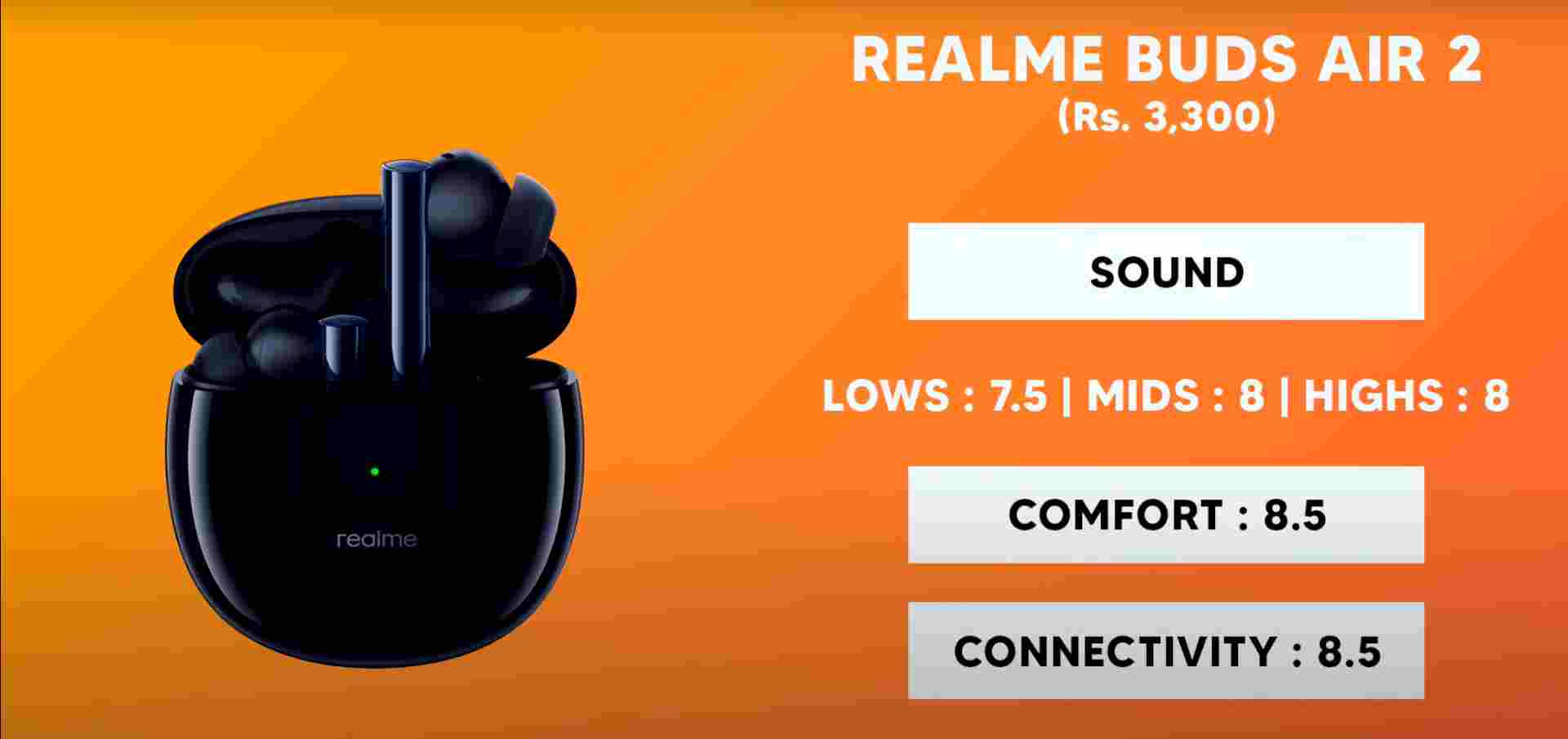 Oppo W51 
Slightly more comfortable and well-tuned than Realme Buds Air 2, the Oppo W51 is better for longer hours. They do everything just right at this price point and will not disappoint if you purchase them. Overall, very similar to Realme Buds Air 2.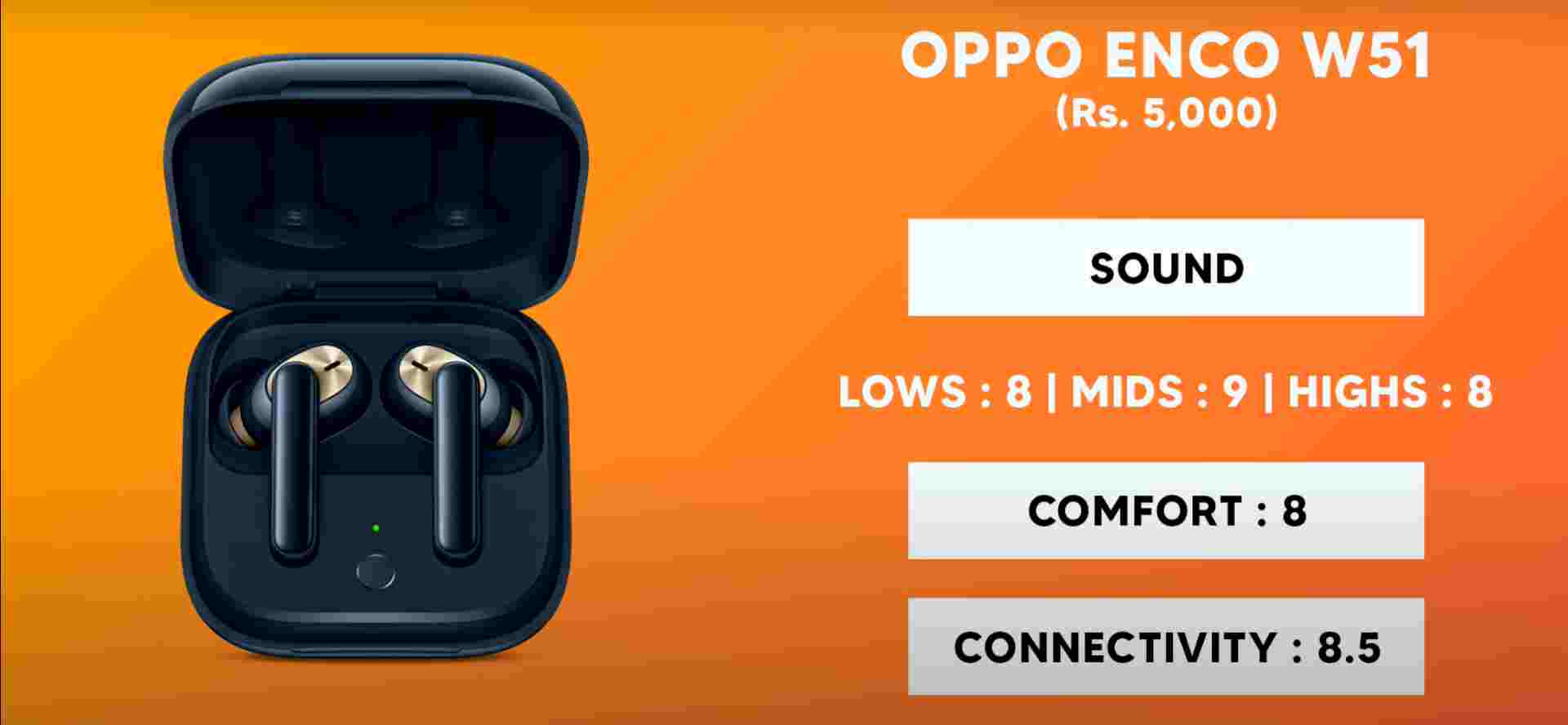 Best TWS Earphones between Rs 2000 to 3000 
Realme Buds Q2 
The sound output from these Realme Buds Q2 is decent but they are not the most comfortable fit. Due to the round shape, they have a tendency to fall out on their own after some time. Even at this budget price of Rs.2,499 they offer ANC which is commendable. And like all Realme tws, these too can be customised from the Realme Link app.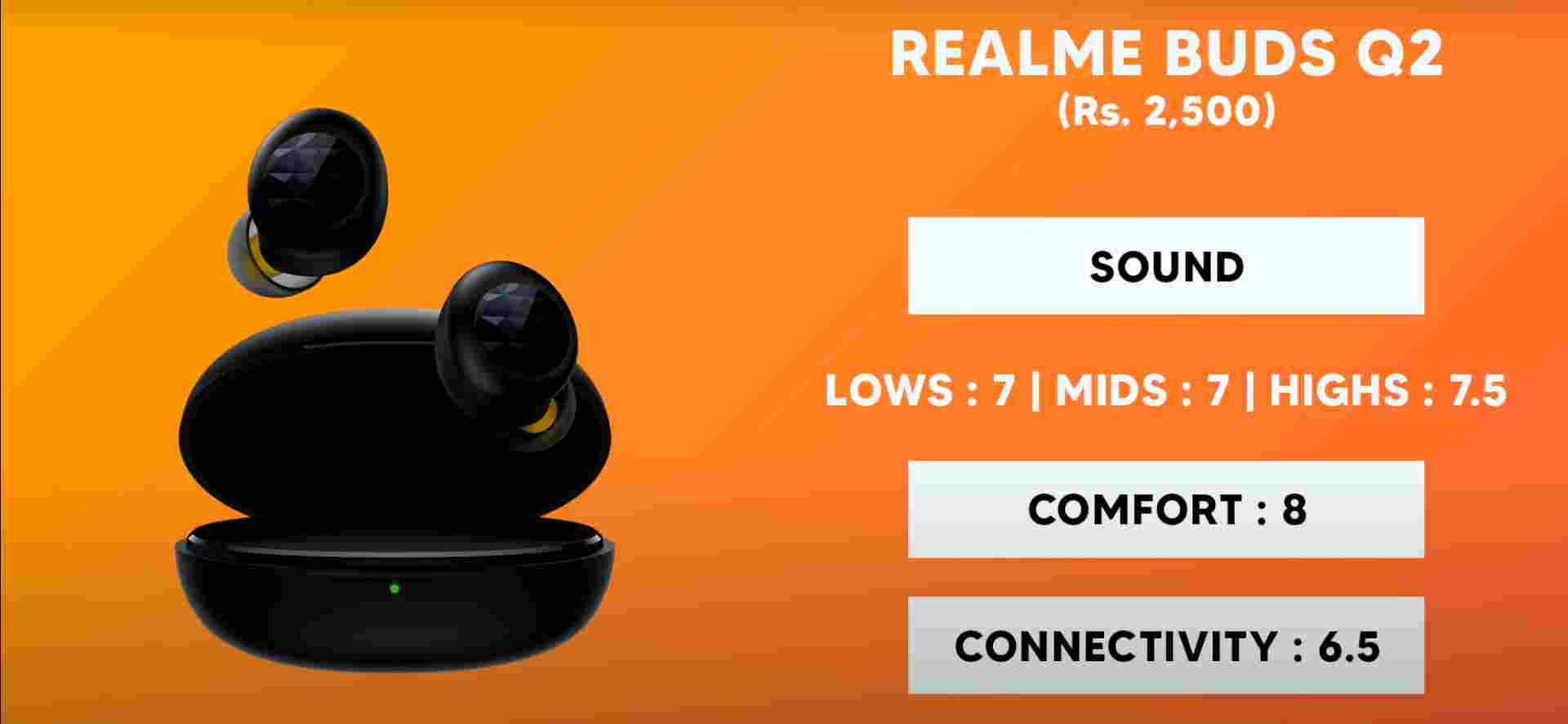 Redmi Buds Pro 3 
The sound quality and connectivity are pretty standard from what you'd expect at this price. Build quality, battery life and charging are alright. Once again the issue lies with the peculiar oval shape of the earbuds. Not sure if it will fit everyone.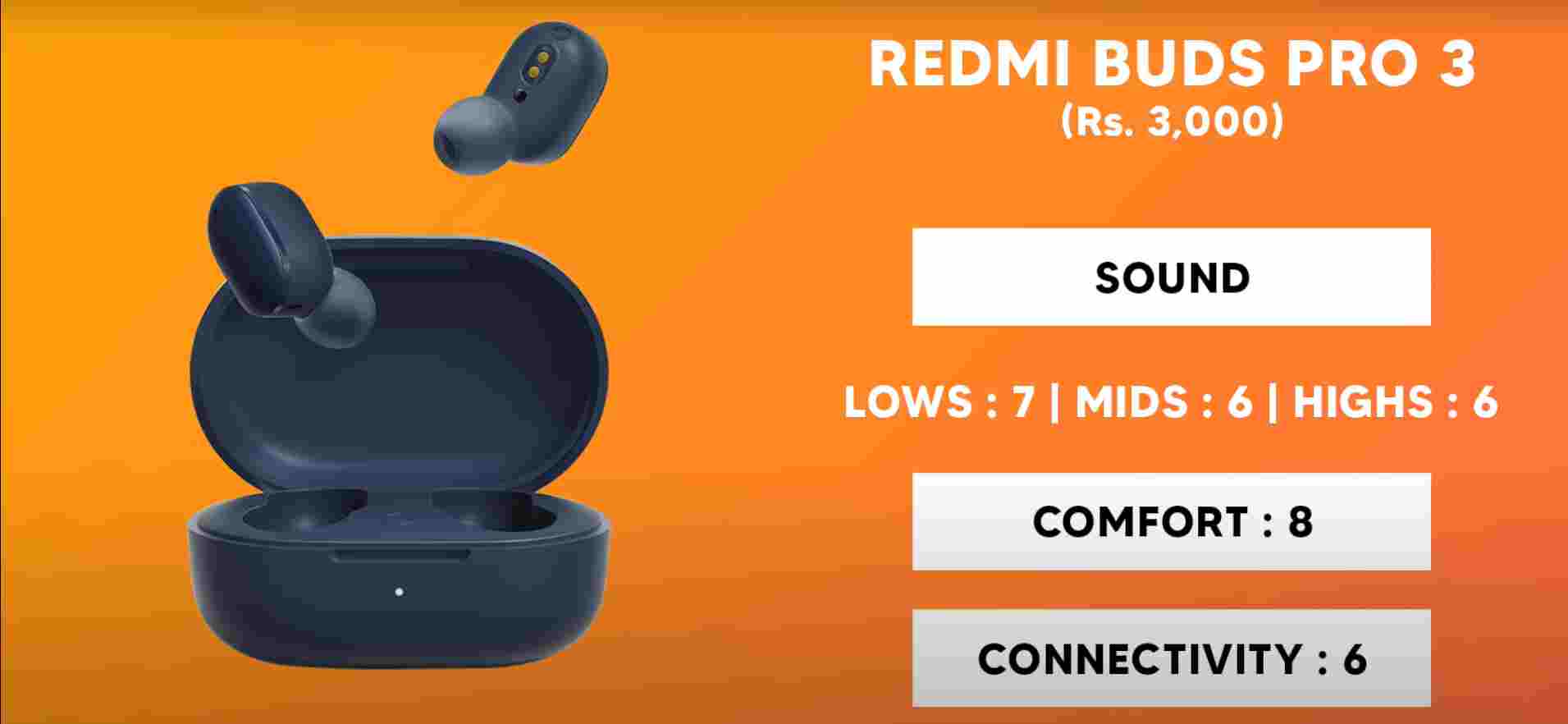 OnePlus Buds Z 
The budget tws by OnePlus, these Buds Z come with a stem design which many will like. They are quite comfortable, sound good and can be customised using the HeyMelody app. Keeping all things in mind and the competition, this is our go-to tws under Rs 3000.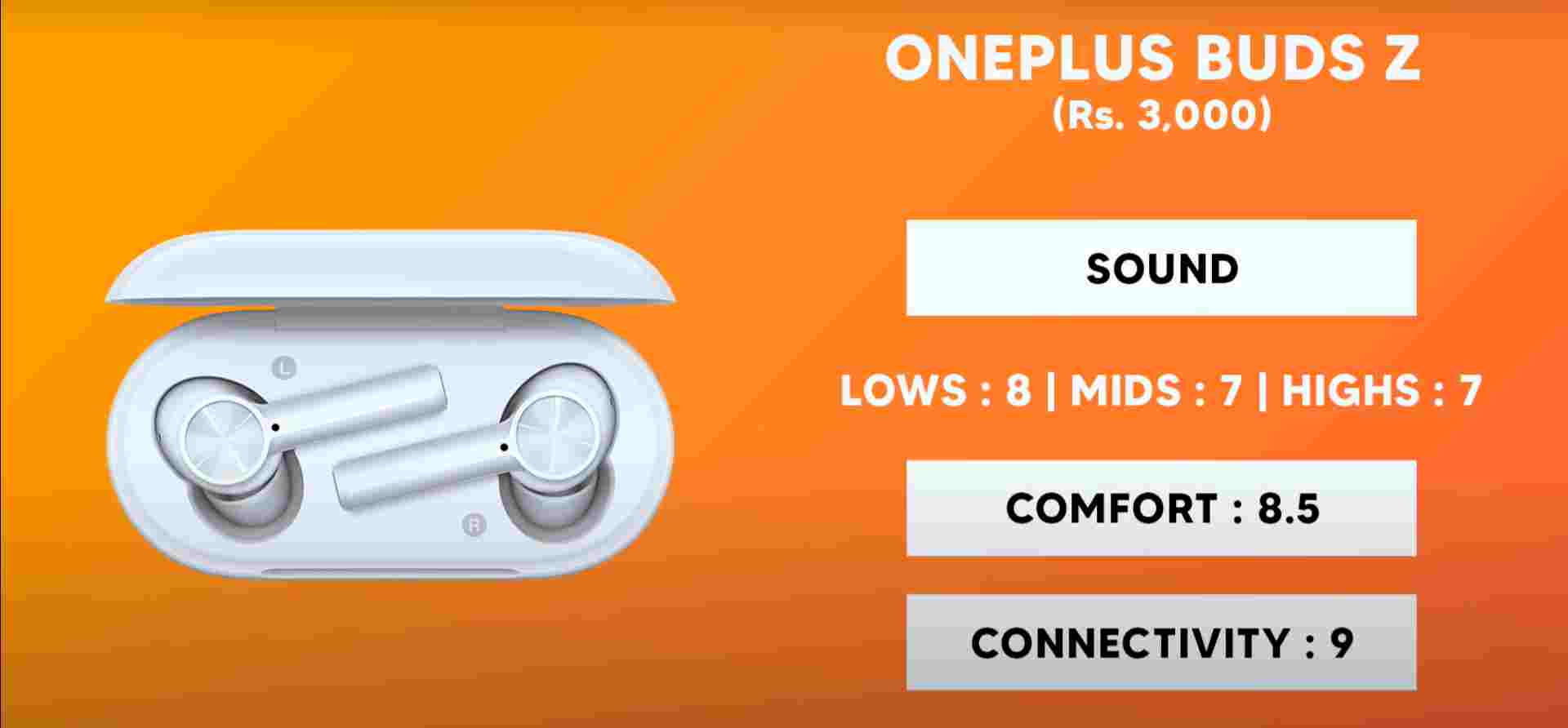 Best TWS Earphones between Rs 1000 to 1500 
Noise Buds Mini 
Much like the no silicon tip design of the original Apple AirPods, these Noise Buds Mini are one of the few tws with no rubber tips. Made entirely out of plastic, their comfort level is okay if they fit you well. They don't completely seal your ears and you will be able to hear your surroundings. The sound quality is decent for the price and we can see some distortion at high volumes.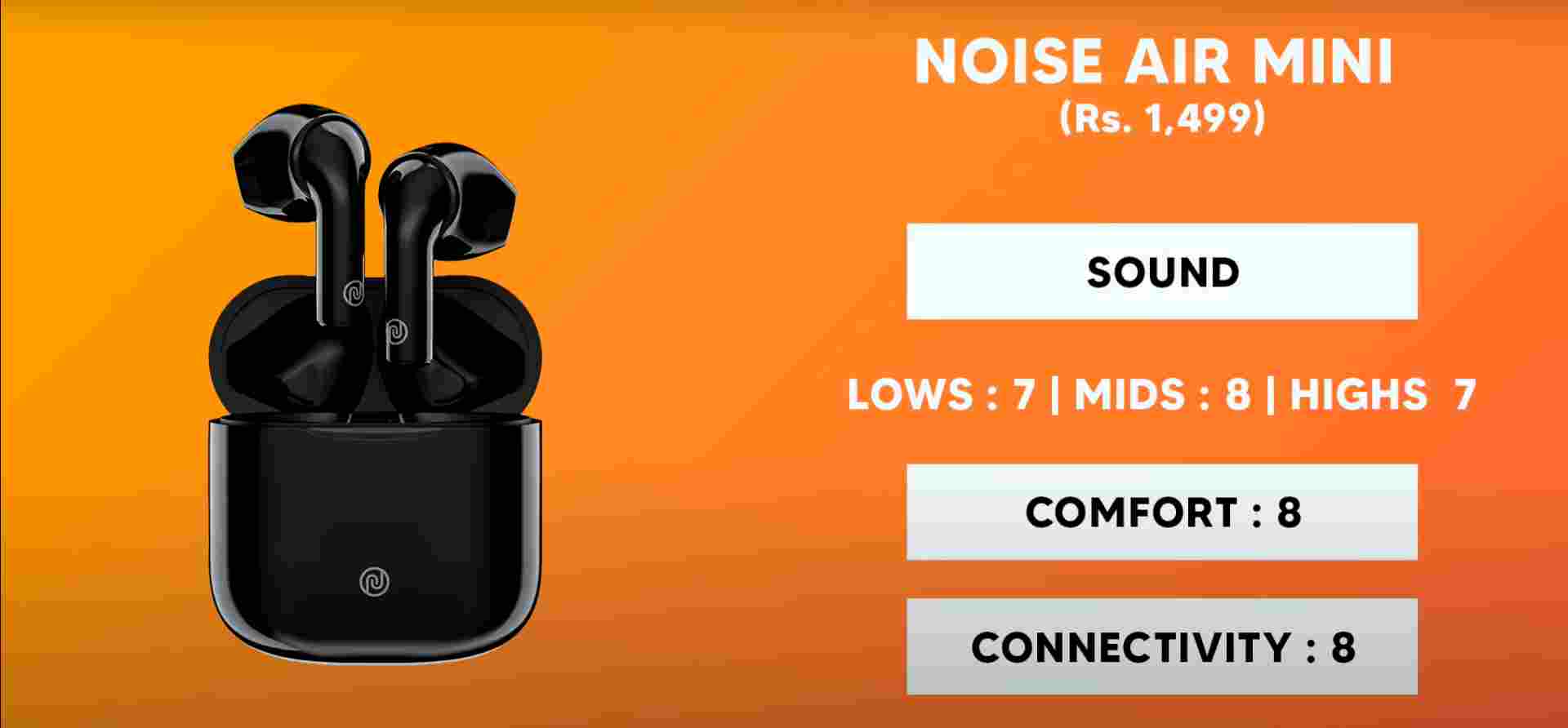 Dizo GoPods D 
A new brand within the Realme TechLife Ecosystem, Dizo's GoPods D will definitely surprise you with their sound quality at this price. It's bass heavy, punchy and very crisp. The build quality of the buds and the case is also decent. The only complaint is regarding the fit as was the case with Realme Buds Q2.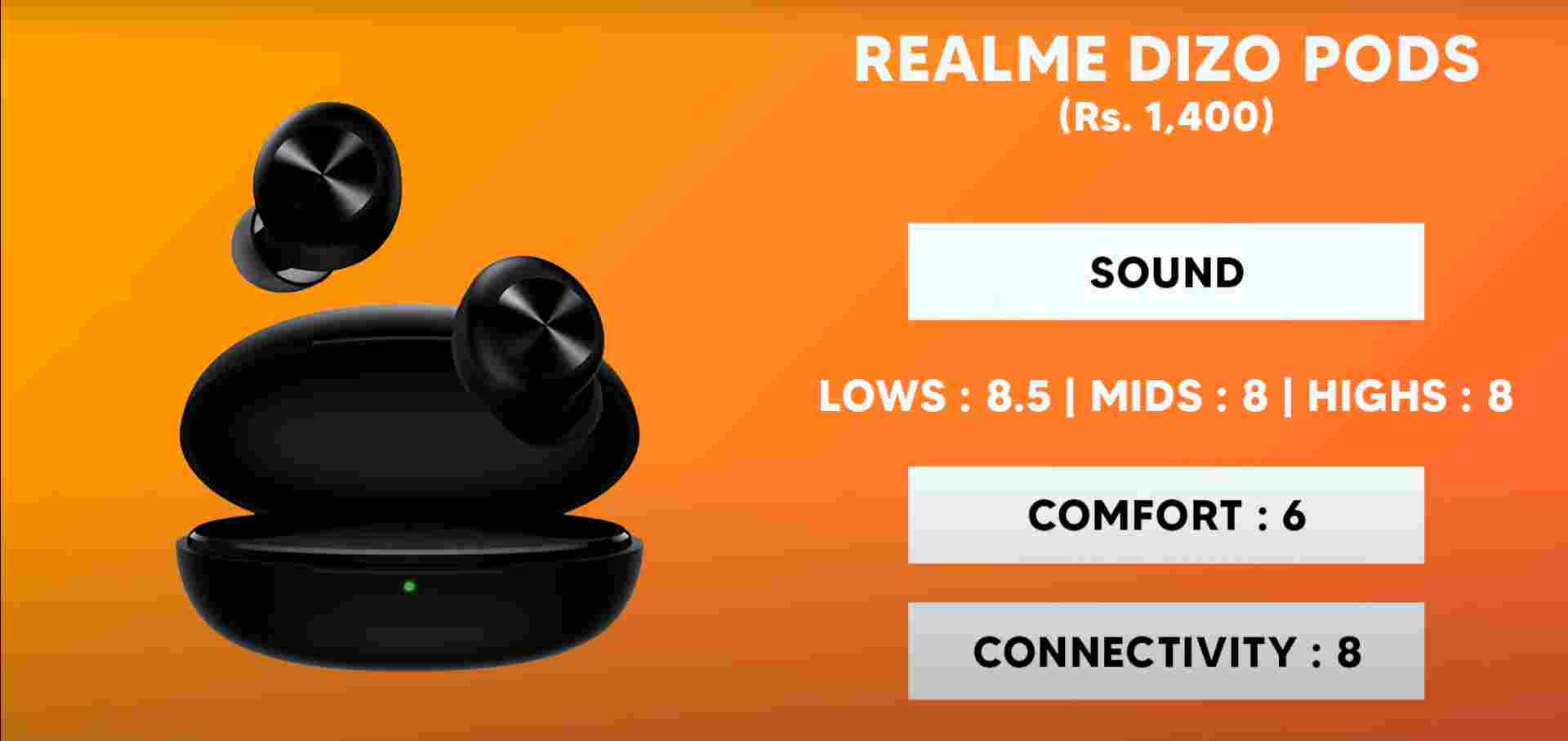 Special Mention: Oppo Enco Buds 
Although these Oppo Enco Buds are priced slightly higher than the price bracket (Rs 1800), they are super value for money if you can spend the extra 300 bucks. Build quality, sound signature, battery life and connectivity, Oppo has done a tremendous job making this the best tws under Rs 2000.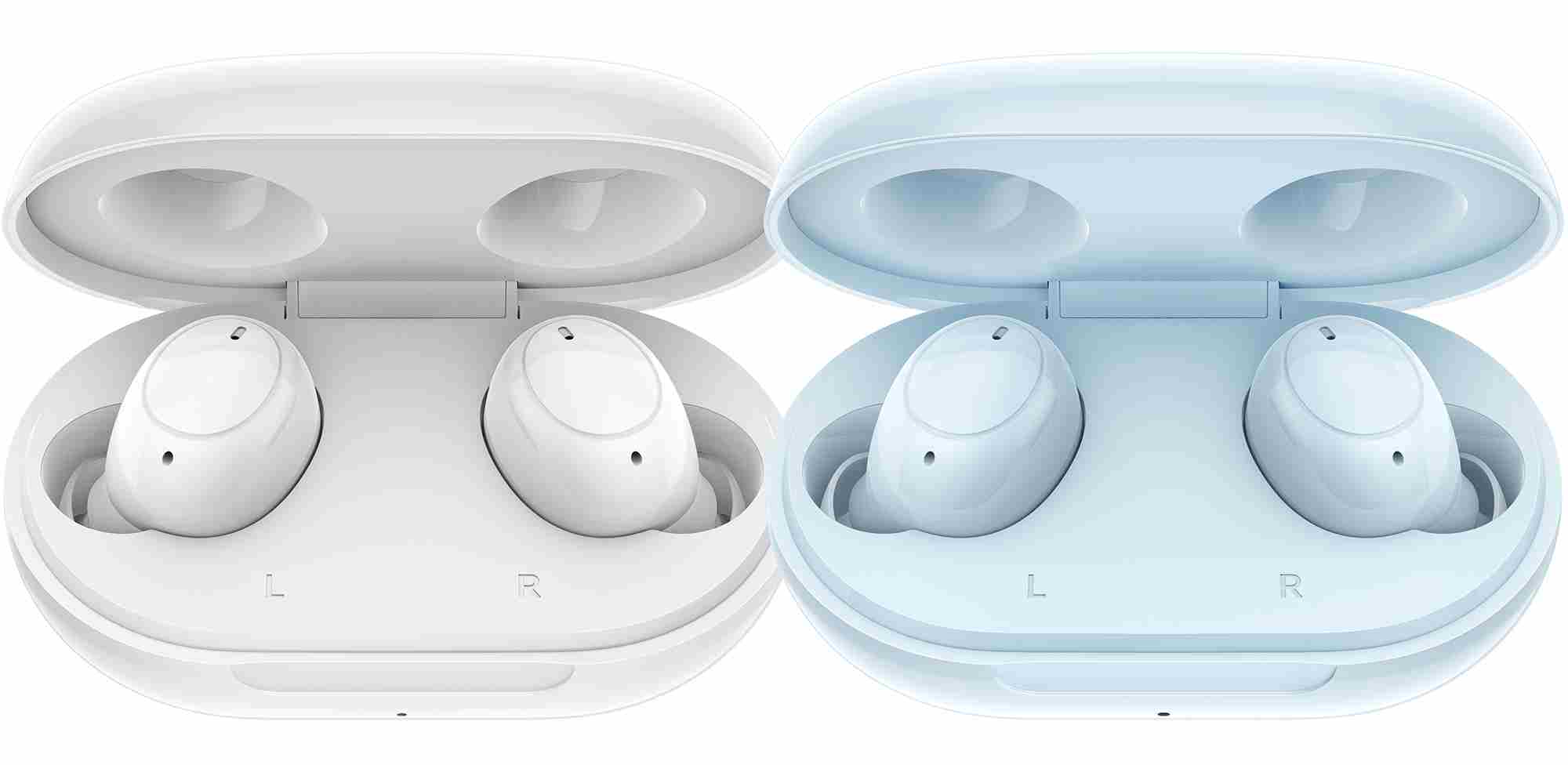 PS – They are selling like hotcakes for just Rs 1300 in the Flipkart Big Billion Day Sale 2021. 
That's it for this comparison. Hope you found this helpful and can get the best tws of 2021 as per your budget. For more such useful articles, check out our website!