During this 40-days long Lockdown in India, all the Educational Institutions, Government and Private Offices and Shops are closed. This situation is causing the Students a loss in their studies. To fulfil the void in the studies, Educational Institutions had started to use an Online Video Conferencing Platform called Zoom. Everything was going fine until some websites claimed that the App steals Personal Data of the users and even has some security flaws. This situation made the Students scared, and same did to the Educational Institutions too. Seeing all these, a Mumbai based Startup has made an Online Video Conferencing Platform under the Make in India Project. The App is currently known as Say Namaste and in Beta Stage. They will soon launch the App commercially to clash with Zoom. Well, Check out below to know how to Download Say Namaste App along with Say Namaste App Features.
What is Say Namaste App?
As we have mentioned Say Namaste is Video Conferencing App. Inscripts, Mumbai Based Startup has made this App to clash with Zoom under the Make in India Project. Reportedly, the App will be soon launched commercially with the help of the Government. Although the App is under development and has some limitations, we assume that all these problems will be solved once it will be launched Officially. As of now, have a look at the Say Namaste App Features below.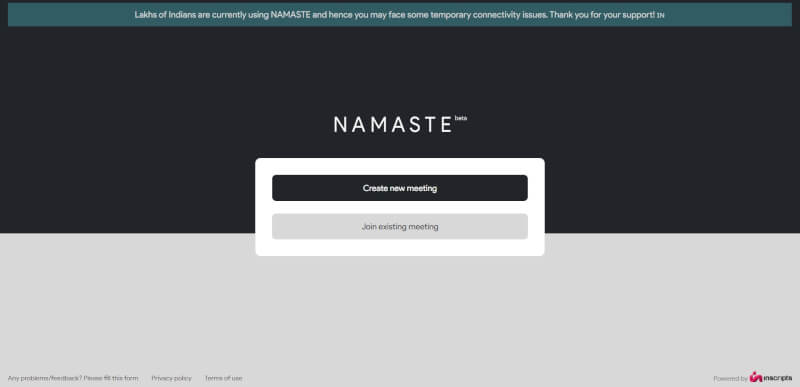 Say Namaste App Features
Rather than the Paid App Zoom, the Indian App is much better in terms of everything. From Price to People limits, everything is better here. However, for your instance, here are the Say Namaste App features.
Free App – Yes, you won't have to Pay for the App as of now. However, after the commercial launch, it may become paid, but won't be that costly like Zoom is.
Number of Participants – Right now only 25 Participants can be Added in a Single Meeting.
No Time Limit – There is no Time Limit for a Single Meeting as the Zoom App has of 40 minutes.
Screen Sharing – There is a Screen Sharing Option which is a good option for a teacher to go through his PPT Slides.
Chat Thread – There is also a Chat Thread which will help in taking the Attendance of each student.
Great Video and Audio Quality – Yes, this app also features Great Video and Audio Quality, even on Slow Internet.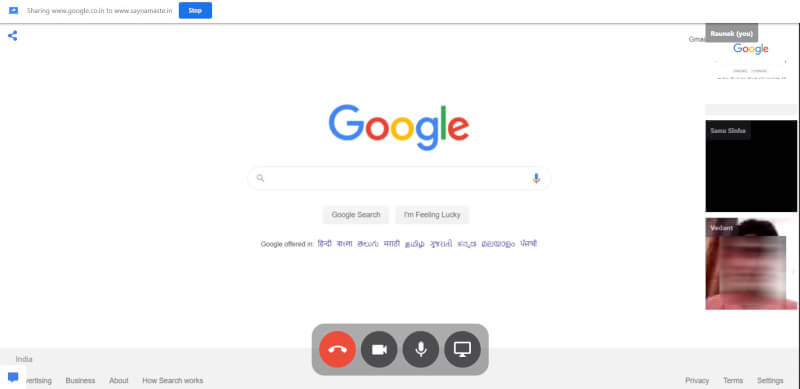 Upcoming Say Namaste App Features
As per the news, we can be sure that Say Namaste Team is working on the development of the App to bring more and more features for the Indians. They will soon come with a lot of new features like – Whiteboard, Personal Messaging to the Participants, Annotations, More Security Options, Better Stability, etc. All of these will arrive soon before you can even think.
How to Download Say Namaste App?
Well, here is the catch! As of now, Say Namaste App is currently available as a WebApp only. Which means you have to go to its Website in order to use it. But, the developers have promised that they will launch the App for Windows, Android and iOS as soon as possible and they are working on it too. We will surely update you once the App is launched in any of these platforms. However, click on the link below to go to the Say Namaste App Page and Host your First Meeting.
How to Host a Meeting in Say Namaste App?
Hosting a Meeting in the Say Namaste App is easy. Just follow the steps below.
First, go to the Link given above.
Now, click on Create New Meeting.
Once you press on Create New Meeting, the Meeting will be Started with an Invite Credentials on the Screen.
Make sure you allow the Camera and Microphone Permission.
Press the Copy button and send it wherever you want and wait for people to join.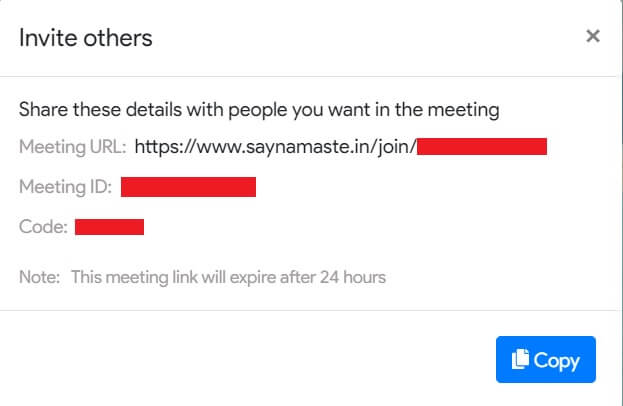 To join a meeting, click on Join existing meeting and put the Credentials you have received.
Download Say Namaste App Now
The App is now live and you can download it from the link given below:
Read More | Top 5 Best Zoom Alternatives for Video Conferencing and Online Classes
So, do you like the Say Namaste App? Let us know in the comments below. Stay tuned with TechBurner for more updates. Till then – "Stay Home, Stay Safe."