The RAM capacity of a smartphone has increased a lot over the past few years, from about 512MB of RAM to now 12GB of RAM which is currently available in the Indian Market. While brands are putting up more and more RAM into a smartphone, they tend to forget that the quality of the RAM also matters. And now as the LPDDR5 RAM has been launched, smartphone manufacturers have taken it to social media to confirm using them in their upcoming smartphones.
LPDDR5 RAM Specifications and Upgrades:
| | |
| --- | --- |
| RAM Type: | LPDDR5 |
| Maximum Frequency | 6400MHz |
| Minimum Frequency | 4800MHz |
|  Brands Developing | Samsung, Micron |
|  Performance Boost | Up to 505 |
| Power Efficiency Boost | Up to 20% |
|  Max Data Access Speeds | 6400 MBPS |
|  Additional Support | 5G and AI |
Currently, the LPDDR5 RAM is being offered by Samsung and Micron, and according to the specifications mentioned, the new LPDDR5 RAM will bring up to 50 percent faster data access speeds, up to 20 percent more power efficiency and more, and this will give all the upcoming smartphones with LPDDR5 RAM a significant boost in the performance.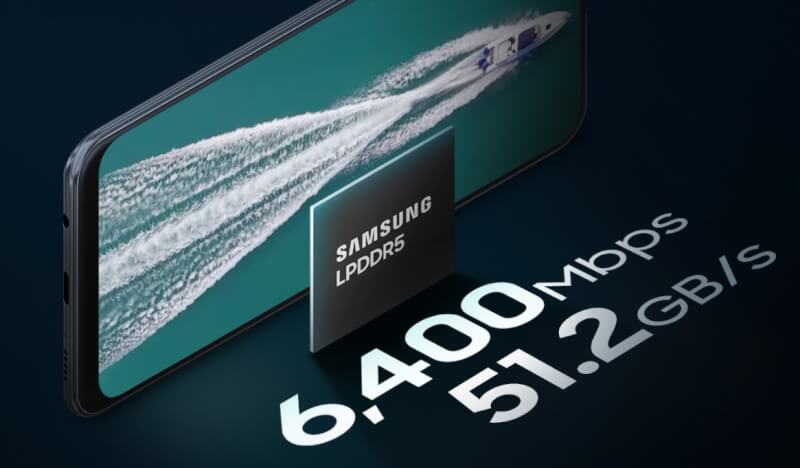 Also, it claims to bring faster maximum speeds with up to 1.5x boost in them, thereby bringing in speeds up to 6,400Mbps (6.4Gb/s), where the speeds of the LPDDR4X RAM maxed out at 4GB/s. The brands also claim that these RAM's will be suitable for 5G and AI-based apps for the future as well.
The LPDDR5 RAM also provides upgraded bandwidth, the effective bandwidth that the LPDDR5 RAM offers is about 36% higher than that of LPDDR4 memory. It has a base frequency of 4800MHz and a maximum of 6400MHz.
Upcoming Smartphones with LPDDR5 RAM:
Xiaomi Mi 10 (Xiaomi Flagship):
Xiaomi will be launching majorly two new smartphones in this month, including the Mi 10 and the Mi 10 Pro, while it was confirmed that they will come with support for 5G connectivity, brand officials went on to twitter and confirmed that the Mi 10 will be sporting the Micron's LPDDR5 RAM, and thus becoming the first smartphone in the world to sport Micron's LPDDR5 RAM.
Xiaomi Mi 10: LPDDR5 pic.twitter.com/aqgvZNjeFh

— 臧智渊Zhiyuan Zang (@zzyln) February 6, 2020
Nubia's upcoming smartphone Nubia Red Magic 5G will be a killer, sporting the Snapdragon 865 Chipset, a 144Hz Refresh Rate Screen and more. Today the company's officials confirmed on Weibo that all the phones in this series will come with Samsung's LPDDR5 RAM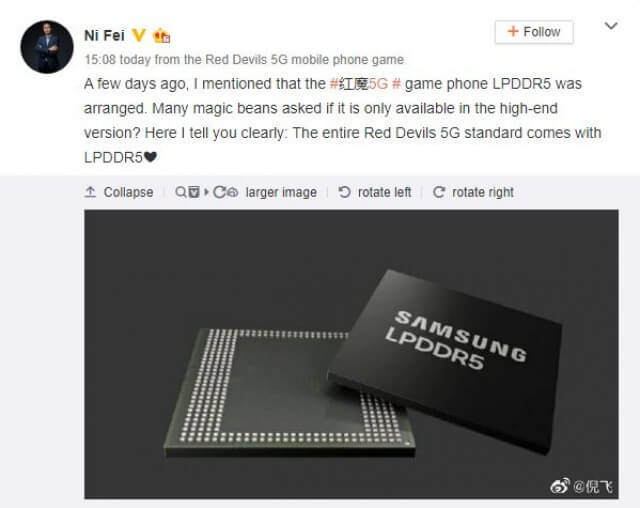 Xu Qi, Vice President of Global Marketing Realme revealed on Weibo that, they will soon be launching a flagship with support for 5G, come with LPDDR5 RAM, while it is not confirmed whether Realme will be using Samsung's or Micron's sensor, it is expected that Realme may use Micron's RAM.
While there is no other information. on when these phones will launch, we expect them to launch in the Q1 or Q2 of 2020, let's see what these phones with the upcoming LPDDR5 RAM could do. Are you guys excited? Let us know in the comments below.