Cooler Master is one of the leading brands in the cooling hardware provider. It is a Taiwan based brand, this brand most often provides cooling hardware for GPU, CPU, NVIDIA and more well-known companies. After this, the company has released their another Cooler Master MasterBox TD500 Mesh. Therefore, the Cooling hardware is one of the required hardware in the PC. The MasterBox TD500 Mesh is the upgraded version for the MasterBox TD500. This time the company has re-innovated its Cooling hardware which will give PC a new look. As we are seeing that the Cabinet of many gamers, video creators are and other users are colorful which makes the PC look more pretty. The new cabinet of the PC comes with a lot of new features. So, read the full article to know more about the MasterBox TD500 Mesh Features:
Cooler Master MasterBox TD500 Mesh Features: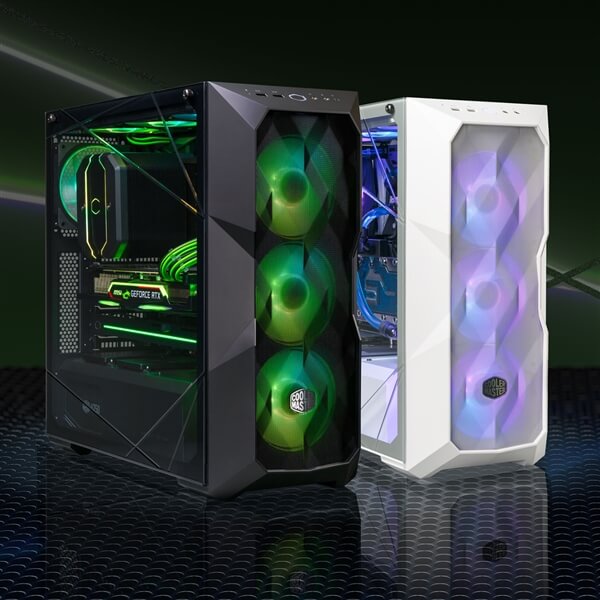 The cooling hardware is designed to give a premium look as well as to give a better ventilation process for the cooling hardware. So, the MasterBox TD500 Mesh comes with three ARGB Fans which helps in regular airflow for better cooling performance. The hardware has 4mm thick tempered glass side plate for giving it premium look and increasing cooling performance. You can also see the design that is present on the front, these designs are curved through the 3D three-dimensional technology. It ensures the toughness and also gives a new design to the Cabinet. We can also see that the front is looking something like Polygon structure with glass which refracts the dazzling light of the ARGB Fans.
When we talk about the internal spacing of the cabinet then the cabinet can easily install the E-ATX/SSI-CEB and large motherboards. Users can install graphics cards up to 410mm, CPU Coolers up to 165mm and up to 180mm power supplies which is sufficient for any users such as video creators, gamers and more. The heat flows with the 360mm water cooling radiators and it can be installed on both the top and front. Users can install seven 120mm fans(7x120mm Fans) inside the cabinet at the front, rear and top panel. You can also use a .8mm grid which can be used to provide good ventilation of air from the cabinet.
MasterBox TD500 Mesh Colours: 
The cabinet is available in two colours only which are black and white. You can also see the images below:
MasterBox TD500 Mesh Price in India & Availability: 
The cabinet is currently available at 499 yuan. So, we are expecting that it will come around Rs. 5,500 in India. Therefore, the cabinet will be available for sale from 6th January 2020. 
That's All For Today. Stay Tuned To TechBurner For More Stuff.