Earlier this year in May, Google announced its highly anticipated Google Pixel 3a and Google Pixel 3A and became a very successful device for the brand. According to Google's CEO, the Pixel 3A boosted the sales of the company by a high margin, This year's Google Pixel 4 and 4XL was criticized by a lot of tech experts as Google decided to ditch the fingerprint scanner, not including an ultra-wide angled lens also took an major hit for people, the Motion-Sense technology that google claimed would change the way we use our smartphone was also a kind of a Gimmick, and finally similar to the Pixel 3a Google has planned to launch a new lite variant of the Pixel 4 namely the Google Pixel 4a, keep reading this article for more information.
The rear panel of the renders of the upcoming Pixel 4a shows off a much-demanded fingerprint scanner, a single rear camera setup with an LED Flash, the obvious Google branding, a matte plastic back panel similar to the one seen on the Google Pixel 3a. The side of the renders show off an Orange Coloured Power Button, Volume Rockers and nothing else on the left half, whereas the top of the phone shows the return of the 3.5mm headphone jack which is good news for people who love Pixel smartphones but miss the 3.5mm headphone jack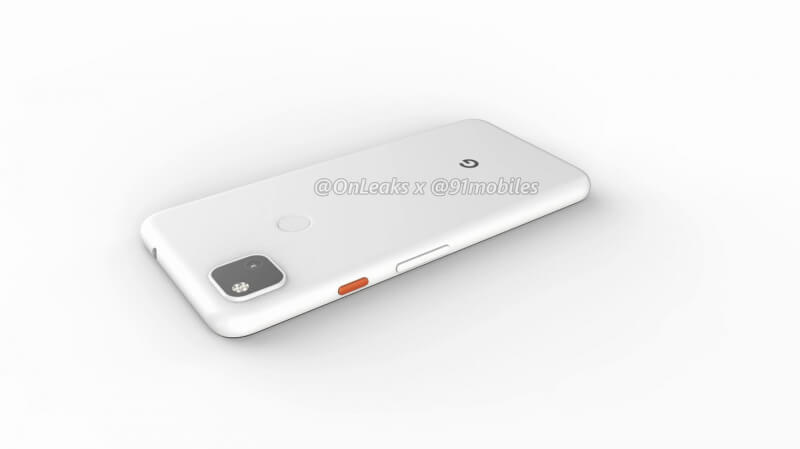 The rear camera is expected to be a 12MP Primary Sensor, as seen on the Google Pixel 4, the SIM tray is not visible in these renders, the bottom contains the USB-C port and the speaker grills. Going by the rumors, the Pixel 4a will have a 5.7-5.8inch FHD+ OLED display on the front with bezels minimized from the previous generations, instead of going with the huge bezels, these renders show off an punch-hole display similar to the one on the Galaxy S10e.
The Pixel 4a is expected to have dimensions of 151.3 x 70.1mm x 8.2mm and will weigh around 147 grams making this a small, compact and light phone to hold up in hand, while also making one-handed usage easier. The Google Pixel 4a may feature the newly launched Qualcomm Snapdragon 765G Chipset and will sport a small battery as Pixel tradition moves on, the battery size is reported to be around 3,200mah.
Google may announce its new Google Pixel 4a and 4a XL at the Google I/O Developer Conference 2020 which will be held in the Q1 of 2020 next year along with 4GB of RAM and 64GB of internal storage. We will have to wait to see what Google has in stores for us.