POCO Launcher is one of the Best Launcher after MIUI Launcher. Although it's based on the MIUI Launcher, it has some Additional Features. POCO is the Best Budget Phone within Rs 20,00, so its Launcher is also Nice. An Awesome Fast is that it is also available in Play Store for everyone to download. But if you don't want to waste your Time by Searching the Launcher in Play Store, we are here to Help. So, the POCO Launcher APK Version 2.6.9.3 Beta or the POCO Launcher 2 has been Released. Check Out Below to Download the APK Right Now…
What is POCO Launcher?
Indian Market has a Price Point of Rs 20,000 for Flagship Level Smartphones. Previously, there were not so many Devices of the same Price Range, but Last Year, POCO, a Sub-Brand of Xiaomi Inc. was introduced. This was the only Budget Smartphone which Provided all the Features of a Flagship Level Phone. From Snapdragon 855 SoC to 8GB of RAM, everything was there. On this Phone, there was a Modified Version of MIUI, which was called as POCO Launcher. This has some Exclusive Features which are Listed Below. However, the POCO Launcher 2 or POCO Launcher APK Version 2.6.9.3 Beta is the Latest one with so many New Features.
Also Read – How To Install Google Camera On Realme X: Download Latest GCam APK
POCO Launcher APK Version 2.6.9.3 Beta Features
The Latest Version of POCO Launcher 2 or POCO Launcher APK Version 2.6.9.3 Beta has Some Awesome Features and also some of them have been Updated in this Beta Update. Check Them Out Below…
Minimalistic Design – Like MIUI, the POCO Launcher 2 is Also Very Minimal in Designs.
Personalization and Dark Mode – You can Resize Icons, Apply Live Wallpapers, Third-Party Themes and also you can use Icon Packs of your Own. Also, Dark Mode is there too.
Convenient Search – There are App Suggestions and other Customizable Stuff to have your Most Used Apps in-front of you.
Privacy – All the Apps you use of whatever you do through your Launcher, everything is Protected.
App Drawer – This is the Best Feature of POCO Launcher. MIUI Launcher only has some Pages with Apps on it. But this one does have a Dedicated App Drawer.
Other Features – Change Notification Badge, Double Tap to Lock the Device, Lock Screen Icons, Lock Home Screen Icons and Fewer Ads.
How to Download POCO Launcher APK Version 2.6.9.3 Beta?
Downloading POCO Launcher is Pretty easy Task as it is available on the Play Store. Click on the Download Link Below to get to the Google Play Store Page…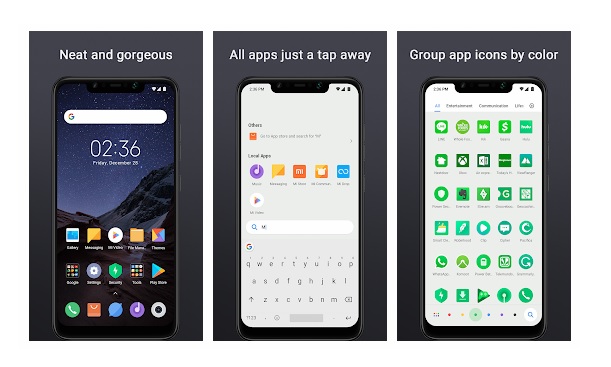 How to Install POCO Launcher APK Version 2.6.9.3 Beta?
Installing POCO Launcher is Easy. As it is from Play Store, Just Click on the Install Button and Allow all the Permissions. After that, you are Done 😎
Also, Follow Us on our Social Media Handles –