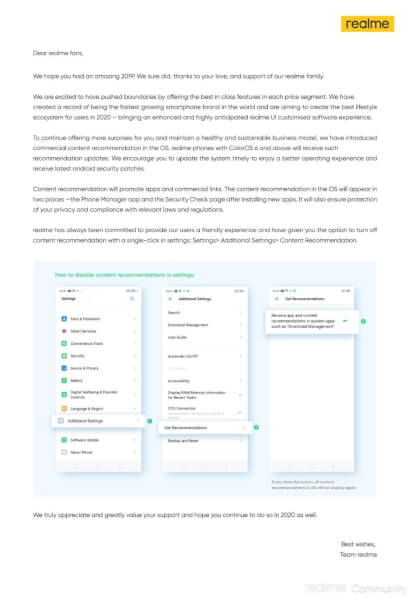 Xiaomi and Redmi have been trolled a lot, and multiple tech geeks and people have been complaining about Xiaomi displaying ads on their budget smartphones since 2018, multiple brands like Realme also mocked at Xiaomi for displaying ads on their phones, and used this as an opportunity to boost the sales. But now Oppo's sub-brand Realme has announced that they will be displaying "Content Recommendations" on the user's smartphones, which means "Ads", so if you want to get rid of these ads, keep reading this article below.
This all happened after a software update where users went on to online communities like Reddit, Twitter and started to tease Realme for displaying ads on their smartphones, people also started to mock them, as "Copying Xiaomi in Everyway" from launching too many phones in a year to displaying ads, then Realme posted out an update on the Realme community on why they started displaying "Content Recommendations" (a.k.a Ads) on their smartphones, and how users could disable them.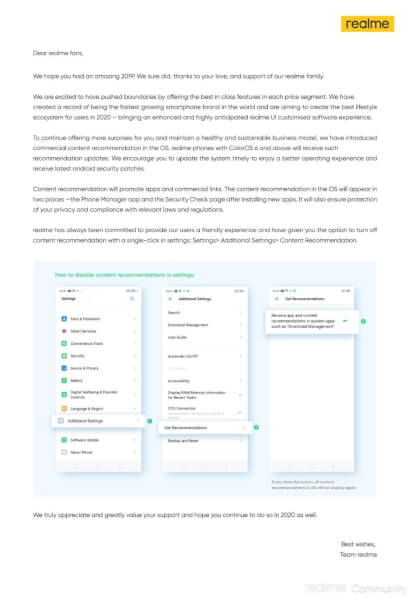 This will be applicable on all Realme smartphones running on ColorOS 7 and above, where these ads will promote applications and provide commercial links, the reason as stated by Realme is to help them improve and add additional features to the smartphones promptly, seems like Realme, at last, had to adopt the strategy of Xiaomi to keep it functioning.
Also Read:  Realme X2 Full Review: A Scaled-Down Version of Realme X2 Pro
How to Disable "Content Recommendations" on Realme Smartphones:
Realme has been offering a simple way to solve the issue of ads on the phone, but there is no information yet whether disabling the option in the settings would completely make the ads removed or only a part of them would stop displaying ads, but whatever removing at least some ads from the smartphone would be better than not removing anything, so if you want to remove the ads from your smartphone,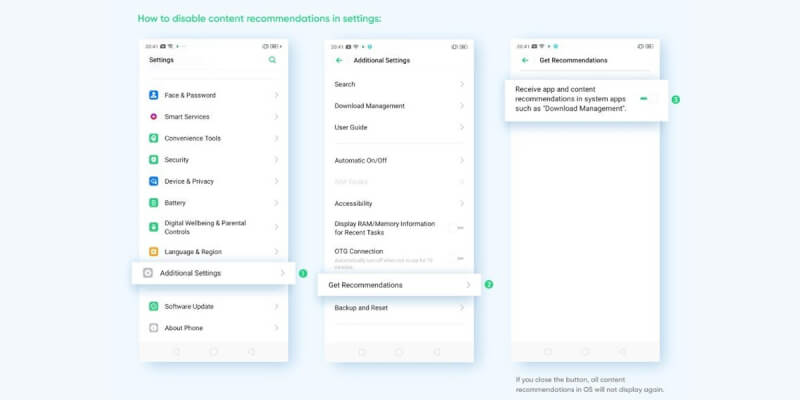 Step 1: Head over to the Settings Page of your Realme Smartphone.                                                                                                                         
Step 2: Find the Menu stating "Additional Settings", and choose the Get Recommendations Menu from it.
Step 3: From it, toggle the option stating "Receive App and Content Recommendations" off, this would disable ads from your Realme smartphone.
While this seems to be a big move from Realme, there are a certain group of people who don't want to see any kind of ads on their smartphones as they are paying a premium price for it, So we hope Realme either disables this ad completely or show the least number of ads on this smartphones. Stay Tuned to Techburner for more information.