While Android Q has started to ship to a number of devices, Realme has taken it a step ahead and officially revealed the names of the devices that will be eligible to get the next version of Android. Yeah, the Android 11, this came out to be a surprise from Realme as not even the beta versions for the Google Pixel's has started to roll out nor the features have been revealed, but here it is. This article will be dedicated to the devices getting the Android 11 (R) Update officially.
With the latest episode of AskMadhav on Youtube, Madhav Seth confirmed that their phones will get at least one major upgrade and security patches for two years, but then fans went ahead on twitter tagged Realme and some of its head employees and asked whether the Realme X series of devices will be getting the Android 11 Update or not?, then Realme's CMO for India, Francis Wang replied that both the Realme X series and the Realme Pro Series of phones will be getting the Android 11 Update
List of Devices Getting Android 11 Update for Realme: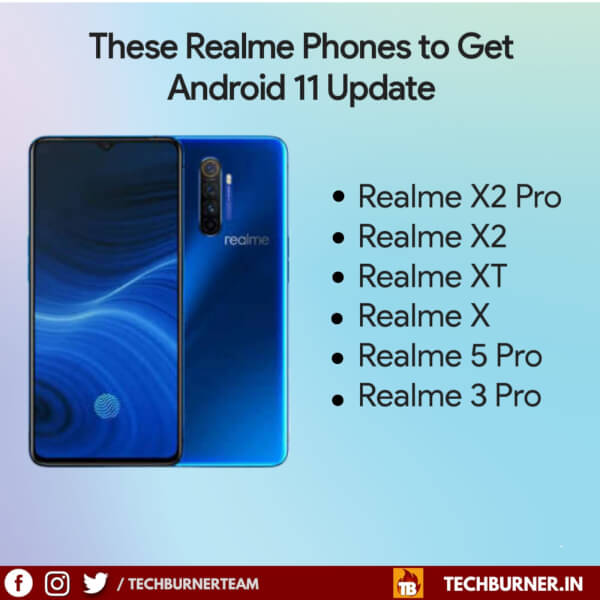 As confirmed earlier in the article, the Realme X and the Realme Pro series of smartphones will be getting the upcoming Android 11 R Update from Realme on top of RealmeUI, new android skin from Realme, as a modified version of ColorOS 7.
Realme X
Realme XT
Realme X2
Realme X2 Pro
Realme 5 Pro
Realme 3 Pro
While it hasn't been confirmed whether the upcoming Realme C3 will receive the Android 11 R Update or not, the chances are pretty high that the brand will update its new budget device to the latest version of Android as promised by Madhav Seth to provide at least one major OS upgrade.
While not all devices from Realme have been upgraded to Android 10 itself by now, it can be expected that the brand will delay the upgrade of Android 11 to the devices. Stay tuned to Techburner for more information.