Realme has done a great job in the Indian smartphone market with its Budget and Mid-range Smartphones. Realme has even listened to its users and developed its own UI called the Realme UI. With Realme UI based on Android 10, Realme had cleaned up all the bloatware and made it lite and clean. However, Realme UI still lacks in customizations and extra features. After a few months, the Realme UI 2.0 has been unveiled along with the new Realme Narzo 20-series. In this article, we will be discussing the Realme UI 2.0 features, Realme UI 2.0 devices list and Realme UI 2.0 update timeline for supported devices. So without any further ado, let's head into the article.
Realme UI 2.0: Based on Android 11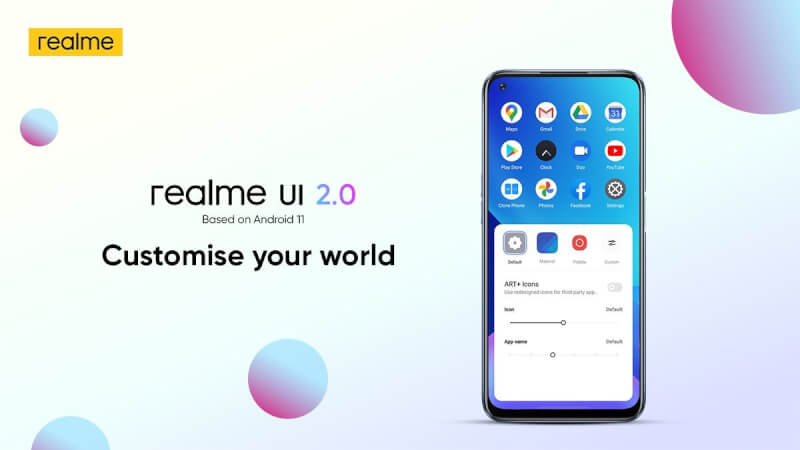 Realme is constantly working to improve its user experience. Realme UI 2.0 is said to be designed for seamless fun and plethora of new features, improved security, enhanced performance, creative customizations, animations and many other improvements that will enhance the user experience to another level. Now let's discuss the Realme UI 2.0 features in detail.
Realme UI 2.0 Features
Global Theme Colour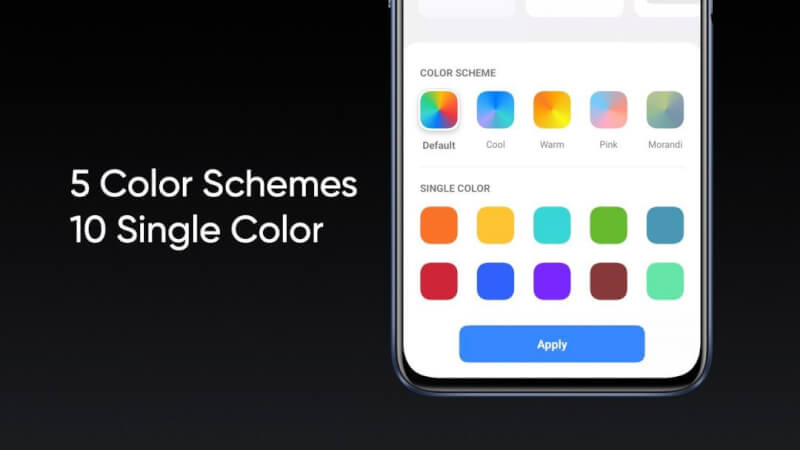 Most of the users get bored with the similar colour scheme used in their device's theme. Realme has now brought up the new feature called Global Theme Colour. This function in the Realme UI 2.0 comes with 5 gradient colour schemes and 10 solid colour schemes that will let you choose your own style for the main interface, notification bar, shortcut button and 24 other interfaces.
Always on Display: Improved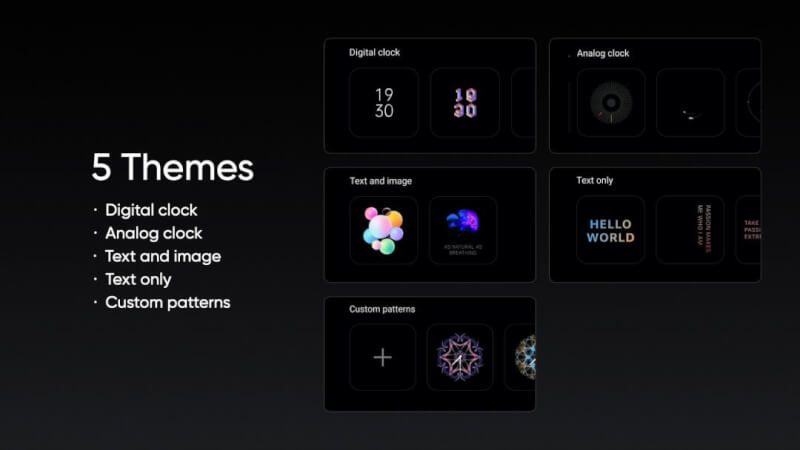 On the customizations side, this time Always on Display has also got the update for customizations. Now users can customize their Always on Display screen designs as per their preferences. The Realme UI 2.0 now offers 5 themes and is also the first customisation engine in the market which will allow you to create unique patterns. It includes Digital clock, Analog clock, Text and Image, Text only and Custom patterns.
Dark Mode: Improved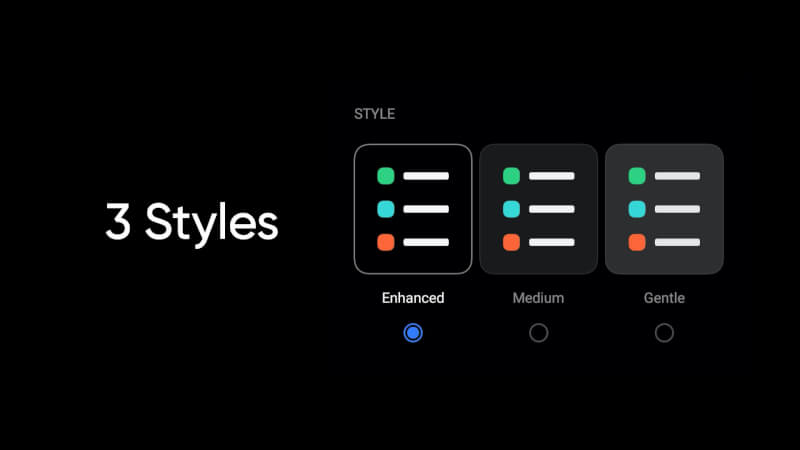 This time Dark mode is also improved and enhanced to another level. Total 3-types of dark mode will be provided with the Realme UI 2.0 update. We get Enhanced, Medium, and Gentle dark mode. In Enhanced mode, we get the pure black colour dark mode. Whereas in Medium it gives a light black theme and the last one gives the greyish dark mode experience. It also supports intelligent auto-adjustment which automatically adjusts the contrast according to the ambient light.
Icon Customizations: Improved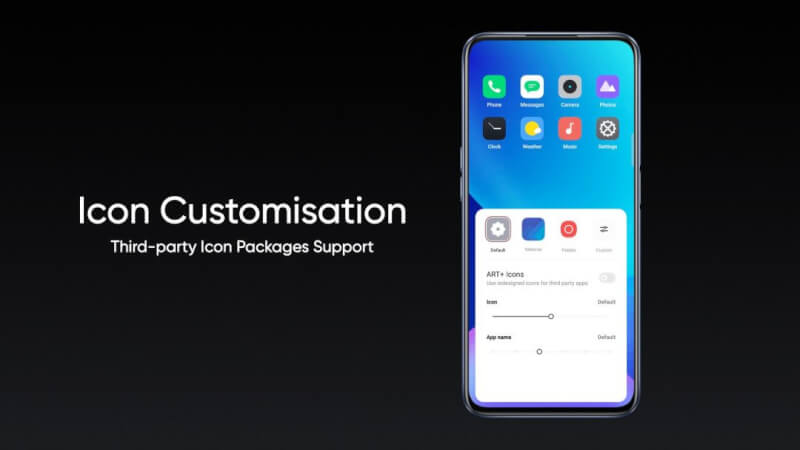 In Realme UI 1.0, the icon customizations were bounded only to the built-in ones. However, this feature is now extended where we will be able to change the style of the icons with third-party icon packages support. This is really helpful for those who want to use icon packs available on the Play Store.
Third-Party Launcher Support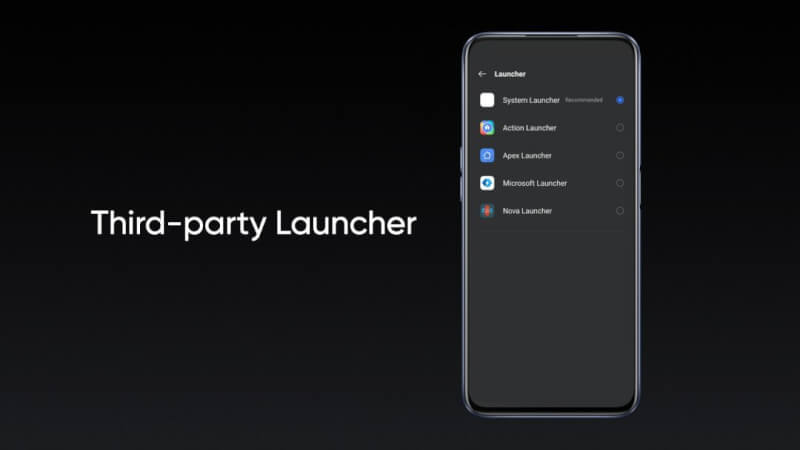 Launcher support is also extended further that now we can use a third-party launcher to design our desktop in our very own way and use themes as per our preferences. This gives the user more customizability and improved user experience.
Privacy and Security: Improved
This time to improve Privacy and security, Realme said that they have followed the Deep Sea Privacy plan that includes an Invisible Door, Private Space and a Security Shield. Invisible door prevents unauthorised personal data leakage. Whenever an app tries to read any personal information, it will automatically send empty data to avoid real information leakage. Private Safe enhancement hides all your secret apps in a separate vault which can only be accessed by a special password. The Security Shield on Realme UI 2.0 provides for 360-degree protection from payment security to blocking those spam calls and more.
Productivity and Multitasking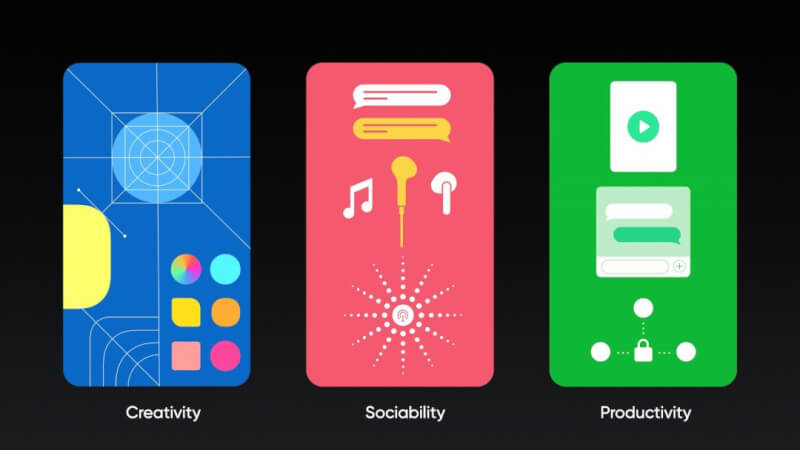 Realme UI 2.0 offers improved functions for better multitasking. Realme has enhanced the UI 2.0 to achieve a greater level of optimisation and has led to an almost 45% increase in System Resources Utilisation Efficiency, and a 32% increase in System Speed, moreover, a 17% increase in Frame Rate Stability and 23.63% increase in the speed of launching an App when compared with Realme UI 1.0.
Floating Window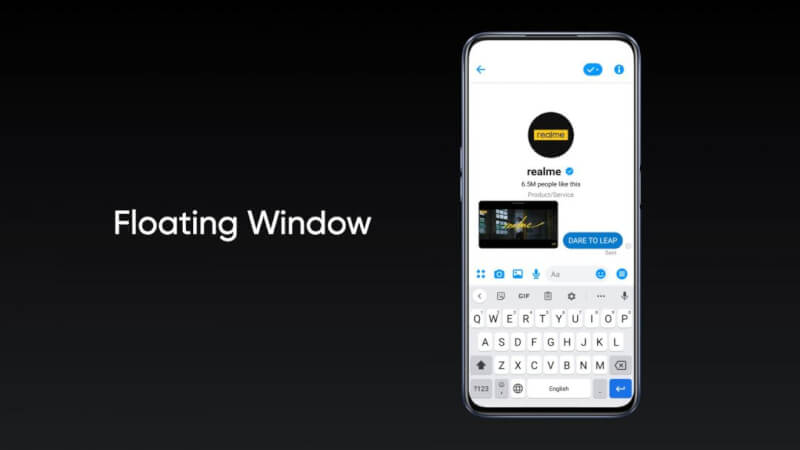 The all-new floating window feature in Realme UI 2.0 lets you chat with friends and watch videos simultaneously to carry out multitasking. This makes all our multitasking with entertainment ready along with the floating window.
Android 11 Features in Realme UI 2.0
Android 11 was announced a few days ago and it has a lot of new and cool features. You can check those features by clicking here. However, being developed on Android 11, the Realme UI 2.0 has opted a lot of features from Android 11 which are listed below:
All New Notification Bar – The all-new notification bar on Realme UI 2.0 now comes with a whole new design with an essence of vanilla Android flavour and a minimal interface.
Output Switcher – One of the most useful features in Android 11 is the ability to quickly switch audio output without diving into your settings. Realme UI 2.0 has this feature also.
Digital Wellbeing – Android 11 now comes with built-in digital wellbeing feature. Moreover, the Realme UI 2.0 offers the self-developed Sleep Capsule which helps keep a track of your daily health and sleep-cycle.
Realme UI 2.0 Beta Download
Currently, only the timeline for early access is officially out, and that too varies device to device. The beta rollout will be at the later stage after the early access programme for Realme UI 2.0 is completed. It will also vary as per the devices as scheduled early access timeline.
Realme UI 2.0 Update Timeline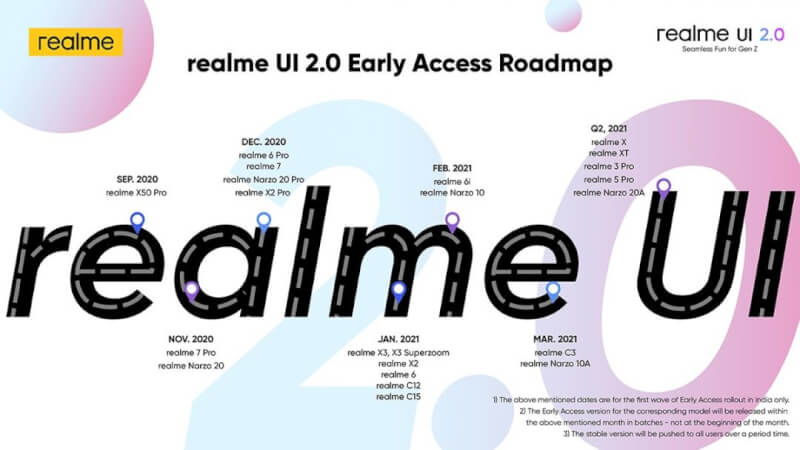 The Early Access program was already started with Realme X50 Pro, the flagship smartphone from Realme. However, it will be followed by other devices as mentioned below:
From September 2020 onwards, Realme X50 Pro, Realme X2 Pro, Realme 7 Pro, Realme 7, Realme 6 Pro, Realme Narzo 20 Pro, Realme Narzo 20 will get the Realme UI 2.0 Early Access.
Then in Q1, 2020, Realme X3, Realme X3 SuperZoom, Realme X2, Realme 6, Realme 6i, Realme Narzo 10, Realme Narzo 10A, Realme C12, Realme C15, Realme C3 will get early access to the Realme UI 2.0.
Finally in Q2 2020, Realme X, Realme XT, Realme 5 Pro, Realme 3 Pro, Realme Narzo 20A will be getting the Early Access to the Realme UI 2.0.
That's it guys for this post, keep an eye out on TechBurner for the latest tech updates.