One of the best Samsung midrange smartphones, Samsung Galaxy A70 was launched in the premium mid-range category at a price of Rs. 28,990 with a big screen and triple camera setup. The phone's triple camera setup made us curious about its camera performance. How good were the photos it took? Here is a detailed Samsung Galaxy A70 camera review. The review contains the Samsung Galaxy A70 camera samples and Samsung Galaxy A70 selfies samples.
(NOTE – The Samsung Galaxy A70 camera samples have been taken without any external equipment. And without any post editing!)
HIGHLIGHTS-
Samsung Galaxy A70 Triple Camera Details.
 Camera Samples
Samsung Galaxy A70 Selfies!
Verdict
Samsung Galaxy A70 Triple Camera Details
Before the practical review, let's talk about the technical specifications of the phone's camera. The Samsung Galaxy A70 features a triple rear camera configuration. The camera is aligned vertically like the Galaxy A50 with a primary lens of 32-megapixel f/1.7 aperture lens, an 8-megapixel sensor with ultra-wide (123 degrees) angle camera. And a 5-megapixel depth with f/2.2 aperture sensor. Talking about the front-facing camera, it features a 32 MP f/2.0 sensor. The specs of the Samsung Galaxy A70 triple camera are good. And the front camera seems impressive. But let's see how do they perform?
Samsung Galaxy A70 Camera samples
Indoor Shots
The indoor performance of the camera is not excellent because it gives a grainy shot in low light conditions. The indoor shots, if provided with suitable lighting is decent. And without lighting, a bit of editing would do the job.
Outdoor Shots
The outdoor shots are really well during the daytime and you would get decent pictures during the day but there is no specific night mode to use in low light conditions. However, you can use the Pro mode to adjust the settings manually. By this way, you can unlock the full potential of the camera.
Close-Ups, Portrait, and Wide-angle shots
One of the camera sensors is especially for taking those great wide angle shots to capture a larger subject. The wide-angle performs quite well and captures a bigger view. The close-ups are also pretty decent and you get that decent blur without comprising with edge-detection in the portrait shots.
Samsung Galaxy A70 selfies
The 32 MP selfie sensor with F/2.2 also performs quite decent in proper lighting. And there is not excessive beautification(unless you do it yourself) which is a very good thing. The edge detection is also quite decent in the selfie camera. You can get those good blur shots for Instagram.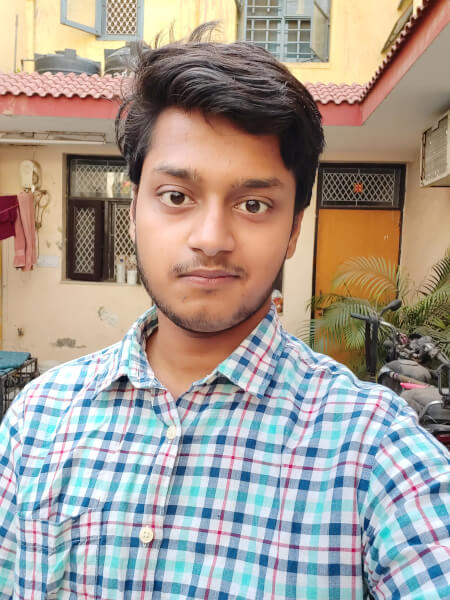 Verdict
Overall, this is a good camera phone. And at this price range, further updates will do the optimization job well. We hope that this Samsung Galaxy A70 Camera review helps. What do you think about this phone's camera in its price range? Until then, GOODBYE 🙂