In today's time where 4G has become very cheap, a lot of people have switched to some sort of music streaming services like Spotify, JioSaavn, Amazon Music, Youtube Music, SoundCloud. However, there are still a lot of people who love to hang with their own music collection. If the stock music player is not matching with your liking then here we bring you our top 5 picks of best music player applications for Android!
Free
App Size: 6.3 MB
AIMP is light and fairly powerful music app. It supports all types of music file including mainstream such as MP3, MP4, FLAC and others. This music app has a streamlined easy UI with built-in dark and light version of the Bliss skin and also support for custom themes. It has an excellent 29-band graphic equalizer, HTTP live streaming and volume normalization. It can also optionally hold on to audio focus so your music won't stop while browsing and playing back short video clips.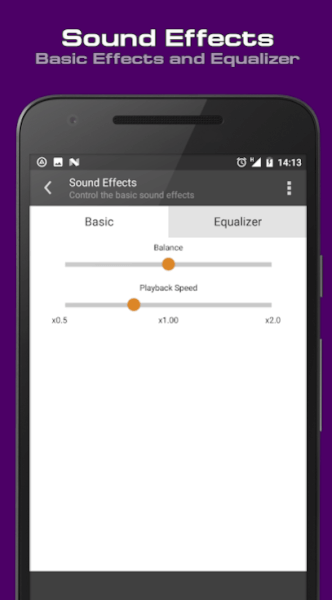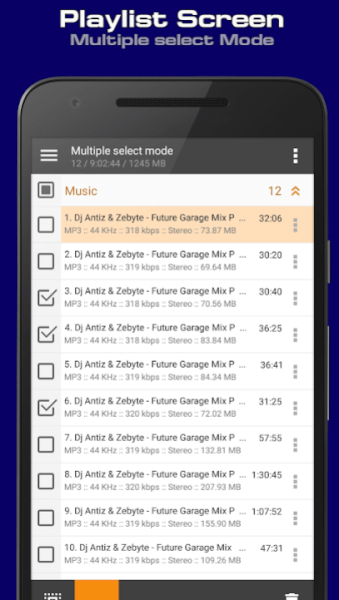 Free
App Size: 4.4 MB
Musicolet is an ad-free and lightweight music player application with a lot of features. It allows you to control your music player using your earphone button. It claims to be the only music player for Android that supports multiple queues. This app has an intuitive UI with cool widgets and easy to access tabs for folders, albums, artists and playlists.  It has a fairly good equalizer, it is more focused on performance and power efficiency which makes a very good experience to listen to music.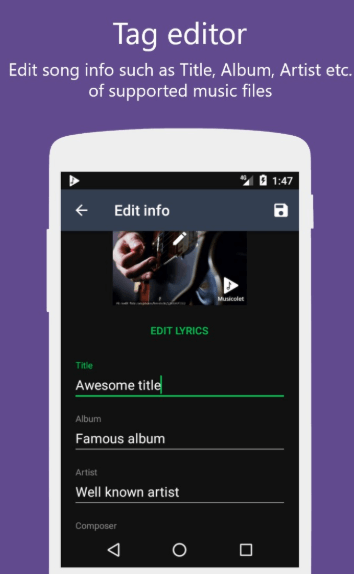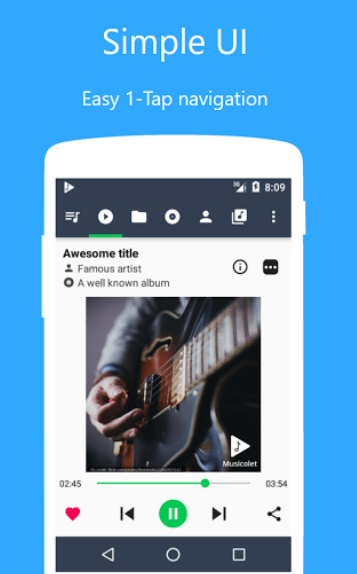 Free(In-app purchases)
App Size: 5.4 MB
Pi Music Player is beautifully designed and crafted with all necessary features that a user might prefer. It has an attractive and intuitive UI mixed with accurate and clean layout giving an unmatched user experience. This music app has built-in equalizer with bass boost, 3D reverb effects, virtualizer and 10 amazing presets. It also has unique features like Ringtone cutter to precisely cut any MP3 music file and Pi Music Share to share tracks, album, genres and playlists with anyone in the world.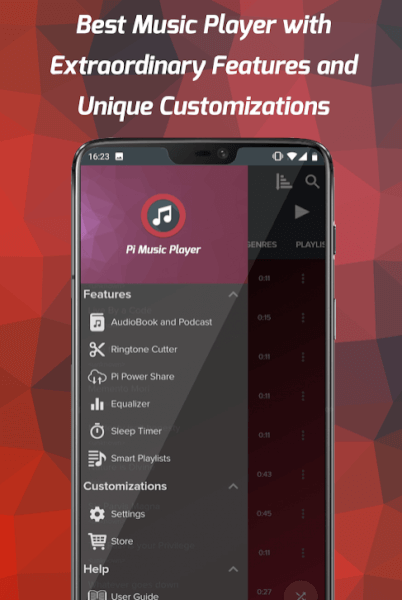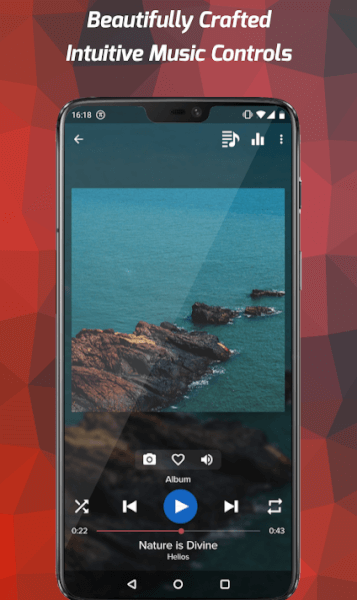 Free (In-app purchases)
App Size: 14.4 MB (Varies with devices)
If you like to sing along with your songs then Musixmatch is for you! You can view lyrics to songs even while using other music applications through its floating lyrics widget and let you have access to lyrics synced in real-time. Moreover, it can identify the lyrics of songs playing in your surrounding. This app fills all the missing information such as album art, album name, genre. Overall a very good music player app with useful features.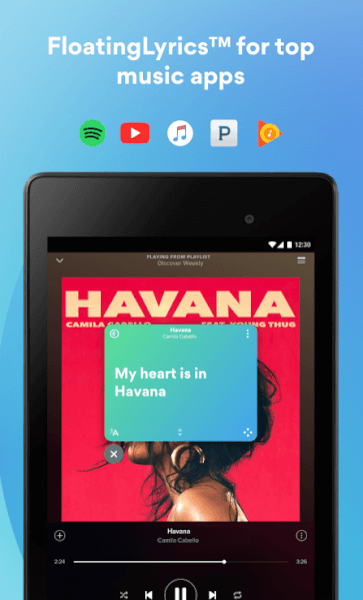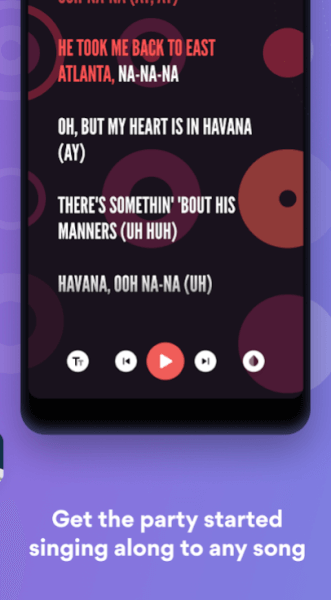 Free Trial / ₹99
App Size: 5.4 MB (Varies with devices)
Poweramp is one of the best and most powerful music player application for Android. After the major update (Poweramp v3) has become more recommendable to casual music listener. The new update brings change in new and powerful audio engine, clean and minimalistic UI and new navigation features. Poweramp has by far the best Audio engine on Android with support for hi-res audio output, updated equalizer, internal 64bit processing, configurable resampler. It also lyrics support and downloads missing album art. Free Trail allows to enjoy the powerful music player for 15 days thereafter can be bought for 99INR from Playstore.