Since the price hike in December, Vodafone has made several changes to its prepaid plans. Now, the company has reintroduced its Vodafone Rs 95 All Rounder Pack with increased validity. This plan adds to the Vodafone all-rounder pack list. Interestingly, the all-rounder packs are minimum-recharge plans. Customers can use such plans to extend SIM validity without spending on combo packs.
Vodafone Rs 95 All Rounder Pack
The Rs 95 prepaid plan offers Rs 74 Talktime benefits. With this pack, charge for all local/national calls is 2.5 paise per second. Also, we get 200MB 4G data with Vodafone Rs 95 all rounder pack. Lastly, the validity of this pack is a whopping 56 days.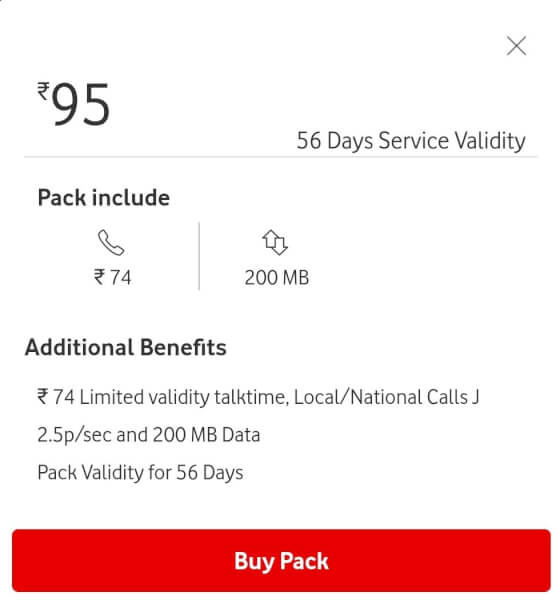 Earlier, the same Vodafone all rounder pack used to offer 500MB 4G data benefits. This was back in December, prior to the price hike. However, the pack offered just 28 days of validity back then. While the telecom operator has reduced data offered, the validity has been appropriately increased.
Currently, this plan is available only by customers in select circles. These circles include Bihar, Chennai, Karnataka, Kerala, Madhya Pradesh, Mumbai, and Tamil Nadu.
The Vodafone Rs 95 all rounder pack is also valid for Idea customers in the aforementioned circles.
To summarize the Vodafone Rs 95 all rounder prepaid plan, it provides the following Talktime, data, and rate-cutting benefits apart from SIM validity extension:
Talktime: Rs 74
Calling Rate: 2.5 paise per second
4G Data: 200MB (reduced from the earlier 500MB)
Validity: 56 days (increased from 28 days)
Vodafone All Rounder Pack List
The new Vodafone validity recharge pack joins the list of existing all-rounder packs, like Rs 39, Rs 49, and Rs 79. Unfortunately, not all of these cheap plans are available nationwide.
Out of all the Vodafone, all rounder plans, the Rs 49 pack and the Rs 79 are available in all circles. The Vodafone Rs 79 all rounder pack comes along with Rs 64 Talktime. All local & national calls are charged at 1.0 paisa per second. Additionally, it offers 200MB 4G data for as long as it is valid. This pack comes with a validity of 28 days.
On the other hand, the Vodafone Rs 49 all rounder pack offers a talk time of Rs 38 along with 100MB 4G data benefits. The validity of this plan is 28 days.