WhatsApp is a social messaging platform owned by Facebook and it is one of the most popular apps in the world. Also considered one of the safest, WhatsApp puts in end-to-end encryption on every message sent on its platform. However, this time there is a new bug which has been deleting WhatsApp messages from chats, leaving users confused.
There is a new WhatsApp bug on the go which reportedly deletes your chats. In a number of online reports, a new WhatsApp bug has been spotted which deletes old WhatsApp messages without any input from the user. According to a report, WhatsApp users have now come on Twitter to share their miseries and have said that their messages in WhatsApp chats are getting deleted in chronological order, starting with the oldest message in a chat.
"We are aware of this bug and are working on a fix for the users who have encountered this issue," WhatsApp spokesperson said in a statement.
The issue's Faced By People:
Amazon Web Services employee Abby Fuller claimed that WhatsApp messages of the previous owner of the number were accessible to her. The new bug has raised concerns around privacy of WhatsApp messages.
"Logged into WhatsApp with a new phone number today and the message history from the previous number's owner was right there?! This doesn't seem right," Fuller said in a tweet.
WhatsApp users have reportedly taken to Twitter to voice their concerns and have stated that the messages in their old WhatsApp chats have been deleted in a chronological fashion, starting with the oldest chat thread. This WhatsApp bug has made surface last year but the Facebook-owned software giant had not made any official statement.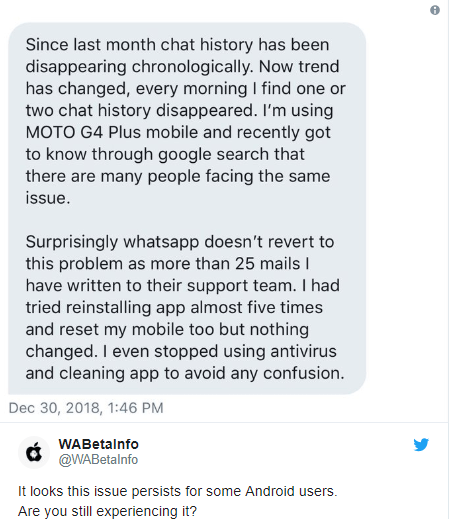 According to a WhatsApp user named Bharat Mehra who recently posted on Twitter, stated that his WhatsApp messages were vanishing mysteriously. His post has also been shared by WaBetaInfo. According to Bharat, his messages are being deleted from the chats every morning and he also stated that he is using a Moto G4 Plus smartphone.
As of now, there has been no official statement from WhatsApp or Facebook. It is noteworthy that last year, WhatsApp had announced a partnership with Google, under which all WhatsApp backups will get stored in Google Drive. The process will gather data but that same data won't be counted against the 15GB free storage limit that every user gets on Google Drive. Additionally, WhatsApp also stated that the backups which were not updated since last one year or more will be deleted automatically from Drive. This could be one of the main reasons why WhatsApp users are facing this problem where their messages getting deleted automatically.
How to Stay Safe?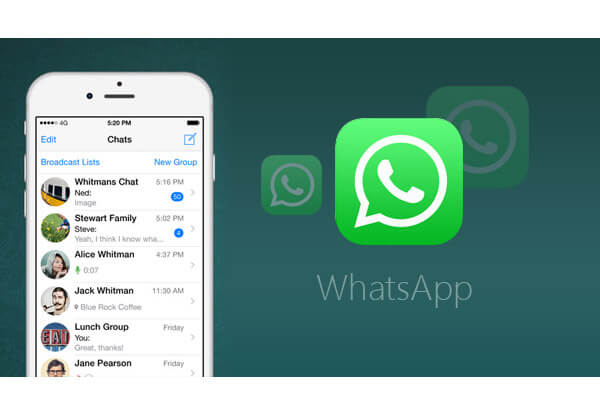 Until the Company officially announces about the fix of the bug, we recommend you to create a backup of your chats along with media on the google drive. To do this follow the below steps:
Step 1: Open Whatsapp and Head to Settings via clicking the three dot icon
Step 2: Head to Chats Menu
Step 3: Click on Chat Backup
Step 4: Select Your Google Account and choose the backup frequency to Daily or Weekly
Done Now Your Chats are safe. Enjoy messaging