Finally, Youtube Music has arrived in India along with Youtube Premium. It will join with Google Play Music and Google Play Movies in the near future. Youtube Music is available as a free and paid version. 2019 is a great year for us because two giant music streaming app launched in India, Spotify and Youtube Music. In this article, we are going to talk about Youtube Music Features.
Youtube Music India
As we mentioned above, after the official launch of Spotify, Google is ready in the competition of Music streaming apps. T-series is on the top of the world in terms of subscribers count. It suggests that Youtube has a huge collection of songs. Gaana, Amazon Music, Apple Music, Spotify, JioSaavn and many more streaming apps are already available but the main advantage of Youtube Music over other apps is the collection of songs. Various individual artists are available on YT Music.
Youtube Music Features (Free)
Same as Spotify Youtube Music is available for free for every user. If you are ok with ads than the free version of is good for you. The only drawback of the free version is it does not allow to play music in the background. It means you are not able to open any other app while playing songs, similar to the Youtube app.
One of the best features of Youtube Music is going to be songs recommendation. It has access to your Youtube history. After playing a few songs you will start getting a better recommendation. Also if you don't know the name of any song you can simply search by the lyrics you remember even if the lyrics you entered are wrong, you will get the song which you want to listen. For example, I searched "Teri nazron Mein hai Mere Sapne" and I got the Agar Tum Saath ho song in the result. This is so impressive.
Listen to your favorite Artist, Album, Cover Songs and almost everything you find on Youtube
Dark Mode (The app is already having Dark Theme, Good Job Youtube!)
In-built Music Equalizer
You can watch the video of your favorite song just by pressing one button. Afterall Youtube is the biggest video streaming platform.
Set alarm tone using Youtube Music
Android Auto support
Trending list
Double-tap to seek
Youtube Music Premium Features
If you don't want to see ads and want to listen to songs in the background then YT Music Premium is the way you should go. The subscription charge is Rupees 99 per month. It is the cheapest subscription charge around the world. Also, you will get three months of the free trial of Youtube Music. Therefore you are getting 4 months of subscription just by paying 99 Rupees which is impressive. You will get the following premium features.
Download unlimited songs
Background Songs Playback even while the screen is off
Ad-free experience
Offline Mixtape – The app automatically downloads up to 100 songs based on what we listen.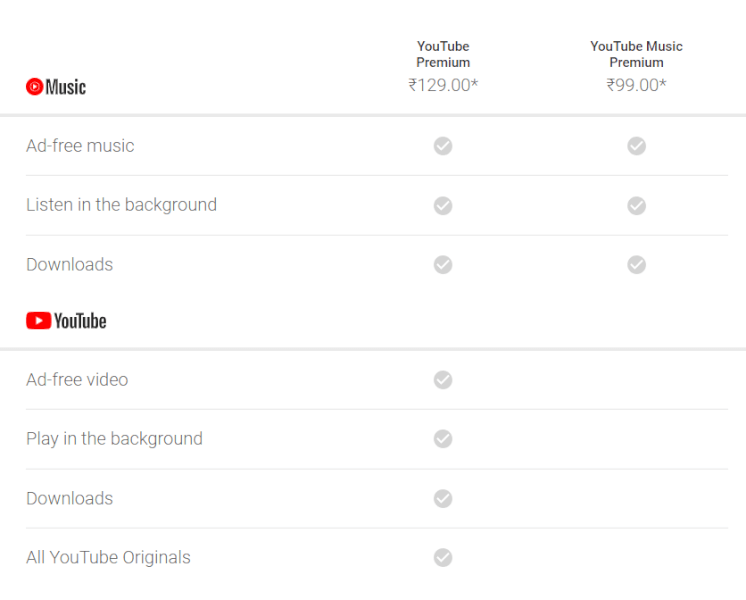 Youtube Premium Features
That's not all, Google has launched Youtube Premium along with YT Music. Youtube Premium was formerly known as Youtube Red. Youtube Premium is a big deal because just paying by Rupees 129 you are getting Youtube Music Premium Subscription, along with it you can watch ad-free Youtube videos. Also, you can download Youtube videos and you will be able to play any Youtube video in the background. Now that is something super cool. Additionally, you will get access to Youtube original content.
That's all in this article. Let us know which music streaming app you are using in the comment section below. Happy listening.