Today, we take a look at ASUS TUF FX504, a gaming laptop that will provide you with the experience you have been asking for. So, if you are the one, who is looking for a gaming laptop to play great titles like PUBG, Fortnite. You are at the right place.
If a Solid State Drive for faster boot-up as well as reduced loading time is what you have expected, a Graphics Card powerful enough to support high-end titles along with the Power of 8th Gen i7 taming your beast, this piece of hardware does a great job.
Asus F570 BENCHMARKS
Since, performance is one of the major factors termed not in terms of specifications provided, rather, showing how good this machine performs on certain Titles, let's get straight into it.
RISE OF THE TOMB RAIDER (ADVISABLE SETTINGS: MEDIUM-HIGH)
Released in 2015, this title pushes not only the GPU but also the CPU to its maximum potential, therefore the FPS can struggle in certain situations. The  Advisable settings to play this game is at medium to high settings.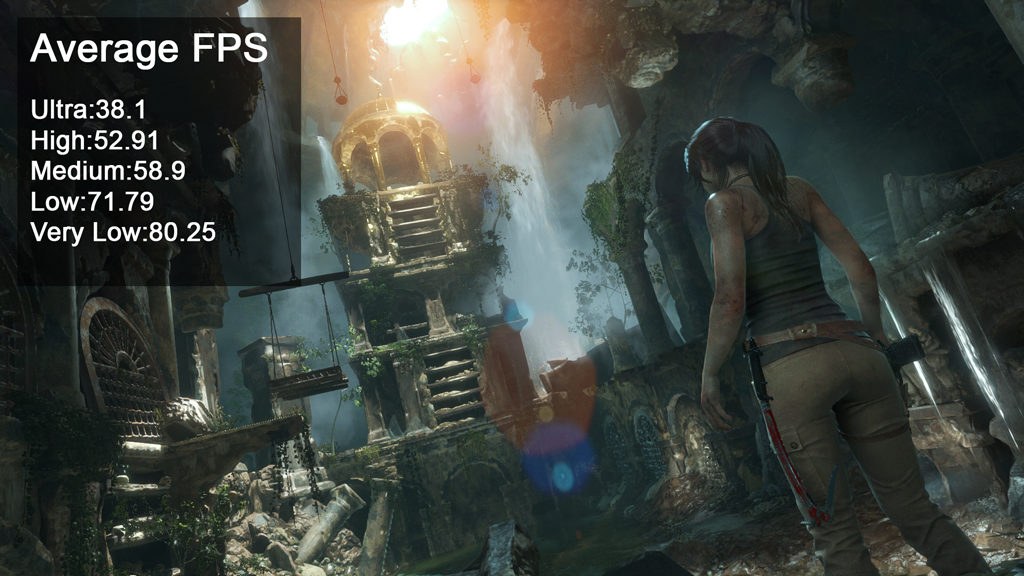 FORTNITE (ADVISABLE SETTINGS: MEDIUM-HIGH)
Another 3rd person online shooter that took the world by surprise is no other than Fortnite. One may wish to play this 2017 title at highest settings possible but it may not be advisable to do so when online using this laptop. A massive increase in FPS can be seen when played on medium settings almost touching the average frame rate of 100. It is still recommended that the player can switch between medium to high settings to feel a worthy experience.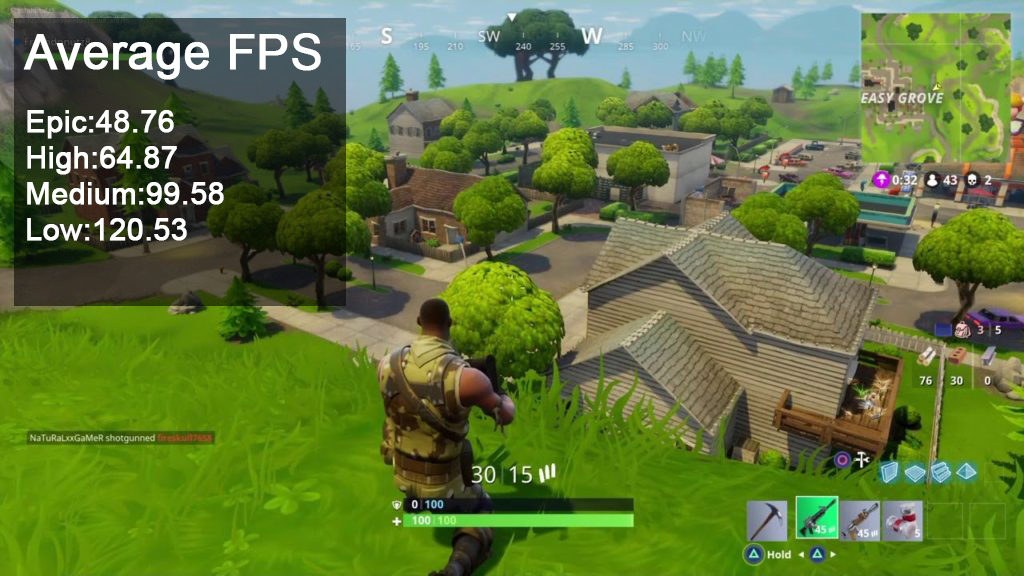 PUBG (ADVISABLE SETTINGS: LOW-HIGH)
This 2017 title became an instant hit as soon as it reached out to the audience. PUBG with its massive fan following worldwide might not be as easy as it sounds when played on maxed-out settings reaching a playable frame rate that doesn't suffer much even after switching to Low with an increase in 10-12 FPS. The recommended settings to be used on this laptop is between low to high as per choice.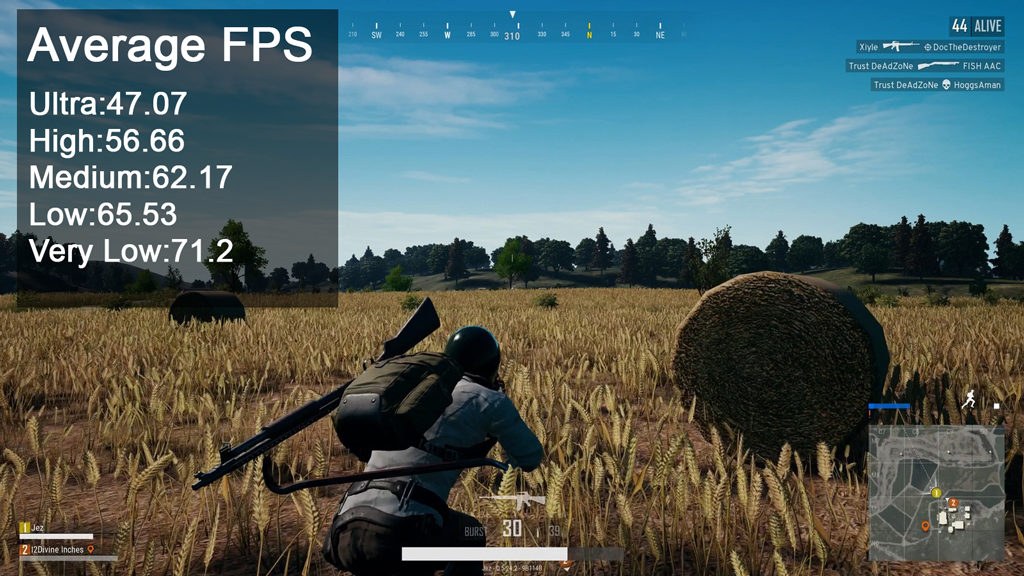 The games mentioned above maintained a pretty stable frame rate to obtain an enjoyable experience, thereby, giving evident proof about the capability this machine has to offer.
Asus F570 Gaming SPECIFICATIONS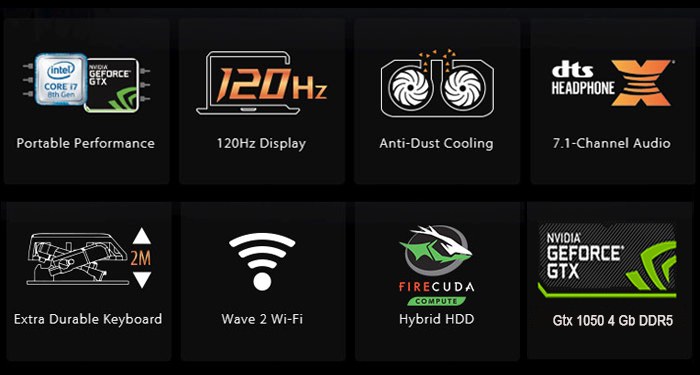 Core i7 8750H 2.2 GHz
GTX 1050 Ti 4 GB DDR5
RAM 8 GB (Upgradable)
128 GB NVMe SSD
1 TB SEAGATE FIRECUDA SHD (Faster than Normal HDD's)
6 inch Screen 120 Hz (1920×1080)
48 Whr Battery (3.5-4 Hours)
Audio by DTS Headphone X
AC Adapter:120 W
Wi-Fi: Intel 9560NGW 802.11ac (2×2)
Weight : 2.3 Kg
I/O Ports: 1 HDMI 1.4 port, 3 USB ports(2x USB 3.1, 1xUSB 2.0), 1 Audio Jack, 1 RJ45 jack.
OUR VERDICT
ASUS FX504 offers an experience one may call "Value for Money" because of the following Pros & Cons attached to it:
PROS
The SSD installed reduces booting time to just a few seconds.
A 120 Hz refresh monitor with HD Display is amazing not only for gaming but watching movies at high resolution.
An Improved Cooling System with dual fans embedded for optimum airflow is much better than before and produces minimal noise keeping the thermals in check at all times.
A Strong Built provided by this laptop always comes in handy.
A Combination of the INTEL 8th Gen Processor with the NVIDIA Graphic Card is a match capable to achieve a consistent performance throughout.
CONS
This laptop lies within the range of an entry level to a mid-level gaming machine.
Battery life of around 3-4 hours may be a drawback for heavy duty gamers.
The GPU installed i.e. NVIDIA GTX 1050 Ti 4 GB could be replaced with NVIDIA GTX 1060 6 GB variant to further increased performance.
Without further ado, if you think this Product is worth giving a shot-