Canon EOS 200D is one of the best midrange DSLR Camera for beginners and for professional use also. Now the company has introduced Canon EOS 250D, the successor to the EOS 200D. This new midrange DSLR comes with interesting specs in the smaller form factor. It is the lightest EOS Camera capable of shooting 4k video. It is known as Canon Rebel SL3 in the US. What will be the Canon EOS 250D Price in India? Let's find out.
Canon EOS 250D Specifications
The Canon EOS 250D comes with 24.1 Megapixel APS-C sensor. The Camera is powered by Canon's latest Digic 8 image processor. 250D also supports 4K video recording at 24 fps and 1080p recording at 60 fps. There is also one option to record timelapse in 4K resolution. The dimension is 122.4 x 92.6 x 69.8mm and it weighs only 449 gram.
Connectivity
The camera has NFC and Bluetooth connectivity. 250D also has an HDMI port and a USB 2.0 port. The Camera can remotely transfer photos to Android and iOS devices using the Camera Connect app.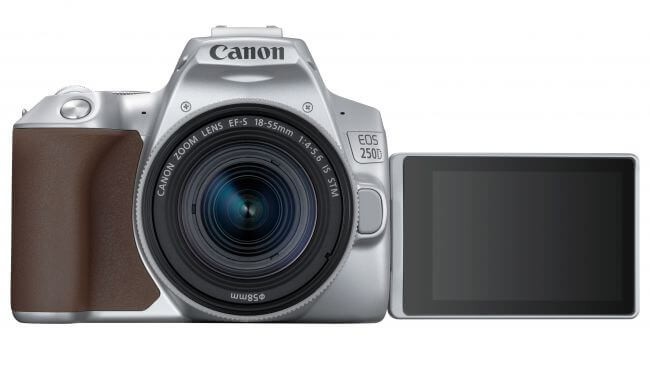 Display
Canon EOS 250D has a 3 inches flip out touchscreen display, which is a vari-angle TFT LCD display. Eye-level SLR viewfinder is present that covers around 95% of the scene.
AutoFocus
Canon EOS 250D has 9-Points AF across the optical viewfinder. It supports Dual Pixel CMOS AutoFocus with Eye Detection AF in Live View shooting mode.
Battery Life
EOS 250D can shoot 1,070 shots on viewfinder while 320 shots with the live view on the display. There is a significant improvement in battery life than the older version.
Other Features
It supports burst shooting at 5 fps. Microphone port is present but there is no headphone socket alongside. Maximum ISO is 25600.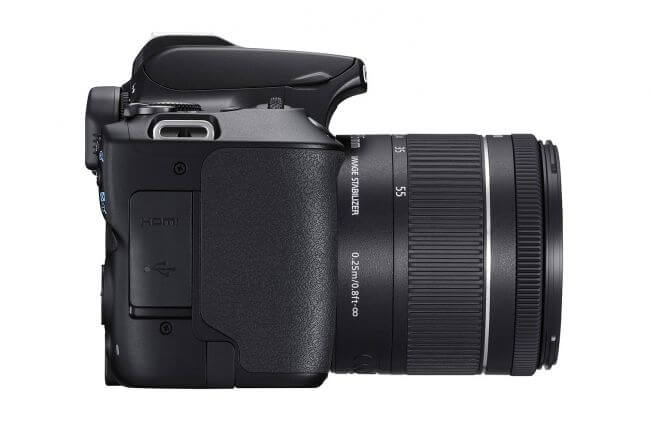 Canon EOS 250D Price In India
The Canon EOS 250D (Rebel SL3) priced at $599.99 in the US for the body and $749.99 for EF-S 18-55 f/4-5.6 IS STM lens. If we convert the US pricing to INR then the price of the body will around 41,500 rupees and total around 51,000 rupees for the Body+Lens. The Indian pricing is yet to unveil but we can expect similar pricing.
Canon EOS 200D Vs 250D
There is not much physical difference between both these DSLRs. Both are identical on the first look. EOS 250D is 4 gram lighter than the 200D.
The main difference is 250D can shoot 4k video recording while the 200D can only shoot 1080p at 60 fps. The new Digic 8 camera processor is better than the older Digic 7 which improves the camera quality and battery life as well. Battery life is way more good in new 250D.
Canon EOS 250D Launch Date In India
There is no official confirmation about Canon EOS 250D Launch Date in India. Stay tuned with us to get notified whenever the 250D launch in India.