ColorOS is an Android Custom Skin for Oppo smartphones and Realme also uses this UI for their smartphones. It is a feature pack UI with quite a lot of functionality but it is not the most loved UI among users. The latest version which is ColorOS 6 has improved the overall look and it feels much clean and minimal. Oppo is testing ColorOS 6.7 which is based on Android 10 and currently under beta testing on Oppo Reno series in India. Let's check out ColorOS 6.7 features and when will you get the ColorOS 6.7 update in this article.
ColorOS 6.7 Features
ColorOS 6.7 has a lot of new features including the Dark Mode, Navigation Gestures, Minimal UI and more. Oppo has listened to user's feedback and redesigned the user interface of ColorOS.
ColorOS 6.7 Is Based On Android 10
ColorOS 6 was built on Android 9.0 Pie and almost all latest Oppo and Realme smartphones are now running on the Android 9.0 Pie. Now, ColorOS 6.7 is built on Android 10 and Reno users will get this update earlier than other users.
Dark Mode
2019 is the year of Dark Mode. All apps and operating systems have implemented the dark mode. Android 10, iOS 13, MIUI, OxygenOS, FunTouchOS, Samsung's OneUI and ZenUI all comes with a Dark Mode. Now, Oppo smartphone users will get the Dark Mode support after the ColorOS 6.7 update. Besides this, to support the Digital WellBeing program ColorOS has implemented a Focus Mode in the UI.
Read More: Oppo Reno S with 64MP Camera to Launch Soon – Rumored to have 65W Charging
Upgraded Smart Assistant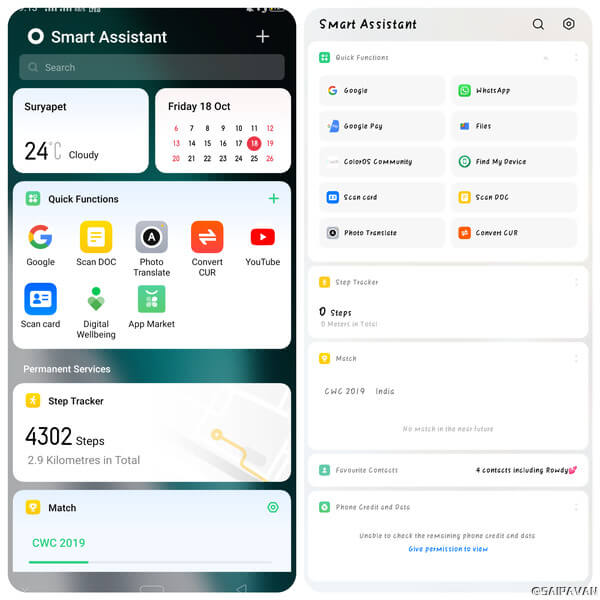 You can access the Smart Assistant tab on ColorOS by swiping right on the home screen. It shows weather, calendar, quick functions, favorite contacts, steps tracker and more. The UI of Smart Assistant is completely changed in ColorOS 6.7. It looks much cleaner and everything is easy to access.
Redesigned Notification Panel
The Notification Panel of ColorOS 6 is not very handy. The big notification toggles do not look clean and for that reason, ColorOS 6.7 has a new notification panel design. The toggles are small. The First pull will only bring half a notification panel just like the Stock Android and other skins like MIUI. Also, the second pull will bring all icons to the bottom half of the screen for easy access. We have seen this kind of notification panel on Samsung OneUI.
Easy To Use Volume & Smart Side Bar
After the ColorOS 6.7 update, the Volume Bar won't interrupt the display. The new minimal Volume slider is now on the left side of the display just beside the volume rockers. So, you can easily adjust the volume by a single hand. Also, the Smart Sidebar is now single columned and redesigned.
Floating Apps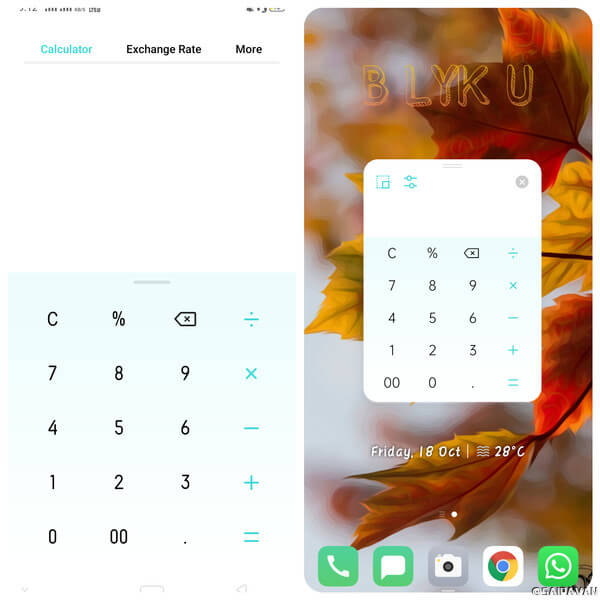 Few chatting apps can be opened as a floating app in ColorOS. Now with the ColorOS 6.7 update whenever you will open the Calculator app from the Side Bar it will open as a Floating app instead of the fullscreen. We have seen this feature recently in the MIUI 11.
Read More: MIUI 11 Tips & Tricks: Everything You Should Know
New Camera UI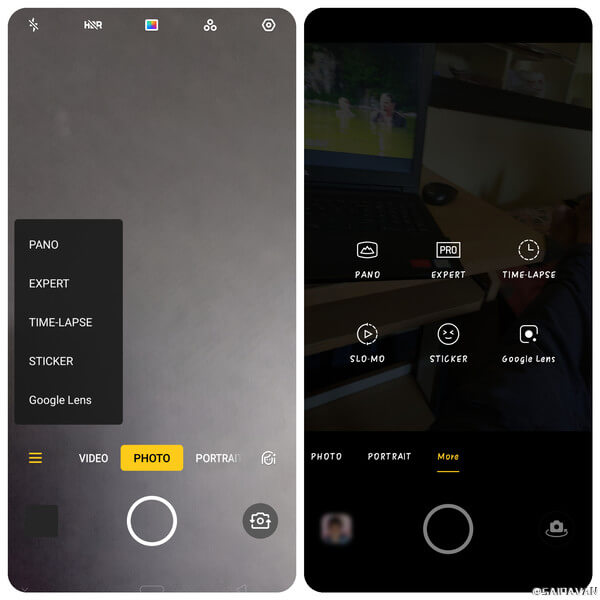 The Camera UI is also redefined. Modes are arranged in tiles instead of a list which is handy. The overall user interface of the Camera app looks clean.
[Source]
Follow Tech Burner Team on our social media handles to get the latest updates:
If you have any queries about tech then simply mention @TECHBURNERTEAM on twitter and we will try to answer you as soon as possible.