Venit Vidit Vicit. The line comes from Latin of: "He went. He saw. He conquered". We all know the famous quote of "Veni Vidi Vici" ( I came, I saw, I conquered ) by Julius Caesar. Dassault made Mirage 2000 played a kind of a similar role today. But, this isn't the 1st time the IAF jet has served India. Mirage 2000 has been serving India since the Kargil War of 1999 and was the one who turned the war to India's favor.
Keeping all the political issues aside, we'll talk about this veteran hero of our country, Dassault Mirage 2000.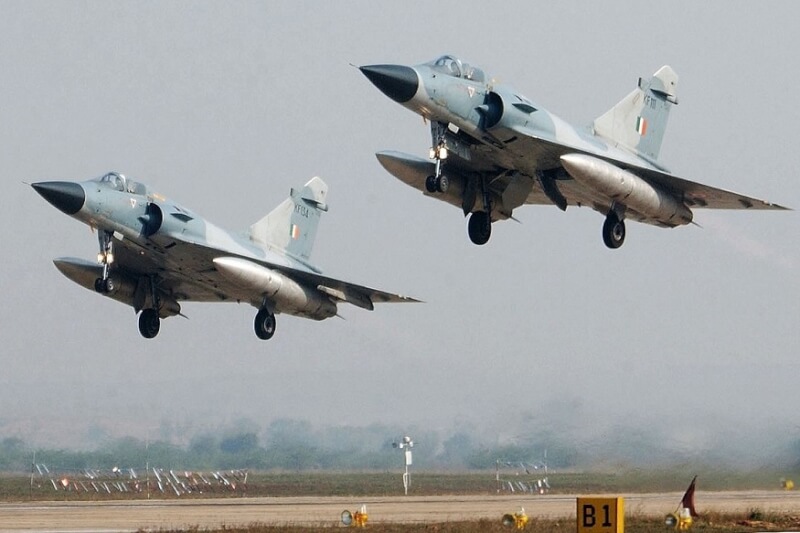 History of Dassault made Mirage 2000:
The Mirage 2000 is undoubtedly one of the Indian Air Force's (IAF) most versatile and deadliest aircraft and it was first commissioned in 1985. Soon after inducting the Mirage, IAF gave it the name – "Vajra" – meaning "lightning thunderbolt" in Sanskrit. It was developed by Dassault Aviation and took its first flight in 1978 and was inducted in the French Air Force in 1984.
India had placed an initial order of 36 single-seater Mirage-2000 and 4 twin-seater Mirage 2000 in 1982 as an answer to Pakistan buying US-made F-16 fighter jets by Lockheed Martin.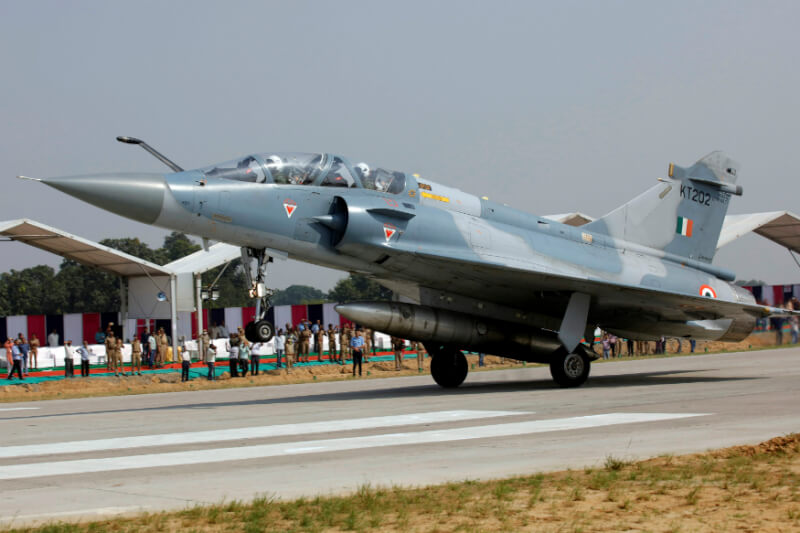 Seeing the success of the jets, the government placed an additional order of 10 Mirage 2000 planes in 2004, taking the total tally to 50 jets. Then in 2011, a contract was signed to upgrade the existing Mirage 2000 jets to Mirage 2000 – 5 Mk, increasing the life of the jets that are now ready to serve till 2030. Dassault built an estimated 580 Mirage 2000s over a course of 30 years before replacing it with the Rafale MMC jets.
On top of everything, as you already read, Mirage 2000 was one of the key reasons for India to achieve victory in Kargil War 1999. This old war veteran is tried and tested and has served India like his/her mother since its first flight.
The speciality of Mirage 2000:
Mirage 2000 was ideally designed as a single seater. But it received modification as twin seater. It was first tested in 1970 and uses a SNECMA M53-P2 engine which is a fact provided for jet enthusiasts only.
It has a length of 14.36 meter and a wingspan of 91.3 meters. Mirage 2000 weighs 7500 kg (dry) and 17000kg (while takeoff). It has a maximum speed of 2336kmph and can travel 1500km with drop tanks. The flight height goes up to 59,000 ft (17km).
Why Mirage 2000?
Indian Air Force has other advanced fighter jets but IAF has chosen Mirage 2000 over them many times. Russia-made Sukhoi Su30MKI is a better jet than Mirage 2000 but is heavier and slower. It has a top speed of 2120kmph which is less than Mirage 2000. This makes the Mirage 2000 better for quick and covert operations.
The Mirage 2000 has a fly-by-wire flight control system and has a Sextant VE-130 HUD, which displays data related to flight control, navigation, target engagement, and weapon firing. In terms of the armament, the Dassault made Mirage 2000 can carry laser-guided bombs, air-to-air and air-to-surface missiles and has a Thomson-CSF RDY (Radar Doppler Multi-target) radar on board.
One of the biggest positive of Mirage 2000 is 100% precision to deploy bombs. This stat isn't created by us but has been published in other news journals supported by IAF.
Who has Mirage 2000 other than Indian Air Force?
Apart from India, Dassault sold the Mirage 2000 to 8 other countries, including the home country of France. They are Egypt, UAE, Peru, Taiwan, Peru, Greece, and Brazil. While Brazil has retired the Mirage 2000, other counties are still using this jet. A total of 583 Mirage-2000 fighter jets were built over a course of 30 years. IAF already ordered its successor, Rafael.
Changes made to Mirage 2000 by IAF?
After the upgradation, the jet got a few additional features. These include night vision goggle-compatible glass cockpit, advanced navigational systems, advanced identification friend or foe (IFF) system, advanced multi-mode multi-layered radar, fully integrated electronic warfare suite and advanced beyond visual range (BVR) capability.
Salute to our hero Mirage 2000:
Mirage 2000 was a trusted partner in India's previous success in Kargil. It is also immensely capable to carry out Surgical Strikes and attacks whenever possible. Thanks to its load-carrying capacity, precision, Laser-Guided-Bombs, and latest technology updates, it flourishes!