Recently a new Unsend Feature was spotted in the official Facebook Messenger app. Facebook products like Whatsapp and Instagram have already this feature enrolled in as "Delete for Everyone" and "Unsend Message" respectively. Soon Facebook may also release this feature officially for the messenger app. For a more detailed report about this, please read ahead.
Facebook Messenger's 'Unsend Feature' Spotted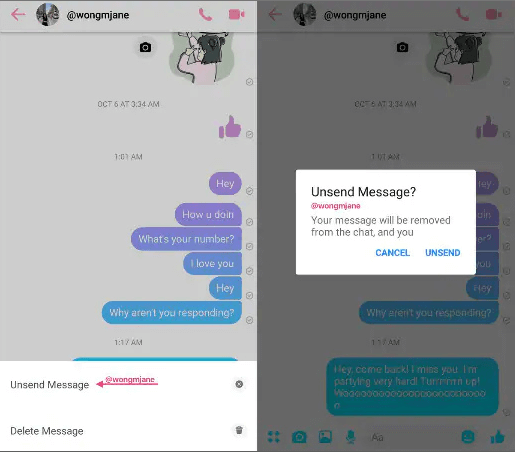 The Unsend Button for Facebook Messenger's app hasn't been launched officially. But recently it was in testing by the company and some screenshots are leaked and being viral on the Internet. This 'Unsend Feature' was announced already 6 months ago and now it's in testing by the company. This is giving hope to the user that very soon the feature will be out for all of us to use.
Tipster Jane Manchun Wong firstly leaked these testing screenshots and these are now in trend on social media. The company is testing but they've given no clue when it is going to be released.
The reason it is not being released is that the current version of this feature contains too bugs. Sometimes the message is deleted from the sender's inbox but not from the receiver's inbox. This bug needs to be fixed and hope is they'll fix it and launch as soon as possible.
We can't exactly explain to you how the feature will work. But don't worry, we'll update you with that too. All we can do now is wait till the feature rolls out. Also, like in Whatsapp, will it be for a limited time to unsend messages or like Instagram to Unsend messages at any time. There's no clue at all.
But as per the reports and Facebook experts, this feature will be available for a limited period of time like Whatsapp. Still, it is not yet confirmed. This is just an expectation. Thanks a lot for reading this article. For more quality tech updates, subscribe to our notifications.