Finally, Facebook has launched its Payment Platform, Facebook Pay. They have Launched the Platform on 12th November and have confirmed that it will get working after this Week. According to Facebook, a User will be able to Send Money to Merchants or other Users via Facebook Messenger, WhatsApp or Instagram. As of now, this Feature will be Launched in the US to the Fundraisers and few of the Merchants. After the Feature gets Launched Globally, you will be able to Send Money to Friends, Family and even Split Bills into the Groups. Also, they will integrate Facebook Pay with WhatsApp and Instagram when it will have a lot of users. However, Check Out below to know more about Facebook Pay Features and Launch Date in India…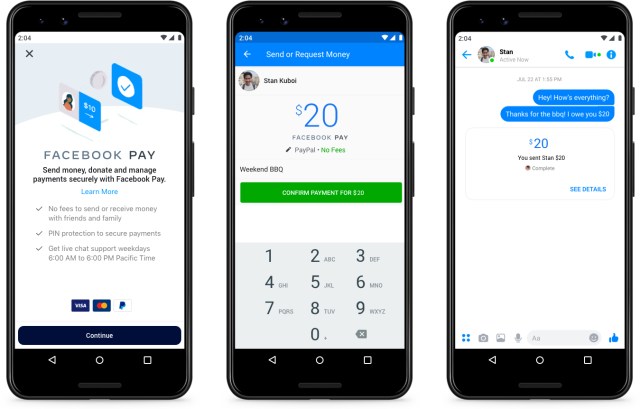 What is Facebook Pay?
Facebook Pay is a New Platform/Feature by Facebook Inc. which is Supposed to be the Latest Addition by Facebook which will Support Payments to different users, even anywhere on the Earth. Also, Facebook is claiming this Feature to be one of the Most Secure Features by Facebook. They will also use a 256-bit SSL ( Secure Socket Layer ) to ensure the User's Security. However, let's see what it comes with when it will be Launched in India…
Facebook Pay Features
Where there is a Good thing, there are Awesome Features. So, this one also has some of the Awesome Features like Facebook and Instagram. So, Check Out Facebook Pay Features below to know more…
Add your prefered Payment Method ( i.e PayPal, Credit/Debit Card etc ) to Pay whoever you want
Set up Facebook Pay app-by-app, or choose to set it up for use across apps
View payment history, manage payment methods and update your settings in one place
Real-time Update of Customer Support via Live Chat
Clear Understanding of Facebook Payment Terms and Conditions
How to use Facebook Pay?
To Enable Facebook Pay when it will Launch, you will just have to follow some easy steps. They are very easy and don't even need a Guide. However, we are still providing the Guide for you guys so that you won't have to worry about all these. Check Out the Steps below…
Go to "Settings" > "Facebook Pay" on the Facebook app or website
Add a payment method
The next time you will make a payment, you will be able to use Facebook Pay
Security Related Conditions
Facebook has always been great with their Security. However, when it comes to Paying a lot of Money, Security is the Biggest Concern. However, Facebook will use 256-bit SSL to Protect the Transactions. Also, WhatsApp uses 265-bit SSL to Protect the Messages, so it is easy for them to integrate Facebook Pay.
Facebook Pay Launch Date in India
As of now, there is no Facebook Pay Launch Date available. However, Facebook Pay will Launch in the US this week. But, these features actually come very much Late in the Indian Region. So, we have to wait and wait until there is any Update about that. However, as soon as we will know any Update, we will inform you as soon as possible.
So, how much are you interested in Facebook Pay? Also, the Facebook Pay Launch Date in India? Let us know in the comments below.
Follow TechBurner Team to get the latest updates:
Download REWALLS: TECHBURNER WALLPAPER APP For Awesome Wallpapers.
That's All For Today. Stay Tuned To TECHBURNER For More Stuff.
[ Source ]