Flipkart gave an idea about it last month and now finally Flipkart launched 2GUD, their new e-commerce platform is live on the web. This is a platform where users can purchase refurbished goods. This 2GUD platform is the first ever platform which will be serving refurbished goods on the online market.
If all works right, this company may grow a lot in just next few years. It's expected to cover 20$ billion within just next 5 years. "20 Billion Dollars", sounds very little but this is a huge amount which sits around Rs. 1,39,740 Crores.
Flipkart Launched 2GUD – Refurbished Goods Platform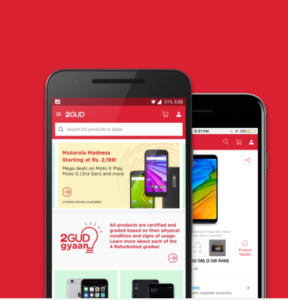 The website is now finally live on the web to be surfed by users like you. Currently, they are only serving refurbished Tech gadgets like smartphones, tablets, laptops, etc. But they're making promises to introduce more stuff like home appliances, etc.
Before the launch of the platform, their products were tested and they're giving certifications with warranty. I think that's a really good step by the company which may become a reason for their success. The service centers will be available in almost all the states of the country and the refurbished products will be served with warranty varying from 3 to 12 months.
This is enough period for a refurbished item and they're claiming that the products will work like exactly the new one. The company also said that this platform will be completely separated from Flipkart. That means they will grow on their own potential completely separated from the main platform.
By chance, if you don't know, the eBay India is officially ended on 14th of August. Try to visit eBay.in, you'll be shown a banner promoting the 2GUD platform. So overall, it's just eBay India shifted to 2GUD where they'll do their best to serve their customers high quality refurbished items.
If you find this article worth reading, then leave a comment below. For more quality tech updates, please ring our notifications.