Maybe you're already aware of it, but still, let me tell you. Reliance Jio Launched the JioPhone 2 in the month of July this year. The phone is priced at Rs. 2,999 and finally, it is going live for a flash sale on the 12th of September. But purchasing any product from a flash sale is a bit difficult task because a lot of pro customers like you buy it before you and the product goes out of stock. So here I'm going to teach you How to Buy JioPhone 2 during Flash Sale.
So here I'm going to tell you the important steps which you must follow while getting into a flash sale. These are the same steps which pro users use to catch products before anyone else. Here we go.
How to Buy JioPhone 2 during Flash Sale
All you need to do is taking care of some things before the flash sale actually starts. The most important thing is a High-Speed Internet Connection. If you're thinking to buy the phone on a Data connection. Then I'll suggest you switch to a High-Speed WiFi connection for it.
Also, make sure you've filled all of your important card details, home address, pin code, phone number, etc. So you won't have to waste time in it during the flash sale. I suggest you use a desktop and use any auto-fill extension to fill the details automatically. It will save a lot of your time.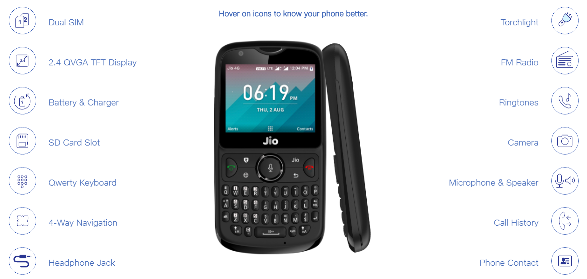 Now you're all ready to sit with your device to book your phone. The only two online ways to buy JioPhone 2 is by using the Jio Website or their Jio App. Let's start with the Jio Website.
Go to 'www.jio.com' on your desktop computer.
Grab the 'Get Now' Button on the screen.
Fill up your Mobile Number.
Verify Phone Number by entering the OTP.
As I already said, use any auto-fill extension to fill all these details automatically.
The next step is to make the payment. Pay Rs. 2,999 using your credit/debit card or any of your favorite mode of payment from the list.
Now you're all done. Your JioPhone 2 will reach you shortly.
How to purchase JioPhone using the Jio App.
Make sure you've already downloaded 'My Jio' App from Play Store or App store.
Open the My Jio App and click on the JioPhone 2 Banner.
This will fly you to the 'Jio.com' website.
Again, enter your mobile number and verify it by using OTP.
Enter your Shipping/Delivery Address.
Make the payment and your phone will come to you very shortly.
So I hope now you got How to Buy JioPhone 2 during Flash Sale. If you've any queries, leave them for us below. Make sure to check out more from me. Thanks for reading this one. Keep Visiting!