Last week we did an article about how to unlock your PC via your phone. Remote accessibility is an awesome technology that we just ignore. If you haven't read it, I suggest you to go check it out here because it's pretty awesome. I hope you've set up fingerprint unlocking for your Windows PC via your Android phone. Now, this article will teach you How to control PC from any smartphone using Unified Remote Full App. It will help you to use your smartphone as a PC Remote. You can also control PC from iPhone. Read the full article to find out how to do it.
Use your PC from any smartphone?
What exactly are we talking about when we say 'Control PC from any smartphone'? We mean using your phone as a mouse and a keyboard, controlling actions like Volume and accessing and launching files on the Hard Drive directly from your phone. You can even cast your PC's screen on your phone and turn the PC off without being around or touching any switches. You mobile will turn into a PC remote.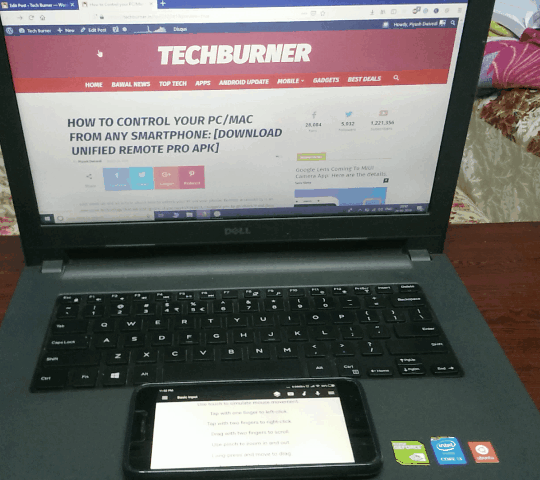 The Unified Remote app is a free app but contains ads and some other lack of functionalities. So you'll find a link to the Unified Remote Full App too at the end of the article. The Pro version of the Unified Remote app is available only for Android but you can use the free version for iOS. The Unified Remote app also supports Dark Mode which we all are a fan of.
Here are some features of the Unified Remote Full Apk:
Basic Input control: Mouse and Keyboard (Your default keyboard)
Keyboard Input: Use the inbuilt Keyboard
File manager: Access the files on your Hard Drive and open them on the PC via phone.
Media Control: Volume control and Next/Play/Pause buttons.
Power Menu: Shut Down, Restart, Log off, Sleep and other functions.
Remote Screen Viewer: Cast your PC's screen on your phone. (Use in Landscape mode and zoom out).
How to Control PC from any Smartphone
Pre-requisites:
PC or Mac: Both are supported.
Smartphone: Android or iPhone.
Both devices should be connected to the same WiFi network.
Download Links:
For Smartphone App:
For Desktop Client:
Download from here for Windows PC
Download from here for Linux OS
STEPS:
Install the Unified Remote App in your smartphone using the above link.
Install the Desktop Client on your Desktop or Laptop.
Make sure both the devices are connected to the same WiFi network.
Open the Unified Remote App on your phone and it will detect your PC.
Voila! Now you can use your PC from any smartphone you have lying around in your house.
Done! Pretty Simple and Awesome right? Your PC remote is ready now! You can ask questions in comments! Enjoy and share it with your friends! Don't forget to Prank them 😛
Turn On Notifications and Leave a comment below suggesting a possible idea for our next article!