With Microsoft Edge, Microsoft intended to end the hatred that its predecessor Internet Explorer had garnered over the years. Microsoft tried really hard to make users jump ship from Chrome and Firefox to Edge. They restricted the default browser for the taskbar search to Edge. They even claimed Edge was faster. But all that was in vain. And last year, Microsoft realized that Edge in its current form wasn't working. Microsoft then announced that it would rebuild Microsoft Edge from scratch using Google's Chromium model. Ever since the announcement, some users have been itching to know what improvement this new Chromium Edge would bring. A couple of days of ago, an early build of the Microsoft Edge Chromium leaked on a few beta forums.
Chromium: What It Means
After October 2018 Windows 10 Redstone update, rumors started flying that Microsoft would rebuild Edge based on Chromium. It is Google's open-source browser project. Many modern browsers are built on Chromium, including Google Chrome. This means that Edge Chromium would be on par with Google Chrome in terms of usability, UI, and speed. Since Chromium is open-source, Microsoft can use it for Edge without any legal trouble or royalty.
Microsoft Edge: A look back 
Microsoft Edge was introduced as the default browser on Windows 10. It was intended to replace Internet Explorer 11 and was based on Microsoft's EdgeHTML engine. Edge supports extensions from Microsoft Store. Microsoft tried to sway users away from Chrome to Edge but was unsuccessful. One of the most infamous incidents involving Microsoft Edge happened in October 2017. A Microsoft executive had to install Chrome mid-presentation because Edge kept crashing. As per last year's announcements and current leaks, it looks like Microsoft is ready to pull the plugs on its current version of Edge.
Edge Chromium: What The Leaks Say
An early version of the Chromium-based Edge leaked online a few days ago. This may very well mean that this version of Edge would come with Windows 10 April Update. While that is mere speculation, we got our hands on the leaked build. Here are the highlights.
User Interface
The UI of the new Edge browser is similar to any modern browser. The default tab offers a clear view of your frequently visited sites with a Bing wallpaper in the background. There is also an option for searching the web, via Bing. The news is also offered but that can be toggled off. There are a few customization options for making the tab comfortable for you. Akin to Chrome, the bookmarks bar is right below the address bar. The settings option is very different from that of Chrome.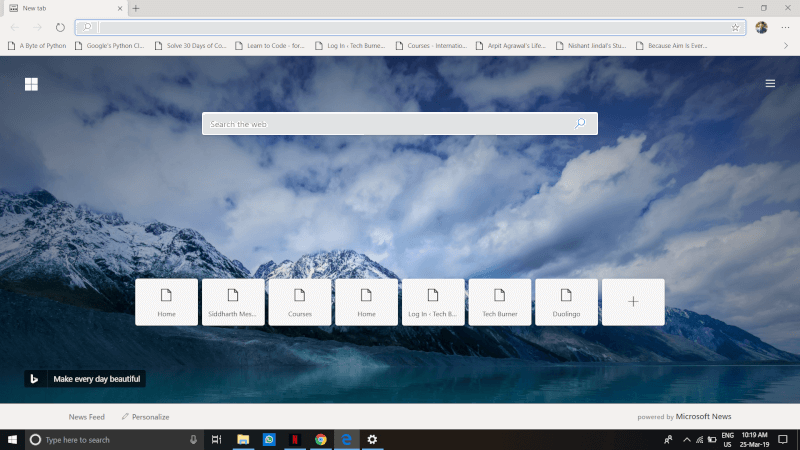 Account Sync
You can sync your account to the browser. Not Google account, Microsoft account. There is, however, an option for importing your data from Chrome. Your data will be synced with Microsoft Edge on other devices, too. The only caveat is that if you're used to being synced with your Google account, this could be a little uncomfortable.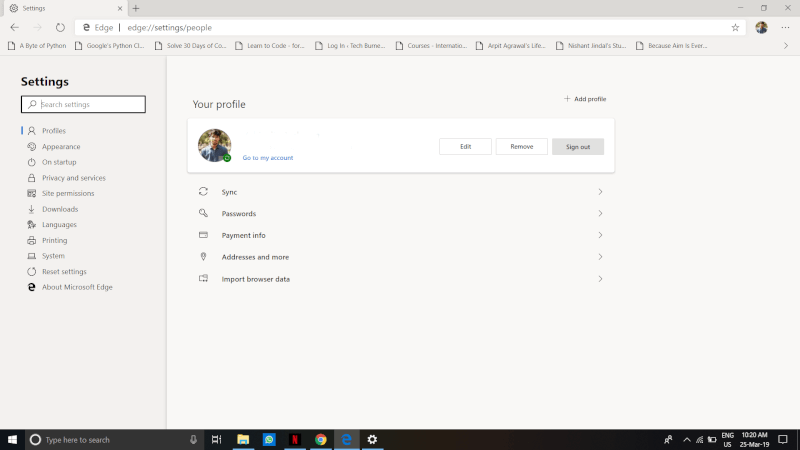 Extensions 
Now that Edge is Chromium based, you can get extensions not only from the Microsoft Store but from the Chrome store, as well. For using chrome extensions, you need to log into your Google account. This offers a number of options to expand your use of Edge. Microsoft hopes to make the most out of the Chromium engine. While most of the Chrome extensions that we used worked, themes wouldn't.
More
Because of the Chromium engine, you can also play around with Google's experimental features at chrome://flags. You can enable features like parallel downloading and dark mode from Chrome flags.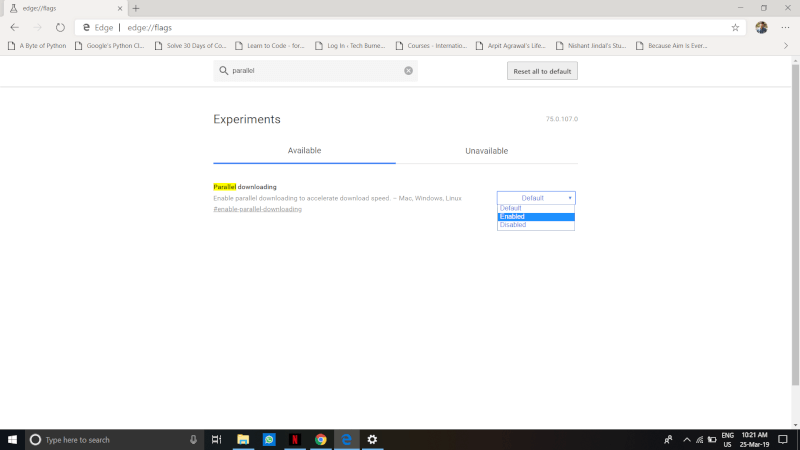 It remains to be seen whether Microsoft will implement the chromium engine in its mobile browsers. What are your thoughts on the Edge Chromium? Do you like it? Would you switch? Tell us in the comments!