After the shutdown, Nokia comes back in the smartphone industry with HMD Global. New Nokia smartphones having with a beautiful design, Stock Android and impressive specs. But wait, the latest news about Nokia smartphones is not so good because according to the latest Nokia 7 Plus data breach report, Nokia 7 Plus reportedly sent unencrypted data to a Chinese server. As a result, another data breach creates a question on users privacy. Let's have a look at HMD Global Data Breach.
Nokia 7 Plus Data Breach NRK Report
HMD Global Data Breach was first exposed by a Norwegian public broadcaster NRK on 21st March. A Nokia 7 Plus was sending data packages in an unencrypted format to a particular China server. According to the NRK report, whenever the phone was switched on or unlocked, the location, the SIM card number and the phone's serial number went to a server in China.
The data was sent to a server in China which was on the network of China Telecom. The contact point was China Internet Network Information Center" (CNNIC) and the server located at zzhc.vnet.cn
Finland Will Investigate The HMD Global Data Breach
Finland's data protection ombudsman would investigate whether Nokia-branded phones had breached data or not. HMD Global is a Finnish brand. Due to the NRK report, Finland will investigate HMD Global phones.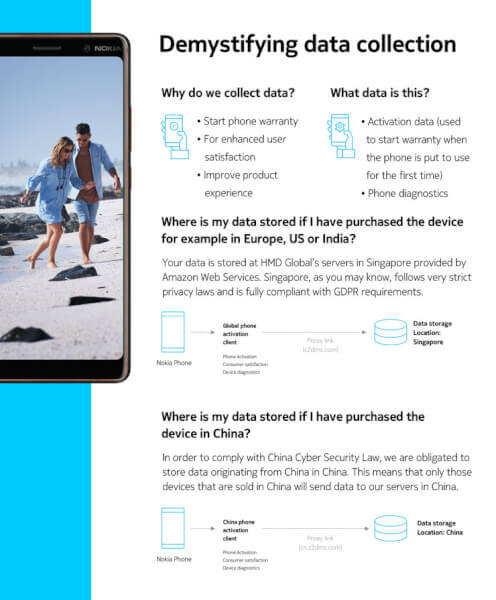 Statement Of HMD Global On Date Breach
In the statement about the Nokia 7 Plus data breach, first of all, HMD Global has stated that "No personal data was shared with a third party. We have analysed the case at hand and have found that our device activation client meant for our China variant was mistakenly included in the software package of a single batch of Nokia 7 Plus phones." Furthermore, HMD stated that "A single batch of Nokia 7 Plus devices were impacted and included this package." Seems like this is the reason for the Data Breach.

Nokia 7 Plus Data Breach Issue Already Fixed
The data breach issue is fixed after the February 2019 Update said HMD Global. The February 2019 update changed the client to the right country variant. All affected devices have received this fix and nearly all devices have already installed it.
If you want to check if your Nokia 7 Plus has received the security fix, follow the instructions below.
Go to Settings > System > About Phone > Scroll down to "Build Number"
If your phone shows "00WW_3_39B_SP03" or "00WW_3_22C_SP05" as the "Build number", you have already installed the fix on your Nokia 7 Plus.
If your phone is not showing either of the above, you should update your phone.
Go to "Settings" > "System" > "Advanced" > "System Update" > "Check for Update".
Above all this, Brands should double check every aspect related to the Privacy of users.