We all love capturing photos and most of the users always try different apps to take the best quality photos. Recently, a lot of companies launching quad-camera phones and Realme has also launched their Realme 6 Pro. The device comes with a 64MP Quad-camera setup and has 6.6-inch IPS LCD display. It has 12MP telephoto lens, 8MP ultra-wide lens and 2MP macro lens for good photos. Realme 6 Pro comes with a 90Hz refresh rate and runs on Android 10. The device is powered by the Snapdragon 720G Processor. Also, it comes with 30W Fast Charging support which comes with 4300mAh of battery capacity. As the device comes with great camera configurations so we are providing you with the How To Install Google Camera on Realme 6 Pro. The Google Camera For Realme 6 Pro is finally available and so download GCam 7.2 APK for Realme 6 Pro here. Also, GCam 7.2 APK Download link is provided in the article. So read the full article to know more about it and Download GCam 7.2 For Realme 6 Pro Here.
Download GCam 7.2 APK For Realme 6 Pro: Features
Google Camera is one of the best Camera App for mobile phones. It improves the picture quality very well also provides you with a different feature that helps in taking great photos. We all know that the Stock Camera of devices is also good but GCam gives you a different way of capturing. So, we are providing you with the working GCam 7.2 APK download for Realme 6 Pro which will improve the picture quality very well. Some of its more features are:
GCam performs very well with low lighting conditions.
It provides natural colours to the photos in most of the cases.
You will also Night Sight mode which is good for taking pictures at night.
Google has also added the Astrophotography Mode which will give you another level of taking astrophotos.
The Portrait mode is very natural and provides blur at a natural level which makes the image more pretty.
GCam detects edge very well along with the sharpness, details, and other things which makes the picture better.
Download GCam 7.2 APK For Realme 6 Pro:
So, download the GCam which is available for Realme 6 Pro from the link given below:
How To Install Google Camera On Realme 6 Pro:
First of all, install the GCam from after downloading it. It will ask you for permissions give it and install the GCam.
After installing, download the XML File for using all the features of the GCam 7.2 in Realme 6 Pro:
Open your File Manager, and create a folder named "GCam". And, also create another folder named "Configs7" inside it.
Copy the XML File in the Configs7 which you have downloaded from XML File Link. 
After it, Open the GCam App.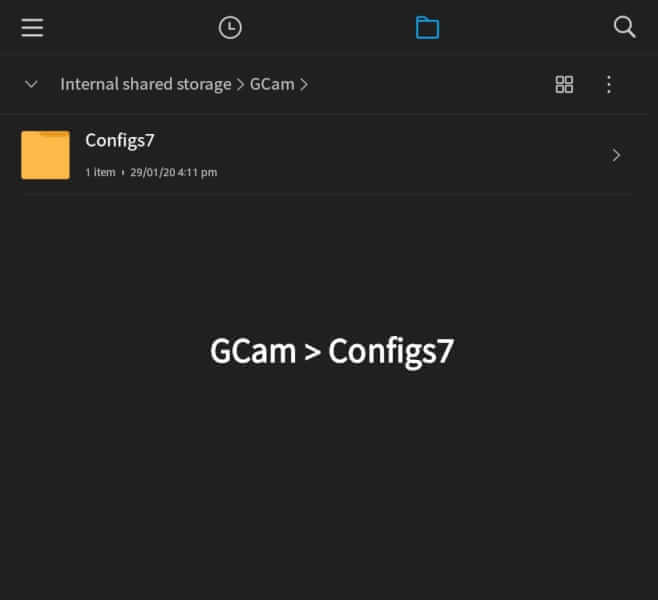 After Opening the GCam App, Double Tap near the shutter/capture button.
When you double-tap near the shutter button, then a notification will appear named "Choose Config" and click on the restore button.

After following all these steps, now your Google Camera is all set to take impressive images for you on your Realme 6 Pro. Also, turn on the HDR+ from Camera Settings and also the Astrophotography in Night Sight Mode will be enabled. So, disable it from the Camera Settings.
GCam Settings For Good Photos:
Enable Lib Patcher and HDR+ From Camera Settings.
Go to Settings > Advanced> Select Pixel 3 in the Pixel AWB in HDR+ Enhanced.
Turn on Astrophotography toggle if you want to capture the photos of the night sky. You can also turn off it when you want to capture normal photos from the Night Sight Mode.
Also, turn on Save Selfies As Previewed.
You can also turn on/off Camera Sounds, Google Lens and other settings which you like/dislike.
After doing this all settings, start capturing good photos from your new Realme 6 Pro. That's it in this tutorial on How to install Google Camera on Realme 6 Pro.
That's All For Today. Stay Tuned To TechBurner For More Stuff.