Huawei finally launched the long-awaited P40 & P40 Pro on March 26 amid global COVID-19 panic. Now the Chinese giant is preparing to launch Huawei Mate 40 later this year. However, patents of the upcoming smartphone of the Mate series have already begun to come out. LetsGoDigital recently spotted one such promising patent. The online tech magazine suggests that the new Huawei Mate 40 has a touch-display around its rear camera. Evidently, Huawei is trying out a new, innovative feature with this phone. Read ahead to know more about Huawei Mate 40 new patent & Huawei Mate 40 specs.
Huawei Mate 40 New Patent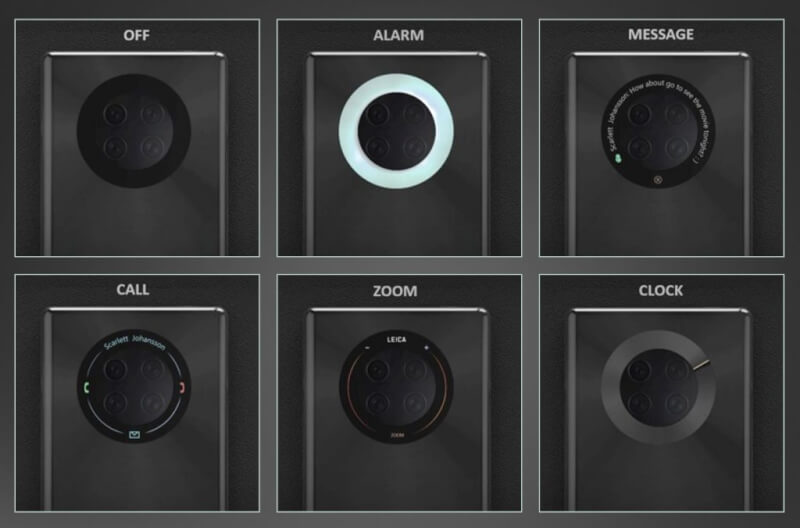 According to this Huawei Mate 40 patent, the phone will feature a circular rear-camera setup. Moreover, a unique display encloses the setup. However, what sets this display apart from others is its touch-sensitivity feature. We can expect this feature to provide some exciting functionalities. As per the pictures revealed of this patent, the display will be primarily used to view notifications. In addition, you can quickly answer or reject a call from the rear display itself.
This is a fresh, never-seen-before concept from Huawei. Theoretically, it can be a pretty ingenious idea. Many of us are habitual to keeping our phones facing downwards on a desk while working, sleeping or studying. With the innovative rear touch-display, we could read notifications and respond to the calls with much ease.
Another cool feature spotted in the Huawei Mate 40 new patent is the ability to adjust the zoom while taking pictures and to control the volume using the rear display. One can do both of these by simply sliding a finger on the ring-like rear display. In fact, there is even more to this patent — more than meets the eye.
Interestingly, the rear display also allows you to flip through pages easily. Using its touch-sensitivity, you can switch to the next or the previous page reading an ebook on your phone. Similarly, while rummaging through photos, this feature allows you to go the next photo or media by just sliding your finger on the display.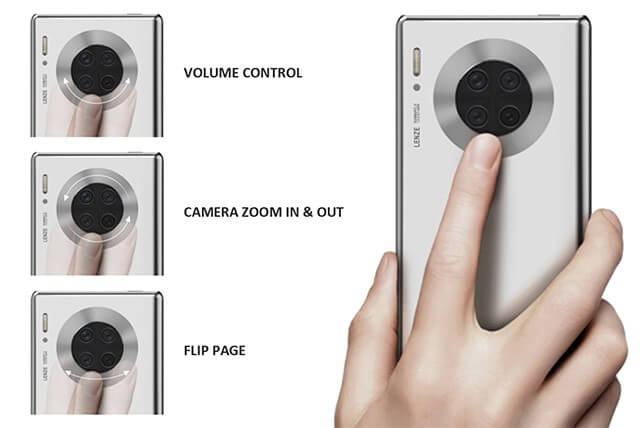 However, these Huawei Mate 40 new patents have not been officially confirmed yet. In other words, you can say these are just Huawei Mate 40 leaks and rumours. We'll get to know more in the coming months. Now, let's move on to Huawei Mate 40 specs & Huawei Mate 40 features.
Huawei Mate 40 Specs
Display
Huawei Mate 40 is expected to come with a 6.62″ Scalable OLED touch display & a screen resolution of 1080 x 2340 Pixels. It may also come with the Corning Gorilla Glass 5 Protection. Nowadays, this protective glass is quite common in smartphones because it makes displays more durable. Huawei Mate 40 features a rear touch-sensitive display, which we have covered in an earlier segment.
Processor
On the hardware front, Huawei Mate 40 will most likely boast the Octa-core HiSilicon Kirin 990, a 7 nm chipset. The HiSilicon Kirin 990 is a 5G-ready chip. Also, it features an inbuilt 5G modem. Unfortunately, the 5G technology hasn't arrived in India yet. Thus, the 5G supportability would be redundant for an Indian user. At the time of the launch of HiSilicon Kirin 990, many noted that it has more CPU-power than most other chipsets. Furthermore, we will get a 6% improvement in GPU if Huawei Mate 40 comes with this processor.
Also Read: Flagship Chipsets Comparison: Snapdragon 865, A13, Exynos 990, Dimensity 1000 and Kirin 990
Camera
In Huawei Mate 40, we can expect a triple-camera setup which includes a 40MP (wide, lens aperture f/1.8), 8MP (telephoto, lens aperture f/2.4), and  16MP (very wide, lens aperture f/2.2). Also, there could be a 24MP front camera.
Battery
Huawei Mate 40  is expected to come with a 4200 mAh non-removable battery unit. It might support 40W fast wired charging. Additionally, Huawei Mate 40 could feature 27W-Wireless charging.
That's All For Today. Stay Tuned To TECHBURNER For More Stuff.