Huawei recently launched it's latest Processor Kirin 980, which seems to be the most powerful processor now. Huawei claims that Kirin 980 can beat Qualcomm Snapdragon in every aspect very easily. So let's find out about the competition, and specification of Kirin 980.
So, There was a competition between Huawei, Qualcomm, and Apple to launch first 7nm SoC in the world. But Huawei has taken the lead after revealing its new flagship chipset Kirin 980 at the IFA trade show in Berlin. It doesn't mean that the other chipset manufacturer Apple and Qualcomm doesn't prepare for 7nm SoC. In fact, Apple is going to reveal its next flagship chipset on 11 September, Qualcomm is also ready to show their first 7nm processor on early next year. But for the record books, Huawei will be known for its First 7nm chipset in the world.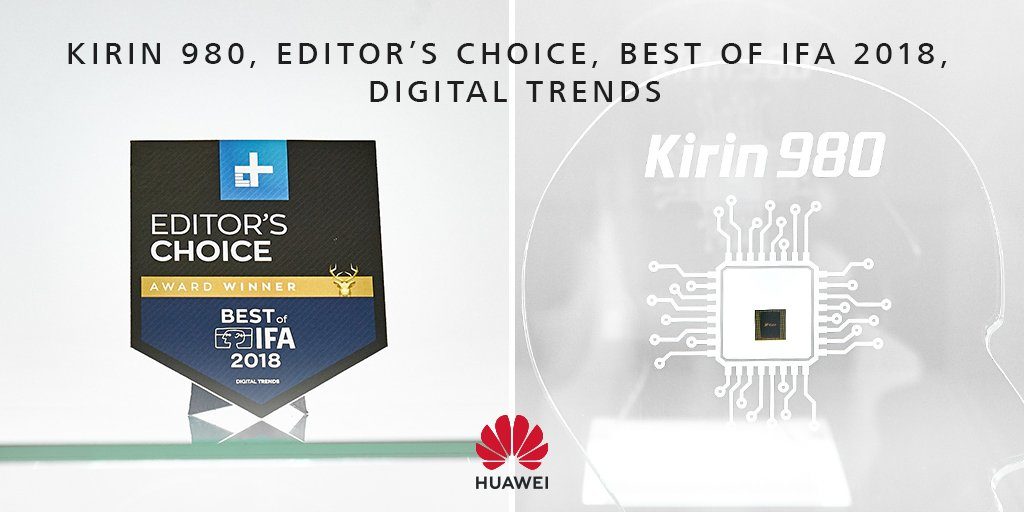 What are Nanometre (nm) and it's importance
Nm refers to the size of transistors that are packed inside a processor. So it is obvious the smaller the size of transistors the more they can be packed inside processors which improves the performance of your chipset.
Kirin 980
Kirin 980 packs with 6.9 billion transistors in a chipset. Also, the Kirin 980 is the first 5G processor. It supports speed up to 1.4 Gbps. It is the worlds fastest smartphone to offer Wi-Fi speed up to 1732 Mbps. Kirin 980 is 20 percent faster in performance and 40 percent more efficient than other Huawei processors.
Kirin 980 AI Features 
Talking about the kirin 980 specifications, Huawei focusing on AI added a dual neural processor unit (NPU) to improve the AI performance of the smartphone. The new Dual NPU performs AI assisted images recognition task at a rate of 4500 images per minute. The AI also improves the power efficiency of the smartphone by intelligently predicting the user usage over a day.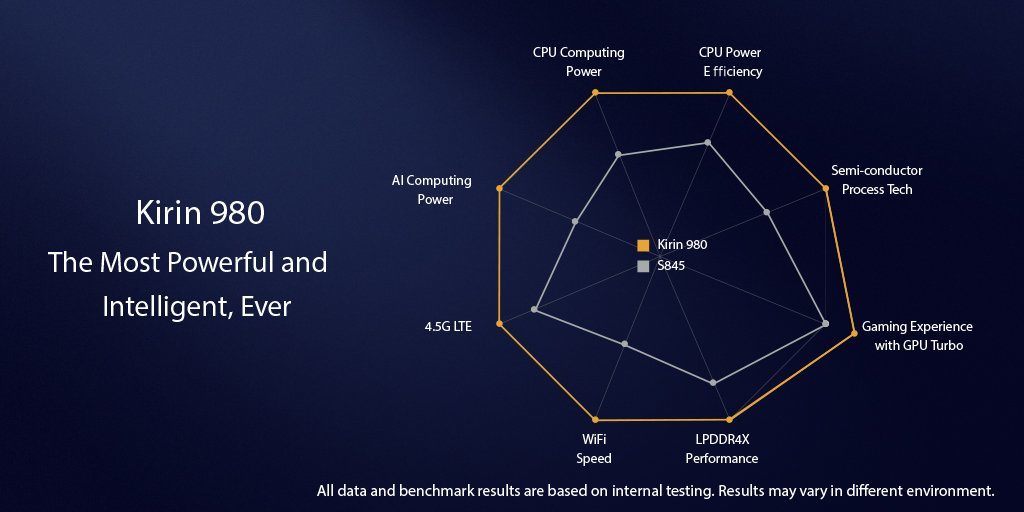 Kirin 980 vs Snapdragon 845
Now let's compare how fast and efficient the Huawei Kirin 980 against the current flagship chipset Snapdragon 845. According to Huawei Kirin 980 has 20% better band with a 22% lower latency than SD845. Overall it means that Kirin 980 can load much faster your apps than another chipset. Now if we talk about gaming than Kirin 980 gives 22% higher frame rates than SD845. So, the gaming experience is really best in the Huawei Latest chipset. Also, camera processing of  Kirin 980 is 46 per cent faster than SD845 thanks to the dual ISP ( Image Signal Processor).
Kirin 980 Launch Date
According to Huawei the Kirin 980 can be seen on the two devices by the end of the year. First one is its own Huawei Mate 20 and the one is of its sub-brand Honor Magic 2.
So tell me us in the comment section that what do you think about the new Kirin 980.