Playeruknown's Battlegrounds (PUBG) is the most favorite game nowadays no doubt in it. Flagship, midrange, and even lower-end budget smartphones can also run this exciting game. But when it some to PCs then you will require higher-end specs gaming laptop, budget PCs and laptop can not handle this high graphics game. The lighter version of PUBG called PUBG Lite was launched in few countries last year and finally PUBG Lite is coming to India on July 4th. The registration for the PUBG Lite Beta was started on 20th of June and the last date for the registration is 3rd July. PUBG Lite India launch date is the 4th of July. Check out PUBG Lite requirements from this article if you are interested in playing PUBG Lite in India.
PUBG Lite Requirements
This lighter version of PUBG is specially developed for the people who have a lower-end PC or laptop. Everyone wants to play PUBG on their smartphone and their PC too but not everyone has a gaming laptop which handles high graphics games without any hiccup. PUBG Lite can be played on a Laptop with lower-end specs because it doesn't require a dedicated Graphics Card instead an integrated GPU is enough for the smooth gameplay. Check out the system requirements.
Minimum System Requirements
OS: Windows 7,8,10 64Bit
CPU: Core i3 @2.4Ghz
RAM: 4GB
GPU: Intel HD 4000
HDD: 4GB
Recommended System Requirements
OS: Windows 7,8,10 64Bit
CPU: Core i5 @2.8Ghz
RAM: 8GB
GPU: Nvidia GTX 660 or AMD Radeon HD 7870
HDD: 4GB
PUBG Lite India Launch Date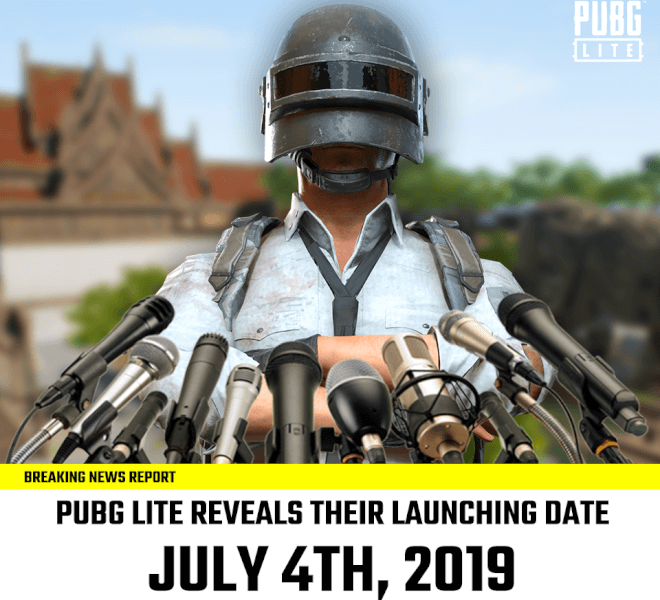 As we mentioned above the wait is finally over and PUBG Lite is on its way to India. The beta testing of PUBG Lite in India is starting from 4th July. You have to pre-register to try out this lighter version of PUBG as soon as it goes live. Check out our article on the registration process from the below link.
READ MORE: Registration for PUBG Lite Begins: Here's How To Register for PUBG PC Lite India!
Apart from India, PUBG Lite will launch in Nepal, Afghanistan, Bhutan, Maldives, Pakistan, and Sri Lanka. PUBG Lite is expected to launch with Hindi Language option too.
Head over to PUBG Lite Webpage to register yourself for the PUBG Lite before 3rd July. Are you guys excited to play PUBG Lite in India?
[ PUBG Lite Beta Download ]
So, PUBG Corporation has Enabled the Pre-Download Option in the PUBG Lite Launcher. So, what are you waiting for? Pre-Download PUBG Lite Now and be the First one to Play the Game. Check Out Below to Know More –
Download PUBG Lite Launcher from PUBG Lite Official Site
Register for an Account and Join Pre-Registration Event
Install the PUBG Launcher.exe File and Open it
Log-in with your Credentials
You will see an Update Option
Click on Update to Pre-Download the Game ( it's about 2.3 GB )