Undoubtedly the most popular mobile game: Player's Unknown Battleground has gained a lot of popularity. The game reached a large player base extremely early after its initial launch. During the PUBG Mobile Club Open (PMCO) 2019 finals, the company had confirmed that it is working on bringing Erangel 2.0 to the battle royale game. Just like the PC version, the game's first map Erangel is going to revamp. While the company hasn't confirmed as to how long will it take for the new map update to arrive? But a lot of rumours suggest that it could arrive with update 0.14.5.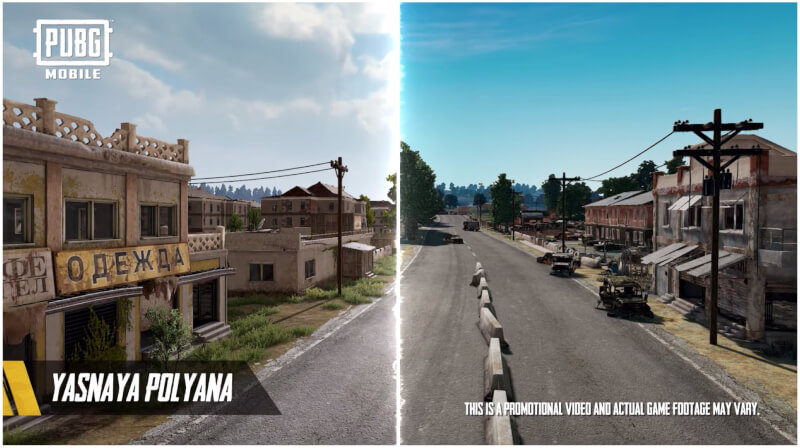 PUBG Mobile New Update: Erangel 2.0 What's new?
PUBG Mobile recently tweeted a video suggesting that we could see Erangel 2.0 hitting the game really soon. From the video, we can see that the update is mostly going to bring visual changes to the map. An overall improvement in textures and detailing of the environment is expected in the game. The video basically gives a quick comparison of the old and new versions of the map.
Erangel is becoming more beautiful than ever before! Check out this first look at the upcoming Erangel revamp and let us know what you think! pic.twitter.com/Pc65gjhJCN

— PUBG MOBILE (@PUBGMOBILE) August 8, 2019
The new version seems much more realistic, almost as good as the PC or console version of the game. The video shows Yasnaya Polyana, Mylta Power and Prison where you can also see how the open world is going to look like. Buildings offer more detailing, and there is a lot more happening at all the locations, along with improvements in shadows, and colours.
PUBG Mobile Story Mode?
Previously, Player Unknown's Battlegrounds, the original PC version, push to receive a massive overhaul to its first map. The changes were being introduced to also include a narrative direction to the massively popular game. It would also be a part of the games season 4. Now, PUBG Mobile is also following suit with a similar update.
The new update is apparently made to bring the map more in line with the others whilst linking a backstory. According to the teaser, the PUBG map is based on a war-torn reality and the battlegrounds are based on the last survivor. Hence, we can soon expect PUBG Mobile to also include a Story mode which is arriving soon on PUBG for PC.
Read More: PUBG STORY MODE – PUBG WILL SOON COME UP WITH STORY-BASED MISSIONS
PUBG Mobile confirms a partnership with popular TV series, The Walking Dead. It also confirms that the new zombie mode is on the cards, although information is still very bleak.
If you have any queries about tech then simply mention @techburnerteam on twitter and we will try to answer you as soon as possible.