PUBG MOBILE PRO LEAGUE, the most awaited championship league. We all are eagerly waiting to see The top South Asia Teams fighting against in a single Match. It will be good to see our favourite teams Entity Gaming, Team Soul, SynerGE, Etg Brawlers and Team IND. The matches are starting from 12 March till 5th April. But before that, the Player Unknown Battleground Mobile is coming with the new PUBG Mobile 0.17.0 Update. PUBG 0.17.0 update version should start rolling to all players on 3, March 2020. The company focused on some serious issue players were facing and also added some fantastic game modes and feature in this new PUBG 0.17.0 Update.
Further, we will discuss the NEW PUBG MOBILE 0.17.0 update and PUBG Mobile Update 0.17.0 Features. Let's get into it. This PUBG Update 0.17.0 will come with 2nd Anniversary. There is some feature that has been rolled out in PUBG 0.17.0 New Update, but some are not. You can download PUBG Mobile 0.17.0 update from the given link.
PUBG Mobile 0.17.0 Update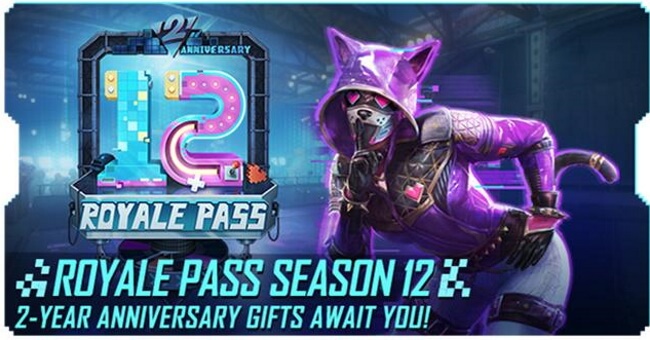 Very soon PUBG Mobile will complete its 2nd Anniversary, so this is the reason behind the new PUBG mobile 0.17.0 update. According to the company, they are bringing back the Hardcode Mode on the request of their users. It will be a special mode that will test your skills like no more enemy footsteps on the map, disabling the auto pickup, etc. This is not something very new. It took from the Official PUBG PC.
Yes, but here you can test your potential and skills. And quickly know your weaker points, etc. And manual actions are required like pickup and opening doors for a more realistic experience and competitive challenge. This will test the reflexes of your hands like speed an all. So it is a good update for those who want to upgrade their skills to a whole new level, and there are also so many exciting things to know about the PUBG 0.17.0 Update.
PUBG Mobile 0.17.0 Update Features
New AirDrop Weapon: DBS a new double-barrel shotgun added in PUBG Mobile 0.17.0 update. The list of shotguns is increasing. Which is your favourite shotgun? Let us know in the comment section. DBS is the best shotgun weapon for high damage at a closer range. But the mystery is that the shotgun will only found in AIRDROPS. So you have to get the airdrop for that. Hey, but be careful we will suggest you go with Level 3 vest, level 3 helmet. Because no one knows the future.

Death Replay Function: Sometimes, most of us want to know how the enemy killed us? From where we get the AWM shot? Now PUBG rolled out with this feature of seeing you death replay from the attacker's perspective in PUBG 0.17.0 new update. However, this is not a new thing rolled out by PUBG but is taken from official PUBG PC.

Universal Marks: Players can now mark locations, supplies, vehicles, death crates and doors for teammates, allowing for the fastest communication between the teammates.

Colourblind Mode: It will provide more colour options for in-game indicators, such as Poison, Smoke, and Auxiliary Lines, for people with colour blindness. It will come with the PUBG 0.17.0 new update. These options will be available in the Graphics Settings. You can configure it from graphic settings.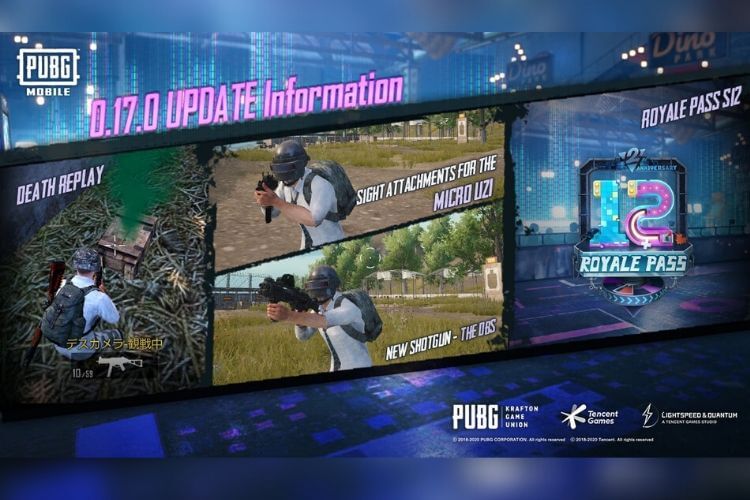 PUBG 0.17.0 New Update Date
This PUBG Mobile 0.17.0 update doesn't bring the new season 12. The season 12 will not arrive until 9th March 2020. Royale Pass Season 12 which is titled '2gether We Play' will arrive on March 9 with new Skins, outfits with new challenges and great rewards. A new Amusement Park Mode is going to be added in the classic Erangel map from March 12, where interactive games and attractions will appear. This Amusement park mode will appear randomly in three different locations on the map. You will find arcade machines on which you can play inside the game can play shooting games, etc.
For playing games, you have to collect coins for that. And after clearing the game, you will get rewards. Shooting range, trampoline, and Reverse Bungee + Wingsuit in amusement park locations for some added fun apart from taking down enemies.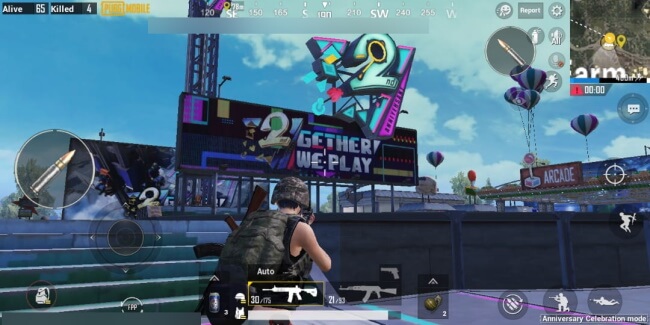 Source: Beebom
PUBG Mobile Update 0.17.0
| | |
| --- | --- |
| App Name | PUBG Mobile |
| App Size | 1.76GB |
| Last Updated | 23rd February 2020 |
| Total No. of Downloads | 10,00,00,000+ |
| Minimum Requirements | Android 4.3 and up |
| Developer | Tencent Games |
Download PUBG Mobile 0.17.0 Update
This PUBG update 0.17.0  requires approximately a total of 1.69GB of storage space on Android devices for smoother gameplay, and 1.95GB of storage space on Apple devices. PUBG Mobile 0.17.0 update has been rolled out for all the Android & iOS users. Click on the below download button. It will redirect you to Play Store. Download PUBG Mobile 0.17.0 update and have fun!
That's all in this article about PUBG Mobile 0.17.0 update. Download PUBG Mobile 0.17.0 update from the given link.