Smartphones are an integral part of our current world and lifestyle. Although we love to see innovations, at the end of the day, it's all business. Needless to say, it's not a charity and everyone is here to claim a profit. Strategies are versatile, but the goal is to enjoy the profit. Let's have a look at how the market is performing as compared to Q3 2018, i.e. last year. Point to be noted, Q3 in India is a big deal due to the festive season where an uprising sale is really important. We discuss the Q3 2019 smartphone market share brands by brands, relying on both 1st and 3rd party surveys as per the availability.
Samsung Q3 2019 revenue report- Dominatrix:
Let's start with the constant competitor in the smartphone market, Samsung. Samsung's IT and Mobile Communications Business posted revenue of $25 billion and an operating profit of $2.5 billion for Q3 2019. Surprisingly, Samsung Q3 2019 revenue report indicates that despite a not-so-good launch of the Galaxy Fold, Samsung continues to dominate the Q3 2019 smartphone market share by good margins worldwide. Moreover, the fact that brand names do matter, is clearly visible from the Samsung Q3 2019 revenue report.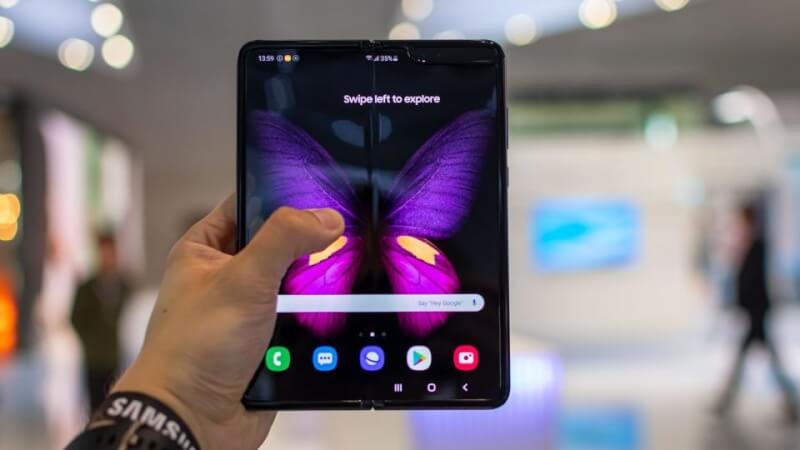 Why Samsung Q3 2019 revenue report was surprising?
This improvement in earnings was backed by shipments of the Samsung Galaxy Note 10, a better product than Note 9 by a lot of margins and offering higher profitability. In the midrange segment, Samsung abolished the J-Series and started the A-Series which is a success beyond Samsung's expectations. Although Samsung A80 onwards are very pricey, A50, A50s, A70, A30, A30s did wonders in the Indian market. The $1980 priced Galaxy Fold restarted shipping increasing profitability by huge margins.
More: Top 5 Live Streaming Apps.
Samsung expectation for Q4 2019:
For the fourth quarter, Samsung expects mobile demands to decline YoY because of seasonal effects and "global economic uncertainties". Still, midrange smartphones like the A-series are expected to maintain their solid sales momentum and maintain like Q3 2019 smartphone market share. Profits will follow a declining graph, as marketing costs will increase for the next quarter. For 2020, Samsung forecasts increased consumer demand for 5G devices, while foldable products will also see new additions, according to XDADevelopers.
Google Q3 2019 revenue report- Is the Camera Enough?
Google's parent company Alphabet announced revenues of $40.5 billion for Q3 2019, up 20% from the $33.7 billion reported for Q3 2018. Operating income for the parent company is $9.17 billion, up 23% from $8.62 billion last year, while net income stood at $7.06 billion, which is 30% lower from the $9.19 billion from last year. With the Pixel 4XL sales yet to be calculated, signs ain't positive as per market feedback for the upcoming quarters for Google.
More: Fastest 5G phone in the world.
Huawei Q3 2019 revenue report- Backfired The Ban:
Huawei's Q3 2019 business report does not contain as many figures, so we need to rely on 3rd-party reports to figure out how the company is performing. According to Counterpoint Research's latest report consisting of only the Chinese market, Huawei sold 41.5 million smartphones in Q3 2019, representing a whopping 63% YoY growth from the 25.5 million units sold last year in the same quarter. All other major Chinese brands which perform in India, North America, etc., took a hit at their originating place in China because of Huawei in the Q3 2019 smartphone market share. Not to mention, Xiaomi took the biggest blow, in collaboration with other brands like Blu, ZTE, Realme, etc.

According to Canalys's report concerning the global smartphone market, Huawei's growth in China continued worldwide too despite the hugely controversial "Huawei Ban". Huawei shipped 66.8 million smartphones in Q3 2019, a 29% growth over the 51.9 million smartphones shipped in Q3 2018 domination the Q3 2019 smartphone market share worldwide.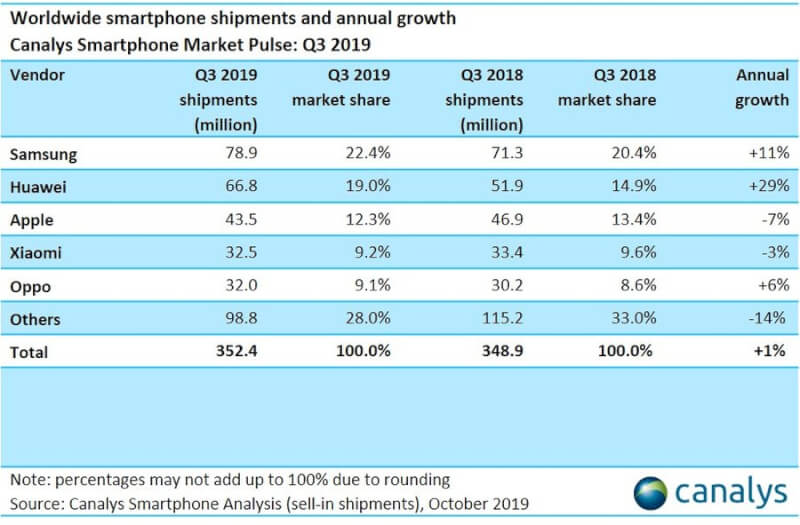 After seeing these figured, we can just think of what would have been Huawei's performance if the Huawei ban never happened!
LG Q3 2019 revenue report- Funny or Sad?
LG Q3 2019 revenue report was "record-breaking" in terms of revenues and operating profit, but those are for the whole LG organization. On the smartphone division, LG reported sales of $1.27 billion and an operating loss of $135 million. The operating loss actually has come down YoY because of production efficiencies and cost improvements. Still, LG is not standing a chance in the Q3 2019 smartphone market share.
To provide some scale given by XDA, LG's smartphone division's total revenues are lower than Samsung's smartphone divisions' operating profits.
Sony Q3 2019 revenue report- Forever Declining:
Sony's mobile division is struggling, which is a fact that does not surprise a lot of people. The mobile division posted operating revenue of $719 Million for Q3 2019, down from Q3 2018's $1.06 billion. There aren't many details available for Sony's Q3 2019 smartphone market share, but things do not look good. Sony tried a bit with the 21:9 aspect ratio cinema-view Xperia 1 smartphone, but for now, the market isn't interested in such form factors is the only lesson learned.
Xiaomi Q3 2019 revenue report- Expectations Hurt but Practicality Wins: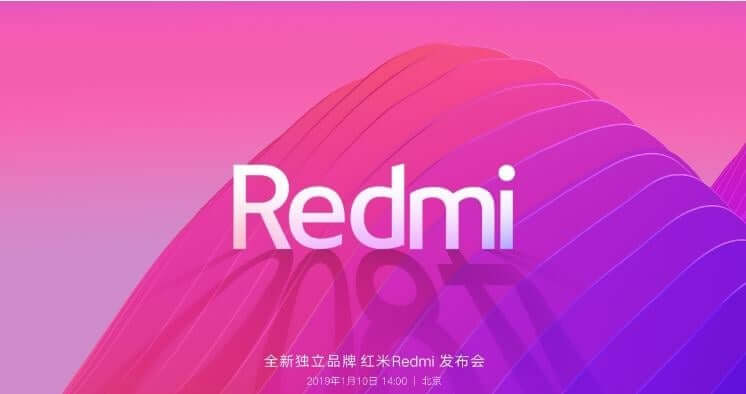 We can judge Xiaomi's performance thanks to Counterpoint Research's latest report on the Indian market. While of course, this does not compare to the business earnings reports that are presented for other organization's revenue reports, it does give a fair idea of the position of the company in the Q3 2019 smartphone market share in India, Xiaomi's key market. If and when Xiaomi publishes its Xiaomi Q3 2019 revenue report, we can actually judge Xiaomi in terms of operating profits.

Xiaomi managed to record its highest ever shipments in Q3 2019 in terms of numbers, even though it's market share came down YoY. This happened because India as a market witnessed an expansion of 10% YoY. Xiaomi ended up selling more than 8.5 million smartphones in the Diwali sale period in India itself. As obvious, mid-range devices like the Redmi 7A, Redmi Note 7 Pro and Redmi Note 7S being the best performing smartphones in terms of raw numbers in Xiaomi Q3 2019 revenue report. Expectedly so, in the past also we have seen Redmi 5A registering maximum numbers of shipments in India above every brand and model.
More: RCS in India.
Realme- Emceeing Journey of an Inspiring Brand: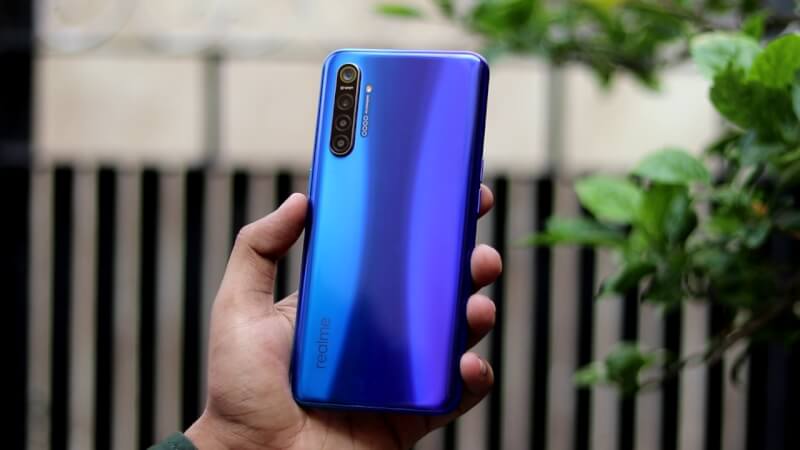 You already probably got why Xiaomi took a hit in terms of growth. Yes, it's Realme Q3 2019 revenue report which claims a lot of progress snatching from Xiaomi. Realme's Q3 2019 smartphone market share in India grew from just 3% in Q3 2018 to 16% in Q3 2019. Samsung shielded itself with the launch of A-Series and a trustworthy brand-name whereas Xiaomi fell in between the Realme storm! Realme Q3 2019 revenue report shows absolutely huge numbers for a brand this new and slaying the competition!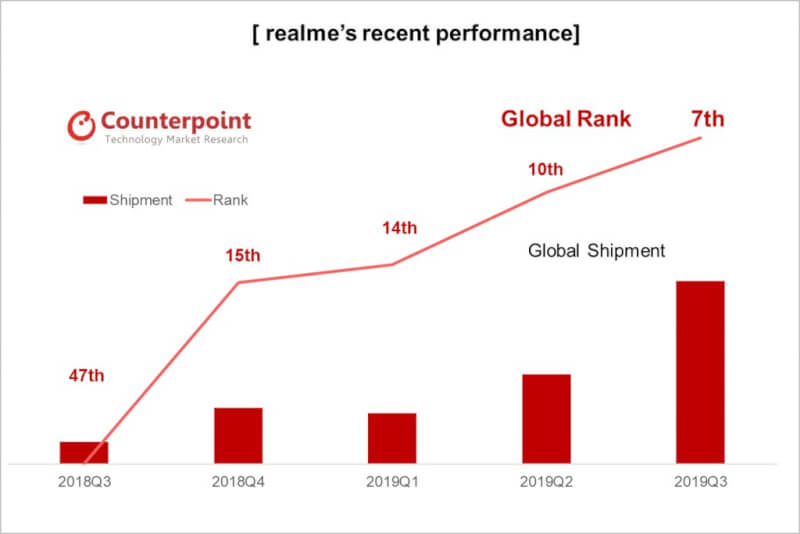 According to a separate report from Counterpoint, Realme has registered over 800% growth YoY in the global smartphone market, jumping from the 47th spot in Q3 2018 to becoming the 7th largest brand in terms of global shipment in Q3 2019. India and Indonesia form the most important markets for Realme as more than 80% of its global shipments are from these countries only. As correctly quoted by Counterpoint, Realme is the brand that defies the usual smartphone market slowdown in the whole world. Within 1 and a half years of existence, Realme has been phenomenal, almost similar to what Xiaomi did in the Redmi Note 4 Pro era in India. We expect Realme to perform similarly as a life-style brand claimed by Realme CEO Madhav Sheth in coming quarters and achieve similar to Q3 2019 smartphone market share, or better.
Download REWALLS: TECHBURNER WALLPAPER APP For Awesome Wallpapers.