While the Realme C3 is launching soon in India, and the younger version of the Realme Buds Air,  named as the Realme Buds Neo, is just around the corner. Realme's Chief Marketing Officer of India, Francis Wang, has some exciting news for us regarding the RealmeTV and the Realme Laptop. Also, ile the brand had already confirmed the RealmeTV in the works, you can read in detail here, and here today, there is some more piece of information.
RealmeTV Maybe Showcased at MWC: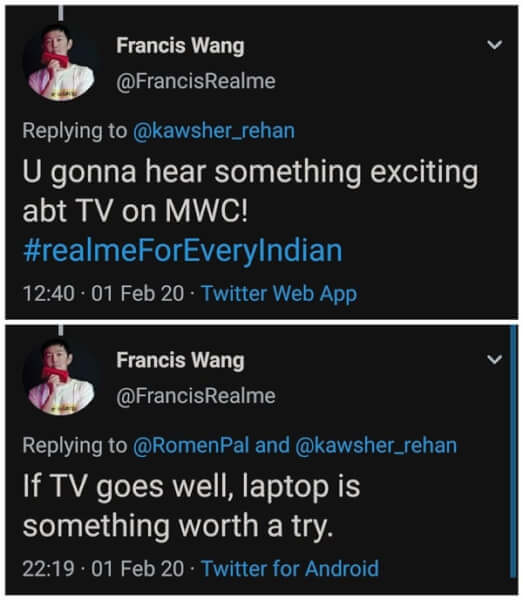 On being repeatedly asked by a user on Twitter about the upcoming Realme TV's, Francis Wang Replied that "U Gonna Hear Something Exciting About TV on MWC" from Realme, also in another tweet he mentioned that "If the TV goes well, a laptop is something worth a try," this makes Realme's intentions to bring out products in all the categories clear.
Some time back, Realme's Vice President and President of global products, Wang Wei, told the media that 'We are in the research and development of TV. But there will be product differences for different regions around the world. It will be released this year.'
Besides, he also stated that Realme has been planning to not only launch a single TV in the category: 'We will also build the future AI-based IoT ecosystem for majorly thee scenarios including individuals, families, and for travel. For individuals, there will be products related to wearables and audio. As for the family, the core product will be TV, and we are already planning its launch. Alongside, Smart home products will also be launched. While in the Travel section, We will be focused on life, such as power banks, luggage, and bags.'
While there is no information from the company about the TV's, its screen sizes or pricing, we do expect the brand to compete with Xiaomi's Mi TV range of TV's and the base variant of the TV's to be priced starting from 11,999 INR in India. Stay tuned to Techburner for more information.