The all-new Qualcomm Snapdragon 8cx is a high-performance 64 Bit ARM chip. The Snapdragon 8cx features four Kryo 495 Silver high-efficiency cores. It supports the Adreno 680 GPU. Now, Qualcomm is showing some comparisons between Intel Core i5 and Snapdragon 8cx. This also shows that Snapdragon 8cx PC is coming this year. So, Read the full article to know the comparison of Snapdragon 8cx vs Core i5 and more interesting facts about Qualcomm new processor:
Snapdragon 8cx VS Core i5 Results:
Both the processors get the benchmark scores from the PCMark10. Comparisons scores are given in different categories like performance, battery life, graphics and much more. So, Here are comparison results along with their benchmark and videos:
Graphics Benchmark: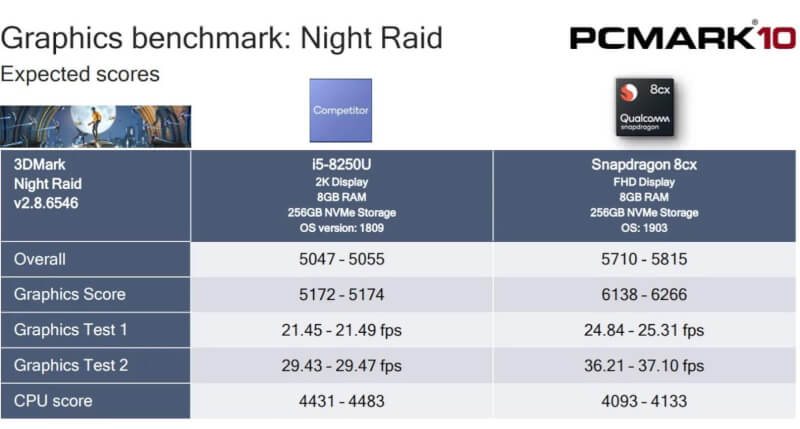 Intel Core i5 and Snapdragon 8cx comparison of graphics show very much difference between them. As you can see in the images that Qualcomm's processor runs on FHD Display while Core i5 on 2K Display. Both processor running on the same RAM and storage. Windows version was different. But, Overall results of the Graphics Benchmark shows that Qualcomm's new processor is much good than the Intel Core i5. Also, Frame Per Seconds(fps) is low in Core i5. The difference between graphics score is near about 1000 which shows that the Snapdragon processor is just wow.
Application Benchmarks: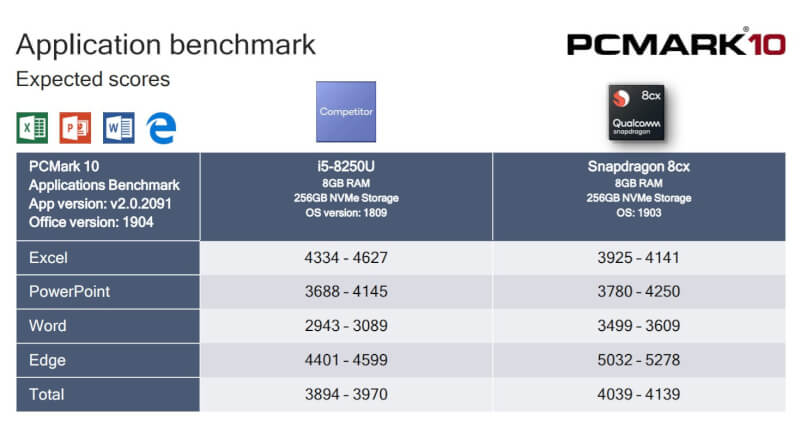 Application Benchmarks of Intel Core i5 and Snapdragon 8cx done on different Microsoft Softwares. Intel Core i5 runs Microsoft Excel much faster than Snapdragon 8cx. But, in other software like PowerPoint, Word and Edge run smoother and faster than Intel Core i5. It shows Snapdragon is much good than the Intel's processor when it is brought to PC.
Battery-Life Benchmarks: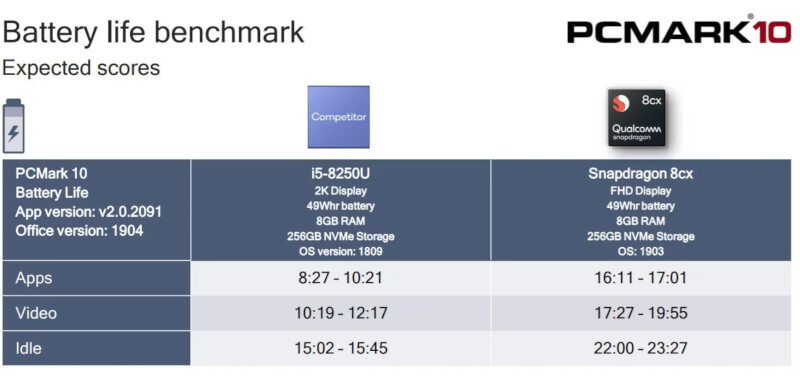 It is the most important test because every user wants a better and long lasting battery life. It may help them in completing their work. Battery Life scores of Qualcomm Snapdragon 8cx is pretty nice. As you can see in the images that Qualcomm's processor lasting for more than 17 hours while Core i5 only for 10 hours and 21 minutes. It is a huge difference between both the processors. Comparisons were made on different categories like watching the video and leaving PC idle. Results show that there is a difference of more than 7 hours in all cases.
Intel Core i5 and Snapdragon 8cx Comparison Videos:
Qualcomm released some videos in comparison of both of the processor on YouTube:
That's All For Today. Stay Tuned To TechBurner For More Updates.