As per the reports, 50% of India's Smartphone Market was controlled by just two companies. Therefore, the companies are Xiaomi and Samsung. As per the data shared by  International Data Corporation (IDC) in a report. Both the companies have share 28.9% and 22.4% in India's Smartphone Market Share last year. Therefore, The Xiaomi shipped 142.3 million units and Samsung shipped 72.2 million units last year.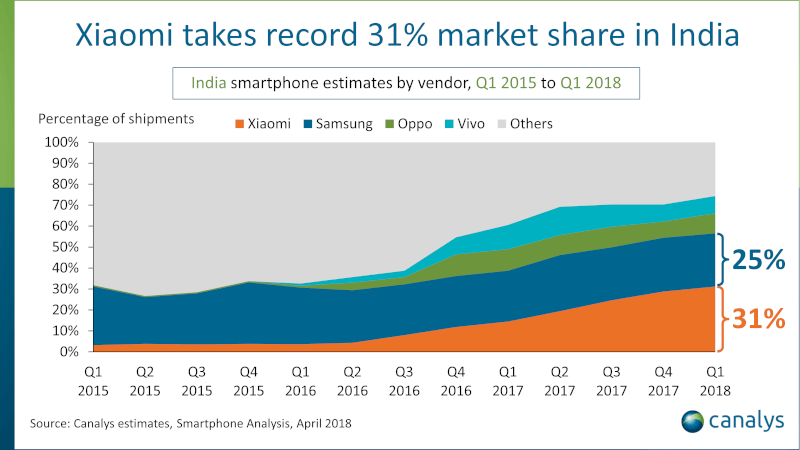 India's Smartphone Market Brands:-
Therefore, Xiaomi surpassed Samsung in 2018 to became India's Smartphone Market Leader. But, In 2017, Xiaomi had a 20.9% market share, compared to 24.7% share of Samsung.
Therefore, In 2018, the other three brands that found a place in the list of top five smartphone brands in the country are Vivo (14.2 percent), OPPO (10.2 percent) and Transsion (6.4 percent). All the brands are based in China except Samsung.
Xiaomi India Managing Director Manu Kumar Jain on Tuesday reacted to the report and credited the stunning show by the company to "100 percent teamwork" and love from
"MI Fans". He tweeted, "Mi Fans! Thank you for your love and support".
Mi Fans! Thank you for your love and support ❤️

Please help spread this awesome news. RT my previous tweet and 1⃣ lucky Mi Fan to win our recently launched Mi Soundbar.

2,000 RTs and I will give 2️⃣ additional Mi Soundbars! 😎 ✌️ #Xiaomi @XiaomiIndia https://t.co/bmpRLXy5aj

— #MiFan Manu Kumar Jain (@manukumarjain) February 12, 2019
The company Apple was not able to make an impact on Indian Smartphone Market because of its higher price for its devices.
Mr. Joshi said, "OnePlus emerged as the leader in $500-$700 segments on the back of the OnePlus 6 and the newly-launched OnePlus 6T. Therefore, in the super premium segment of $700+". Samsung surpassed Apple for the top position with its new Galaxy S9 series".
Let's see who will become the leader of the Indian Smartphone Market in 2019 by surpassing Xiaomi.
That's all for today. Stay Tuned To TechBurner For More News.