All major smartphone brands- namely, Apple, Samsung, Google, Xiaomi, Oppo, Realme, Huawei, Asus, etcetera- have been continuously trying to implement innovative ways to increase the display size without expanding the smartphone. So far, we have seen notch designs, pop-up selfie cameras, sliders, flipping cameras, hole punch design, Infinity-O display, and what not. Taking a step further, the Chinese smartphone giant OPPO recently posted a video of its latest Oppo smartphone design– an "under-display camera," in the response of which, Xiaomi president Lin Bin unveiled a new version of Xiaomi Mi 9 on Weibo and Twitter. This Xiaomi phone design doesn't have any visible selfie camera, either.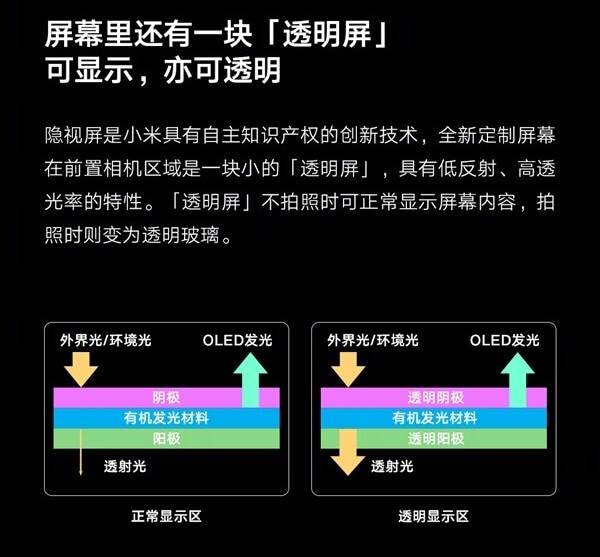 How Do These Designs Work?
The videos posted by both Xiaomi and Oppo seem to boast a prototype of future technology, but we are yet to be officially told how the under-display camera works. According to The Phone Talks, Xiaomi recently patented a display technology in which when taking a selfie, " the cathode and anode panels of the screen in the camera area are transparent, which ensures that the components of the camera can receive the light." In short, a small portion on display becomes open to receive light. The image is thus formed on the screen. Presumably, the sensor area is utilized by AMOLED display when the camera is not in use.
Xiaomi's under-display camera technology is its "independent intellectual property," meaning the technology used in the OPPO smartphone may be different. As per Vice President Shin Yiren, OPPO's screen camera solution is based on a curved screen.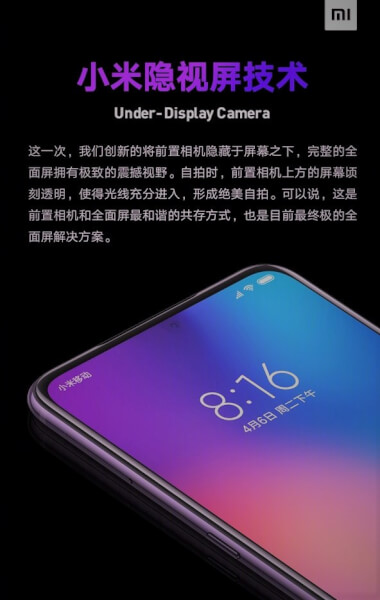 When Is Xiaomi's Under-Display Camera Smartphone Coming?
There is no official news from either smartphone brand about any details of these new smartphones. There are chances that Xiaomi's prototype may not even hit the market- not unlike the foldable phone teased by Xiaomi on Weibo, regarding which there have been no updates whatsoever for months. Vivo, another major Chinese smartphone brand, has also hinted development of its own screen camera solution. Though, we hope to see this technology in our phones soon enough!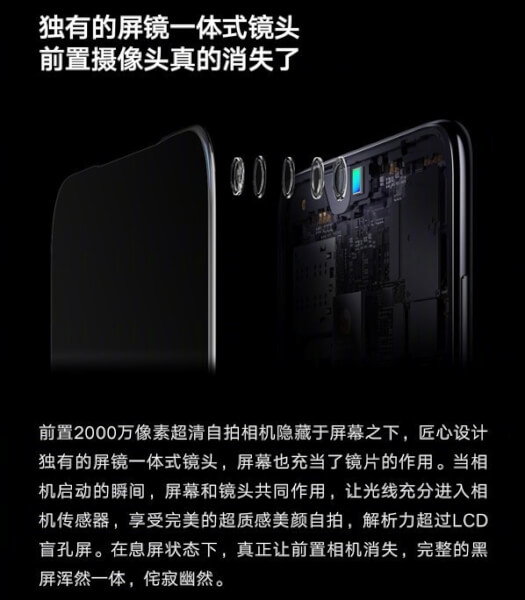 Are These Under-Display Camera Solutions PERFECT?
No, they are not. At least, not yet. Nothing is certain until more information comes out. The designs are certainly "new, innovative and ultimate shocking," as described by Xiaomi in the infographics, but new technology is perfected only over time. According to Oppo, its screen camera solution is still in the early days and being enhanced continuously. For now, there is bound to be some loss in the light received from the target object, but we can safely say that as time advances, there will be many improvements. Not to forget, the introduction of such technology also means that the smartphone world is finally moving forward from mechanical parts. Now, why is that such a good thing? Primarily, because it might help avoid physical wear-and-tear damage to the selfie camera. One less thing to worry about!