Instagram is among the most popular social media nowadays. So, Instagram's direct messages are very popular to communicate with our friends and everyone else on Instagram. But there are moments when messages drive you insane. The first thought that you may have is to turn off direct messages on Instagram. But how to change who can message you on Instagram? Unfortunately, you can't block direct messages on Instagram entirely. However, there is an option where only followers can message Instagram. With this, you may deactivate DMs from strangers. Besides that, there are several solutions to turn off direct messages on Instagram account. Let's look at how to turn off DM requests on Instagram and how to change who can message you on Instagram. Please note that we have performed the steps on Android. But the same method applies to both Android and iPhone.
Turn Off Direct Messages On Instagram
1. Turn off Stranger DMs
In this feature, only followers can message on Instagram. Messages from followers you don't follow, and those not on your followers or following list, will be sent to the Instagram Message Requests folder by default. If you don't want strangers' message requests, deactivate them and manage who may contact you. 
Open Instagram and visit your profile.

Tap on the hamburger icon to open the

Settings

menu.

Now click on Privacy option.

Select

Messages

from the

Privacy

menu.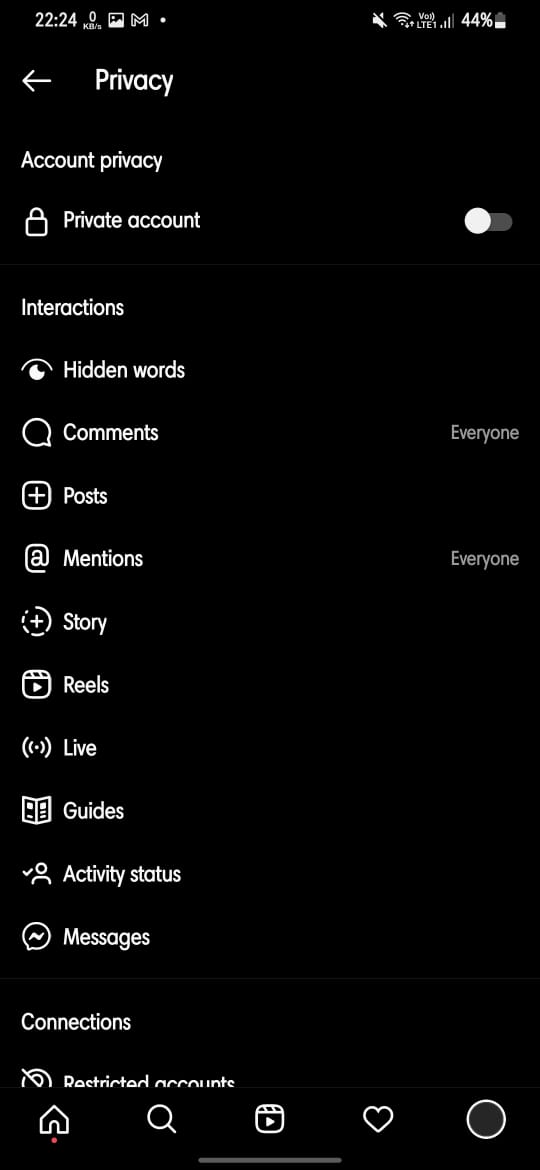 To stop receiving messages from your followers, go to '

Your Instagram followers'

. Then choose

Don't accept requests

.
If your Facebook and Instagram messages are connected, you can also stop messages from Facebook friends.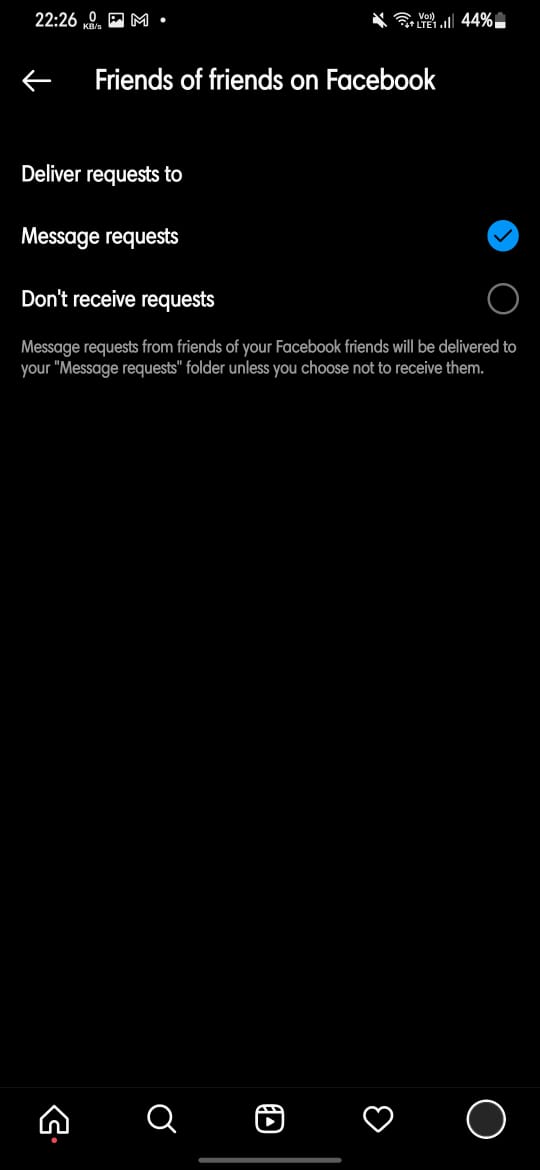 In the Other people area, discover

People on Facebook

and

Others on Instagram

. Change their settings to

Do not receive requests

.
That's how to change who can message you on Instagram and messages will now only come from people you follow.
2. Mute Particular Contact
You may mute a chat if you wish to turn off Direct Messages on Instagram from a certain group of contacts. If they send you a message, it will not alert you. However, they can view your online status on your chat if your activity status is turned on.
To mute a contact:
Open their chat and tap the

i

symbol at the top.
Toggle the Mute message. You may also mute phone calls. The other person will be unaware of this.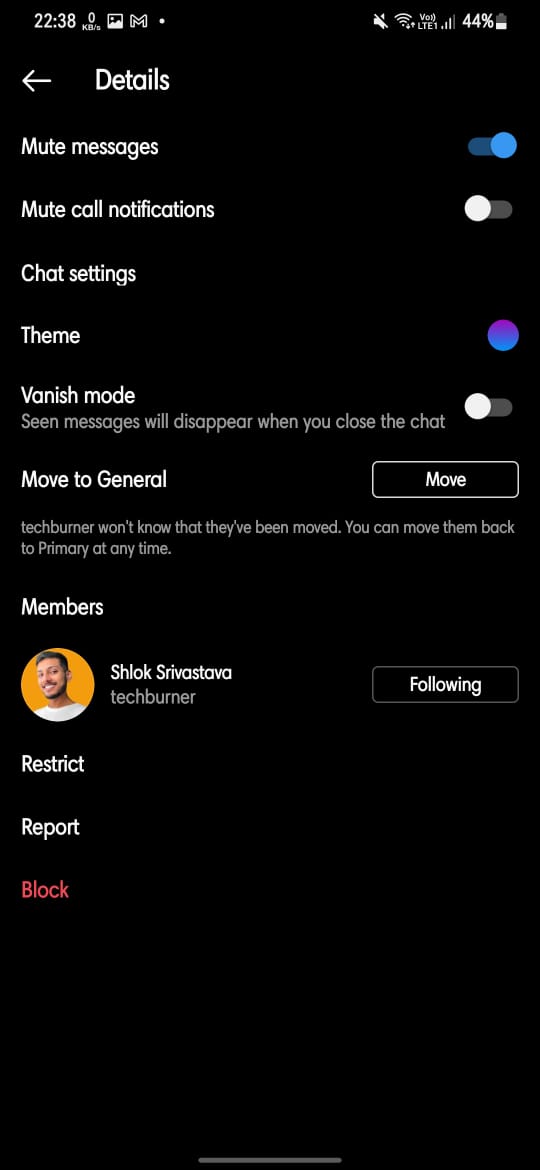 3. Deactivate Notifications
If you do not wish to receive messages from anybody, you may disable all message alerts. 
Go to Instagram

Settings

and tap

Notifications

to do this. If you want to temporarily disable all Instagram notifications, including comments, followers, live, and messages, toggle the

Pause all

option.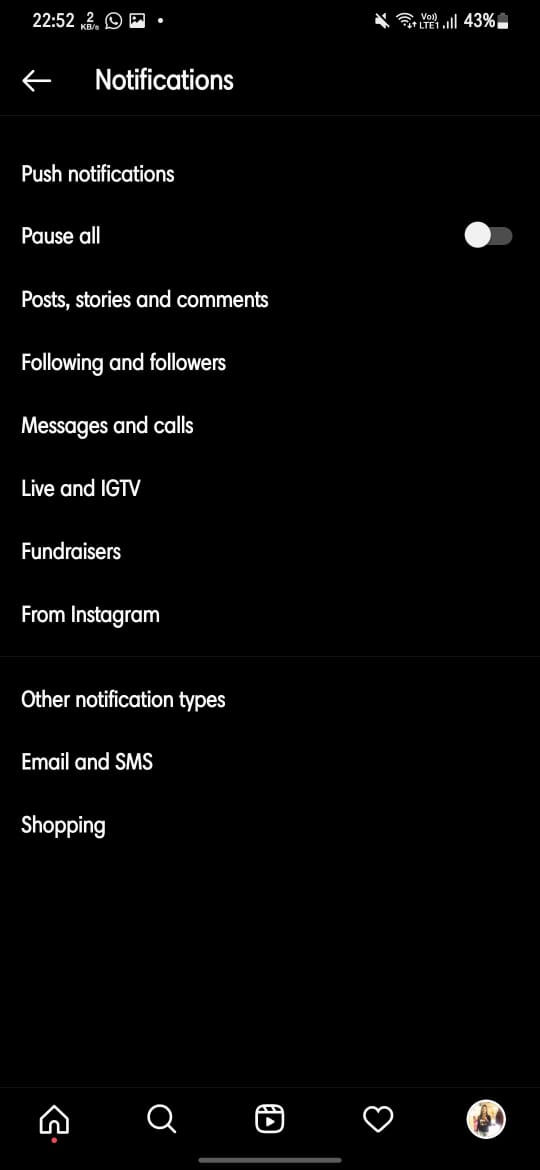 Tap on

Messages and Calls

instead of deactivating all notifications. Under

Message Requests

and

Messages

, choose

Off

. You will no longer get alerts if someone sends you a message. It will be sent to your mailbox invisibly.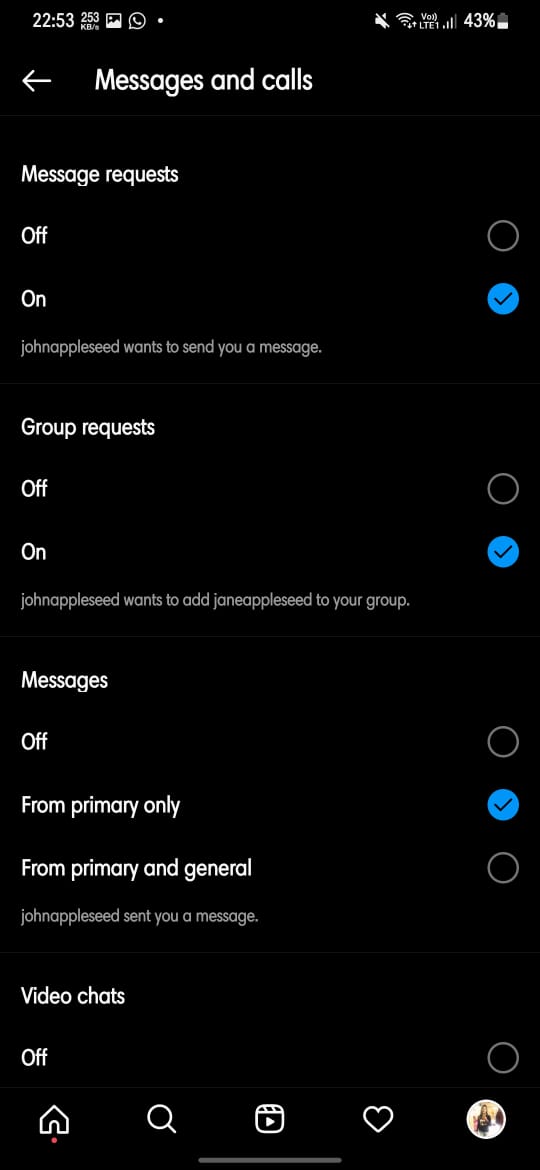 These notification settings are synchronised across all devices that are linked to the same Instagram account. So, if you turn off message alerts for your account on one device, you won't get them on another.
4. Turn off direct messages on Instagram story
People may reply to your story, and the replies are forwarded to your Instagram Direct messages. On Instagram stories, you may turn off messages so that no one can respond to them.
Go to Instagram

Settings

and tap

Story

from the Privacy menu. 

Under

Allow message replies

, choose

Off

or

People you follow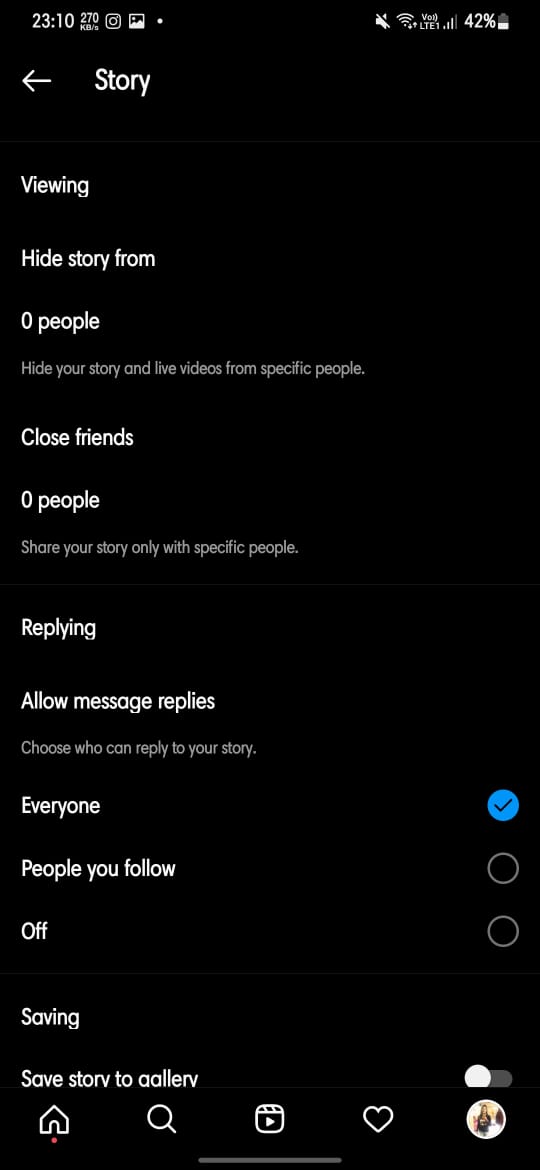 5. User Restriction
You may also restrict a user if you don't want to receive DMs from them. All new messages received from a restricted contact will be a message request. Also, you will not get notifications for their chat. The other person will be unaware that you have blocked their access, and unable to see your online
Open their chat and tap their name. 

Tap Restrict from the three-dot menu. 

You may also limit persons by going to Settings > Privacy > Restricted accounts.
That's all for today. For more tips and tricks follow TechBurner!