Apple announced its newest laptop, New MacBook Air 2020 version. This is the latest addition to Apple's versatile MacBook Air lineup, and it has more to l0ve than you think. Apple makes some of the best laptops, and you can't deny that fact. But the only down point is that they are very costly compared to some of their competitors. This time around, Apple has made a faster computer, but at a lower price than its predecessors. Read this article to know more about Apple MacBook Air 2020 price in India.
New MacBook Air 2020 Specs
Here are the specs of MacBook Air 2020. Read more about MacBook Air 2020 price in India at the end of the article.

Design and Display
There is no change in design. It is the same OG lightweight MacBook Air design made from the same recycled aluminium body with three different colors-Gold, Silver, and Space Gray. The laptop also features a 13-inch retina display which is no doubt the best display in laptop. It projects over 4 million pixels which help it to deliver crispy, sharp and accurate colours.
Also read: Apple Unveils New iPad Pro 2020 With LiDAR Scanner
New MacBook Air 2020 Processor and Storage
Apple is using Intel's i7 10th generation CPU, and according to Apple, this CPU will offer two times faster speeds with and up to 80% graphic performance. The new CPU Turbo Boosts up to 3.8GHz which makes it two times faster than its predecessors. All this combined with Intel's Iris Plus Graphics will help the laptop with gaming and video editing by providing an 80% faster graphic performance. The new MacBook now starts with a storage capacity of 256 GB and goes up to 2 TB SSD which is twice the space of the previous generation.
New MacBook Air 2020 Magic Keyboard and Speaker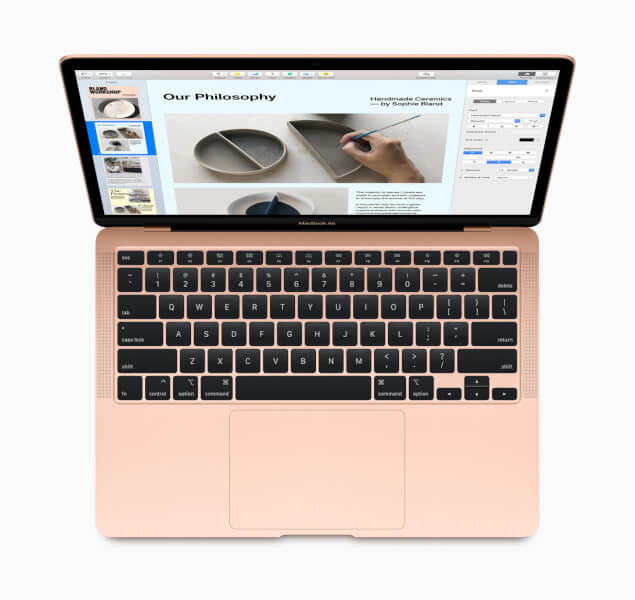 This new MacBook now offers a Magic Keyboard which is same as the one in the 16-inch model of the MacBook. Apple decided to change the keyboard after several issues were reported regarding its old butterfly type switches which stopped working or wouldn't respond properly. The Magic Keyboard has redesigned scissor switches with a key travel of 1 mm. This new MacBook also has a Touch-ID sensor for fingerprint unlock. This laptop features the same amazing speakers which we saw on the 16-inch MacBook Pro. There's also a three-mic array inside for improved voice capture.
New MacBook Air 2020 Built-in-Security
Apple, since the beginning, has been cautious about the privacy of their customers. This new MacBook Air comes with a T2 chip which is designed by Apple. This Chipset ensures that software has not been tampered and also provides data encryption. Also, this makes sure that the TouchID information on the device is safe.
New MacBook Air 2020 Price in India
The MacBook Air 2020 will start at Rs.92,990 in India or $999 in the USA and also if you are a student, then you can avail this MacBook at just $899. That's all in this article. What do you guys think about the MacBook Air 2020 price in India?